During an October 2020 trip to the East Frisia (Ostfriesland) region, I just could not prevent myself to have a short visit to Emden to visit a very special museum right in the heart of the city. Dat Otto Huus ("The Otto House") is a place full of memorabilia by German comedian, actor and singer Otto Waalkes, who is one of the big names in the German comedy scene since the 1970's. Here is my review of visiting the place, which is very characteristic by the Ottifant statue looking out of the house wall (the Ottifant is likely Otto Waalke's most well-known character created).
Dat Otto Huus – Location & Admission
Dat Otto Huus combines a souvenir store with a museum. It is located right in the heart of Emden. I unfortunately did not have sufficient time to visit all the attractions around, as Emden features a couple of quite interesting museums. The Georg Breusing Rescue Cruiser Museum Ship is just around, for example. The museum is at the pedestrian zone, so you can do some shopping as well.
Dat Otto Huus is open Monday to Friday, 11:00 to 17:00 hrs. On Saturdays, it is already closing at 14:00. The shop is of course free of charge. The museum is a 2 Euro adult admission. However, practically proceedings are donated to charity.
Dat Otto Huus – Shop
Typically, you visit a museum and then you are so flashed by the exhibits and your memories that you just have to grab a bunch of souvenirs. At Dat Otto Huus, you have to credit in advance and first go to the souvenir store. It is possible of course to queue for the shop again, but during Covid-19, the small space just allows for one party at the same time, so you may have to wait an hour or more to get into the shop and the museum.
The shop just offers what you would expect: shits, plush Ottifanten and all kinds of other memorabilia of life and characters created by Otto Waalkes. The pricing was thereby quite reasonable.
Dat Otto Huus – The Exhibition
Loaded with the souvenirs, you are entering the museum, which are in fact two packed floors in a house which is in fact the same area as the shop is – not too spacious. In the first level, you find a two Ottifanten status, awards, some memorabilia of Otto Waalke's live-on-stage performances, items from his very early stage performances as well as strange items. If you are a fan, you could easily spent half an hour on that level – but at least during pandemic times, that's also the time span the next guests have to wait.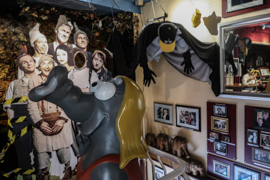 The upper floor rather features items from Waalkes' movies, especially the ones published before the very popular 7 Zwerge movies (which are a Snow White parody). If you watched the Otto movies in the 1980's and 1990's, you will love a couple of items you find in there. There is also a small cinema, which – of course – cannot operate during the increased hygienic regulations.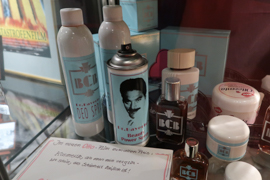 Dat Otto Huus – My View
Of course, you have to queue quite a while (on a Saturday, I would guess not to arrive after noon) and you need to have a relation to Otto Waalkes and his works – but if you do so, Dat Otto Huus in Emden is really a fun place to be – and it's even charity. Visiting the museum gave me back a lot of childhood memories. The place is quite compact, of course, so your actual visit time might even be shorter than your time in the pandemic waiting line. But sometimes you just have invest in good times.
German Museums
Here are all my postings about museums and exhibitions related to or located in Germany:
German Artist Top Pick Albums
Here are media reviews of German artists, which I rated as Top Pick!