Why not doing it at home? Though Bonn is just some 40 kilometers away from our flat, my wife and I went for a stay at the Hilton in the former German capital. Our key aim was having a nice and relaxing hub for visiting the Christmas Markets – but I was also curious how this place, which has been driven by different hotel chains in the past, will be like as a hotel guest.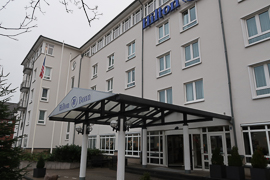 Hilton Bonn – Location
Hilton Bonn is located right at the Kennedybrücke (Kennedy Bridge), which is crossing the River Rhine. From the hotel terrace and some of the rooms, you have a nice view over the River Rhine as well.
It is quite a walk from Bonn main station to the hotel, you might either take the Underground to Bertha von Suttner Platz or grab a taxi. There are multiple local transport options available around the hotel, but most city center attractions are in walking distance anyway. Music lovers will enjoy the proximity to the Bonn Opera or the Beethovenhalle.
Hilton Bonn – Rooms
I booked a King Deluxe River View room at Hilton Honors Sale for 79.80 EUR. Despite being a Diamond member, I felt that this is the category finally being assigned to us as well. The room has quite a classic design, but it is very functional, has sufficient space and offers a nice view over the terrace of the hotel and the Rhine. There is a comparably modern TV set with German Pay TV channels included as well. However, there is a bit of lack of power plugs – especially next to the bed, all power plugs available are in use already. There are no USB charging pods as well. The Nespresso machine was very nice, though. Like you have it in more and more hotels nowadays, the minibar is only filled on demand.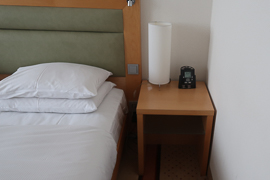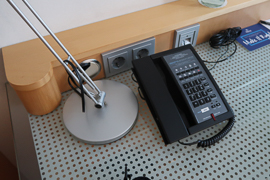 The bathroom is compact, but offered all functionalities and a bathtub. There were standard Hilton amenities available. We were also wondering that a King Room booked for two adults just features one bathrobe and one washcloth – similar to the coffee cups in the living room, by the way, where we had two coffee cups, but only one espresso one.
There seem to be renovated rooms on lower floors, so getting a room assigned as a touch of a lottery. There was one mayor water bottle in the room for free for status members. A very nice feature, though, was the balcony, which had a nice view over the River Rhine. Maybe it did not feel too modern any more, but I still liked it.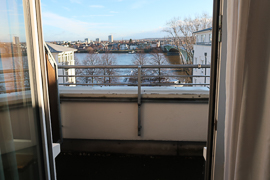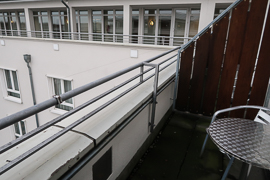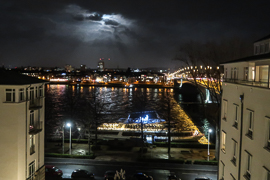 Hilton Bonn – Breakfast / Food
Breakfast is one of the signature disciplines of Hilton Bonn, definitely. The offer a wide variety of items and even though there were a lot of people on that Sunday morning we had breakfast, it did not become hectic at the buffets. The service was a bit lame here and there, for example about clearing used dishes from the table. Overall, though, the hotel leaves a good to very good impression here.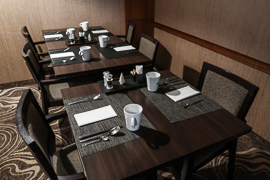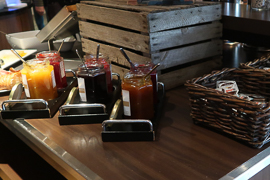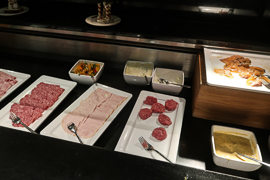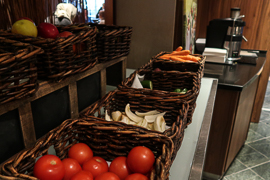 The restaurant area is also used for some other buffets and seasonal offers, which might be very interesting for some of you.
Hilton Bonn – Services / Amenities
The check-in person was quite new, but very nice and felt to do an accurate job. However, he had problems during the check-in process. As said, I have neither been greeted as a Hilton Diamond member nor there was an upgrade. I read in another review that Hilton status members receive complimentary vouchers for a snack bar right next to the reception – we did not receive anything like that. The hotel offers a nice lounge at bar area close to the reception, which was quite popular among the guests already during day time.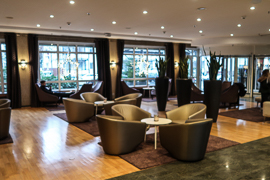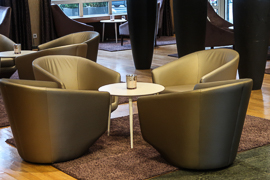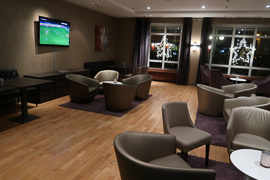 On the lowest level -1, which is in fact the same level as the river and the restaurant, the hotel offers a nice Fitness area. The gym is quite nice and offers a lot of machines, even a rowing machine. There is also a nice relax area and a pool. The pool is a bit larger than US hotel pools, quite square with maybe 7×7 meters in size. There were just two loungers at the pool and no shower, so that you have to take a shower and cross the fitness and the relax area before swimming – not sure how many people in fact do that. A bit of sad, as there would easily be space in the room for a minor showering area. It felt to me that people from the terrace can look into the pool, if that is bothering you. From the showers, you can also go to the sauna or the steam bath.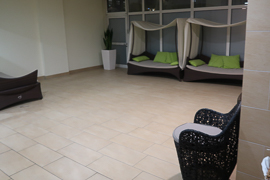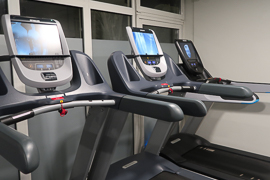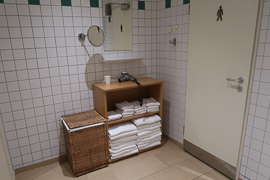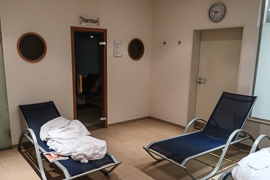 The WiFi quality was moderate, even with Premium WiFI provided. The hotel offers a parking garage. The daily parking rate of 26 Euro is quite an aggressive calculation, though. At check-out, we have been confirmed that they missed the vouchers, bath towels etc. and received an excuse and a compensation, which I felt was a very good reaction. The hotel also has a Sixt car rental office.
Hilton Bonn – My View
I really struggle with our stay at Hilton Bonn. On the one hand, there is the lovely river view, a central location and the breakfast, which is exceeding expectations. On the other hand, there were so many organisational deficits. Issues at the reception, a weak housekeeping performance, the rooms being a bit on the "traditional" side (meaning: outdated). Finally, these things sum up in a way that I assign more than an average rating. You might be lucky and hit a better day than I did when you visit it – the hotel is still a nice option if you are looking for a central stay.
Hilton Hotels – More Reviews
Here are all my reviews of Hilton Hotels:
Postings of the Greater Cologne Region
Here are postings which are dealing with the Greater Cologne and Rhineland region: