As my favourite flight, LA 705 from Frankfurt to Madrid, is quite late in the evening, I know quite many airport hotels in Madrid. In early November 2018, I had my second stay in Melia Hotel Barajas. The Melia Group has multiple hotels in the area, including a Tryp Hotel right across the road. A Melia hotel, however, makes you expect a slightly more posh stay in Barajas, the airport district of Madrid.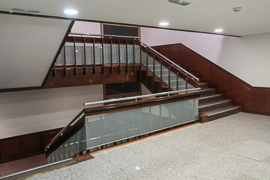 Melia Hotel Barajas – Location
Barajas is a quite popular district for Madrid Airport hotels. There is a Tryp Hotel across the road and from my room, I had direct view to an ibis sign. Barajas is quite vibrant with a lot of restaurants and bars and a Metro station, which connects to the airport and city center and the airport. As all peers, the hotel offers an airport shuttle, though. In case you feel to have a quick bite, there is a McDonalds right next to the hotel. Close to the ibis hotel, there is also a quite nice supermarket.
Melia Hotel Barajas – Room
I booked a Melia Room, which was roughly 105 Euro plus 4,000 of my Melia points. It could be that I have been assigned an upgrade, the room was really amazing at first sight. The sleeping and working area was a really nice size with a classic design, complimentary tea/coffee maker and a nice workdesk. The beds looked beautiful – though I have to admit that I did not sleep too well and they tended to be quite loud when you moved. The bathroom was lovely with a separate shower and very spacious. The amenities were very nicely presented as well.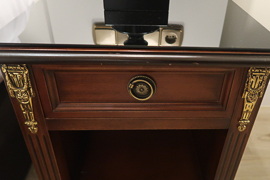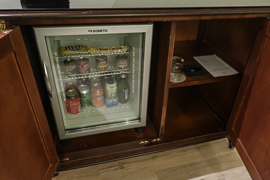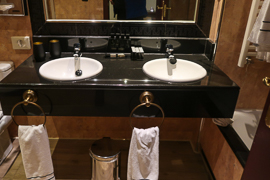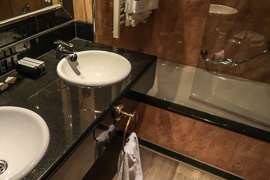 However, there were some things I did not like about the room. The first negative encounter I took was the Wifi, which was not working. It felt that the infrastructure was fine, but the login mechanism had an error. I just felt like sleeping due to my late arrival, so I did not care too much. Unfortunately, the problem remained the next morning. Reception told me that they have it since two days. Why did they give me a Wifi password voucher at a one night stay then? I felt quite cheated – by the way, I feel you should just deactivate your login and open your WiFi in that situation.
Furthermore, I recognized that I cannot charge my mobile overnight because the power plug next to the bed is not working. Finally, one of the nicely presented amenitinies (shower gel) was empty. It was much lighter than the other plastic flasks, so room service should have recognized it.  Furthermore, there were two razor kits and a dental one in the room. There are just very untraditional way to partner, where two persons shave and just one brushes his/her teeth. Very bad luck – and management – if your team is spoiling such a great impression.
Melia Hotel Barajas – Breakfast / Restaurant
Lovely room, several housekeeping problems – but the breakfast at Melia Barajas is definitely on the positive side again. The room is huge, maybe a bit dark, but the selection of breakfast items is overwhelming. There is a lot of fruit, a lovely selection of bread and pastries and also a wide selection of warm dishes. They even had one of my favourite Asian ones, Gyoza. Of course, you may also grab a Spanish thick hot chocolate and dip it into Churros. The breakfast is really top notch.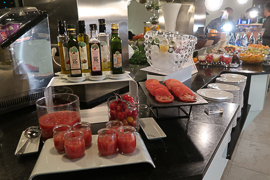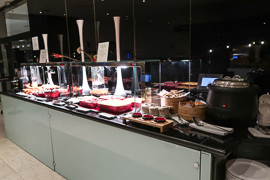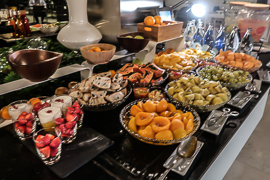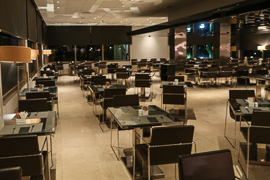 There is also a nice bar area, where people were partying at my arrival. I took some pictures of it before check-out.
Melia Hotel Barajas – Services
As stated above, I haven't been able with the reception people. The check-in was friendly, though – they just forgot to hand me pack my ID card at check-in, but delivered it to the room. In general, the room was very clean, some spots to improve around. The amenity thing is a no-go, of course.
In the basement, the hotel also offers a nice gym. As there was one guy training when I went there, I just took some pics from outside (the area is mirrored, so it looks larger than it in fact is). I feel it is a absolutely sufficient and nice exercising place. I did not take pictures of the pool area, which is only open at summer months.
Melia Hotel Barajas – My View
I hate to hotels like this one. In fact, it has all what a top rated hotel should have: the room is nice, the breakfast is amazing and also the shuttle works well. On the other hand: there is the bad housekeeping and the unacceptable reaction of the hotel staff to my complaint on the Wifi. Not a general internet failure in the area, but a self-made problem. Handing me over login credentials knowing that I will not be able to use them during my stay is simply barefaced. The poor housekeeping incident is just a bad thing on top. This stay reminded me very much of the very bad experience at Novotel Toronto. I am sure you may have a great time at Melia Barajas. There were many positive aspects about my stay as well. In total, there is just an average rating.