Visiting some places around Utrecht and aiming for a relaxing weekend in the Netherlands, my wife and I had a two night stay at the DoubleTree by Hilton Royal Parc Soestduinen. A quite interesting place, ready to play some golf (which we don't do) or spent some time and explore the nature. Here is my review of the stay.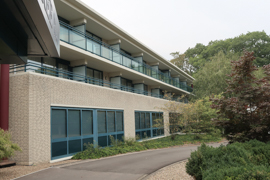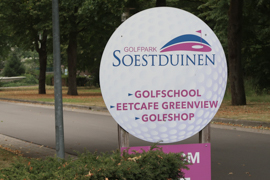 DoubleTree Royal Parc Soestduinen – Location
Soest is a city between Amersfoort and Utrecht in the Netherlands. Soestduinen is a small borough South of Soest and North of the Military Airfield Soesterberg. The airfield also hosts the National Military Museum of the Netherlands. I recommend to arrive there by car – the hotel has a sufficiently large parking lot. There is a bus stop in front of the hotel, though, with roughly one connection per direction and hour. You could grab a taxi from Utrecht or Amersfoort, but that is likely inefficient.
There are not too many services around. The hotel itself comes with a golf course and golf school, there are a few eateries in Soestduinen on top of the hotel services.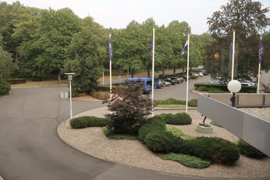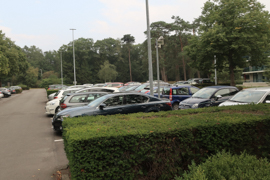 DoubleTree Royal Parc Soestduinen – The Room
For two nights in a King Room, we paid 185 EUR. The Dream Away rate by Hilton could be cancelled one day before the visit, if necessary. My Hilton Diamond status lead to free breakfast as well as a room upgrade to a superior balcony room, which had a lovely view of the golf course.
The room was a real beauty. The design of the room was really nice and it was reall spacious. There were two chairs for seating and a large bedding. The cupboards lead to a quite cozy atmosphere. I also liked the large work desk, which was of course very helpful for Flyctory.com maintenance.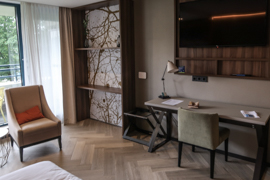 The bathroom was really nice as well. You rarely have separate shower and bathroom in a Doubletree room, for sure. We had a lot of space in there, the basic amenities have been provided as well.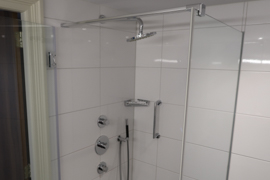 As our schedule matched to the weather in a way that whenever we were in the hotel, it was drizzling or raining, we did not have the opportunity to explore the golf course area and the park. The more we enjoyed to have the lovely view from the balcony, which was equipped with two chairs and a table – just as you need.
DoubleTree Royal Parc Soestduinen – Breakfast / Food
The hotel drives a nice restaurant with view of the golf course. There is also a bar in the basement, which was closed during our visit.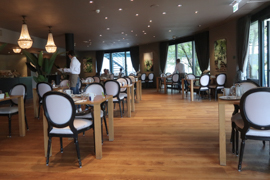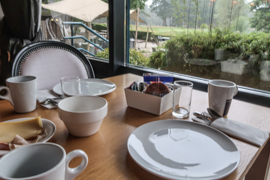 The buffet breakfast was organized in time slots, which worked quite well. We weren't aware that each breakfast slot was just 45 minutes with 15 minute clearning, though, so that it was a bit of hectic towards the end. This was of course all due to Covid-19 measures, so that we guess that breakfast under "normal" condition is really enjoyable. We also liked the wide range of items they offered and thus had a really nice start of the day.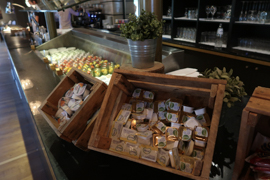 We struggled a bit with the dinner we had in the restaurant. The online menu on the website did not match the in fact menu. The food was really awesome, but there were some service issues. We finally felt ignored by the staff. Other tables had a much better service, so that we feel that it was simply unfortunate. We named that issue at check-out and have been compensated – which I felt a very nice and appropriate reaction.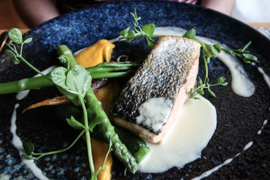 Here is a snap of the bar, by the way.
DoubleTree Royal Parc Soestduinen – Services
The reception was very friendly. Check-in and check-out went very smoothly, our complaint about the restaurant (see above) was handled very professionally. We also liked the style of the hotel. Last, but not least, any stay at a DoubleTree means getting one of their delicious warm cookies at check-in – always a very nice way to start your abroad time.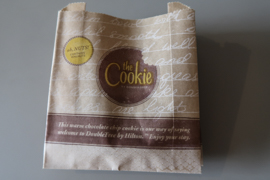 A lovely part of the stay was enjoying the indoor sports facilities. Due to Covid-19 restrictions, you had to pre-book a time slot – there was one hour per room and day available. They even split the pool into four sections to guarantee some distancing – which is a nice idea, even though it did not full work out (also as the sections were a bit of different). What I really loved is that they put some of the gym and relax facilities into meeting rooms (which you did not need in pandemic days anyway, so that people exercising could also maintain social distancing more easily. I had my second swimming slot on Sunday morning, 7a.m.. I was a bit surprised that there were still the used towels of Saturday at the beautiful gym/spa reception.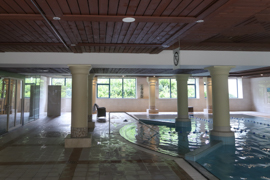 DoubleTree Royal Parc Soestduinen – My View
There are some negative points in that review – but overall, the DoubeTree Royal Parc Soestduinen was definitely a lovely stay. Not only if you fancy to score some birdies on a weekend, this is a really nice location with really kind staff. You may have some nice hikes around or just stay in the hotel – food and spa area are really nice. Allow for them in you planning if you want to have a stay in the area.
Dutch Hotel Reviews
Here are all my hotel reviews related to the Netherlands:
Museumkaart
Here are all places I visited in the Netherlands, which accept the Museumkaart: