As I purchased a Merlin Entertainment annual ticket for Germany in May 2021 (majorly as I have been covering Heide Park Resort Soltau under Covid conditions anyway), it almost felt natural to visit the Sea Life (or SeaLife, there seem to be different spellings by country) closest to my residence. Their outlet in Königswinter Southwest of Bonn has become a quite popular tourist destination over the years. Here are my thoughts about a visit in fall 2021.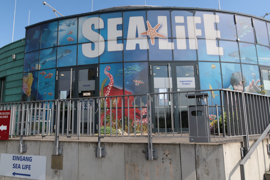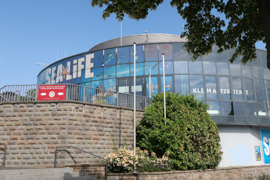 Sea Life Königswinter – Location & Admission
Sea Life Königswinter is having an ideal location, right at the river Rhine. There is a tram stop in front of the aquarium. Line 66 connects to Bad Honnef in the South and to Bonn and Siegburg (which features long distance rail connections as well). There is a ferry connecting to Southern Bonn borough Mehlem at the attraction as well. There are a lot of one-way routes and road works in Königswinter typically, which may lead to a bothering trip by car. There is parking available at the Sea Life as well. Königswinter train station is in walking distance as well as the valley station to the Drachenfelsbahn, Germany's oldest cog rail.
At the time of writing, you should buy tickets online. Adult admission with a fixed time is 14.95 EUR. If you want to be able to later move your time of visit, this adds two Euro to the ticket price. However, you typically easily find "two tickets for one" and similar offers for German Sea Life parks. The annual ticket for Sea Life Königswinter is 26.95 EUR (adults) only as well. If you like the franchise, the 95 Euro annual pass for all Merlin attractions is an option as well. Sea Life Königswinter typically opens daily, 10:00 to 17:00 hrs.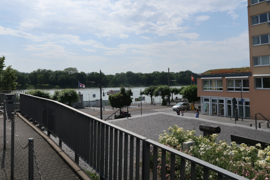 Sea Life Königswinter – The Visit
From the entrance, you first head down to basement level and later go up again. Typically, all signs are in German and English. The exhibition starts with regional maritime life and then heading towards more exotic places. I have been at the aquarium on a Friday morning, being one of their first guests, which lead to a very relaxed visit (apart from some visitors, who are neither respectful to other guests nor to the staff and felt that this is a good reason not to wear masks. The presentation is a typical Sea Life style. Overall, I feel that Königswinter has comparably wide aisles and large aquariums, which is of course especially nice in Covid-19 times.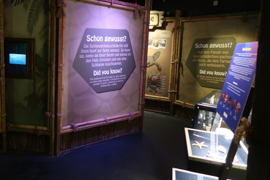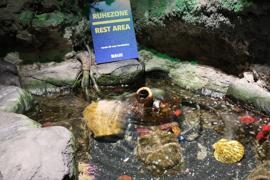 Sea Life Königswinter might not be overwhelmingly large, but they have a nice selection water life, including more exotic beings like axolotls and sea horses. The heart of each Sea Life is of course the large basin, which you first watch from a large glass front, then walk through in the typical Sea Life tunnel and later can explore from the top. The tunnel is not very long, but it is nice and at least sufficiently large to have a very relaxed time at non-peak days. Going upstairs after the tunnel, I especially loved to watch the rays. There are also some nice corals in display.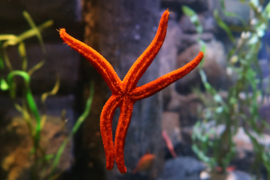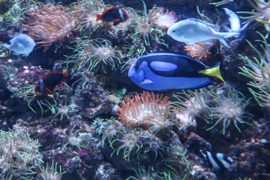 Sea Life Königswinter – Services
The place where all Sea Life centers feel to be the same is the souvenir store, which you have to pass after you exited the aquariums. Thereafter, Sea Life Königswinter features a nice cafe / picnic area, which has been served by vending machines during my visit. The view over the River Rhine is really beautiful.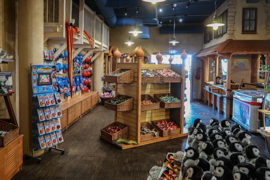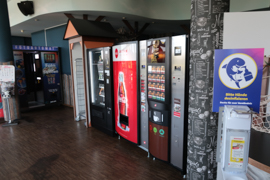 Sea Life Königswinter – My View
Would I recommend visiting Sea Life Königswinter if you are on a 17 Euro ticket? I would likely not call it a must-visit. But there are a lot of discounts, combined tickets and annual options. The aquarium is not too large, but nice and offers a good experience. I also liked the friendliness of the staff during my visit. If you are around and like maritime life, it is a nice option to visit – which may end with a lovely view from their cafe.
Merlin Entertainments
Here are all my postings about places driven by Merlin Entertainment Group:
Flyctory.com in Bonn
Here are all postings related to the former German capital Bonn: