There is always (mostly?) a second chance at Flyctory.com: After I haven't been too pleased with my first ever IntercityHotel experience im Nuremberg, I gave the joined venture of Steigenberger and Deutsche Bahn a second try: in June 2021, I had one night at their outlet in Saarbruecken – also as this hotel felt to be a perfect location – due to a late arrival by train with the regional SÜWEX connection the evening before and a bus transfer the next morning to Saarbruecken Airport (SCN).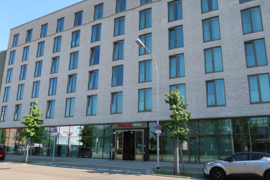 IntercityHotel Saarbruecken – Location
The hotel gives a distance from main station to the hotel of 500 meters. I even felt it is rather shorter. You exit the station, head on through a short pedestrian zone, head right and reach the hotel, which took me about five minutes. The hotel is located right across the road from Saarbruecken Congress Center, so that there are numerous parking facilities around in case you travel on four wheels.
There are numerous shopping facilities around, as the hotel is located close to the shopping area of the Saarland capital. There is also an average-sized mall next to the main station, so that you should easily be able to satisfy your travelers' needs.
IntercityHotel Saarbruecken – Atmosphere
After my Nuremberg experience I was really surprised and amazing by IntercityHotel Saarbrücken. I would almost describe the lobby as "Living Room Style", it was posh, but also very comfortable and cozy. The whole ground floor area was really welcoming. The floors were a bit neutral in style, but on the other hand felt modern.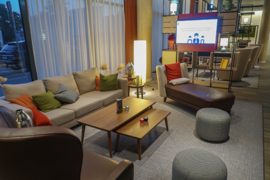 IntercityHotel Saarbruecken – Rooms
I booked the standard room at IntercityHotel Saarbruecken. The flexible rate including breakfast was 86 Euro. The hotel upgraded me to a better room on fifth floor. I absolutely loved the style of the room. Ain't it a travel bloggers dream to have a map of the city (including the highlighted location of the hotel) on the wall behind your bed? Great to check out your plans for the next day. There was sufficient space for your luggage, the work desk easily held my two notebooks and technical equipment. There was a free bottle of water – what I generally highly appreciate when arriving at hotels.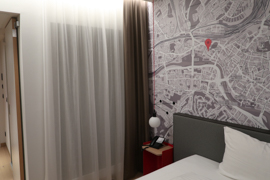 The bathroom had the same design and felt absolutely nice as well. The shower was large and came with a rain shower as well as a hand shower. The hotel provided a hairdryer. There were no amenities apart from universal soap / shower gel spenders – which might be fine during Covid-19.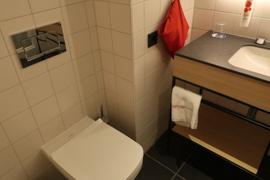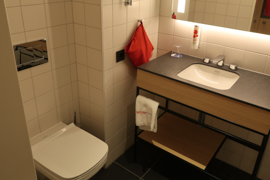 IntercityHotel Saarbruecken – Breakfast
If you compare the breakfast advertisement of the hotel with the in-fact buffet provided, there might be some disappointment – but that is of course purely due to pandemic hygienic regulations. The breakfast area on lobby level was very cozy and there was a limited but nice buffet, which was self-service, gloves mandatory. I felt it was a really good start of the day.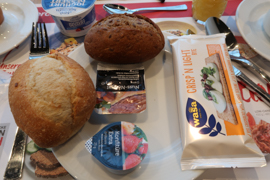 The hotel also offered some hot dishes for dinner (something like curries). As I arrived late, I cannot judge on them.
IntercityHotel Saarbruecken – Service
The check-in and check-out was really friendly. The trainee at check-in was very friendly and explained me the hotel basics very well. The in-room Wifi worked very well – which was essential for my Flyctory.com work. I had some trouble in the moment, but it was still in absolutely bearable range. A very nice service by the IntercityHotels is generally (at least in Germany) that you get a ticket for the public transport for your whole stay, including the full check-in and check-out day. My ticket even was valid to travel until Saarbruecken Airport (which is quite a distance), so that this was really a great help for me. The hotel also offered Covid-19 testing for guests.
IntercityHotel Saarbruecken – My View
There was one major difference to my previous IntercityHotel stay: I left the hotel with a smile after a really good stay. Great service, an absolutely fine breakfast performance during pandemic regulations and a lovely room – really well done. I absolutely recommend to give this hotel a try.
German Hotels
Here are all Flyctory.com postings dealing with hotels located in Germany:
"Rides on Rail" Postings
Here is everything about trains, trams and other rail vehicles: