Having a prolonged relaxing weekend in the Austrian Alps – this was about the thoughts we had about a stay at Hotel Alpina in Kössen, Tyrol, Austria. The hotel is located quite close to the German / Bavarian border and offers a vast selection of relax facilities. Here is my review.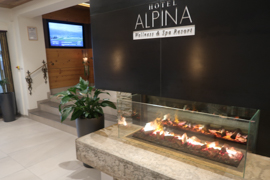 Hotel Alpina Wellness & Spa – Location
Hotel Alpina is located West of the town of Kössen. There are two hotels right next to each other, the smaller one is called Hotel Sonneck. The closest train stations with significant traffic are Kiefersfelden in Germany and Kufstein in Tyrol. Salzburg Airport (SZG) is about a one hour drive away from the hotel. This, however, requires crossing German territory. If your rental car does not allow for that, the travel time at least doubles. Other airports around are Innsbruck (INN) and Munich (MUC), each some 90 minutes away in case of low traffic. You will thus likely arrive by car – each room has an assigned parking lot in the garage, which is very handy.
The hotel is a bit outside the city which is in walking distance – the shortest route is however along a quite frequently used route. In Kössen, stores like supermarkets are also open on Sundays, which might be a nice feature. The area is of course best known for hiking in summer and skiing in winter.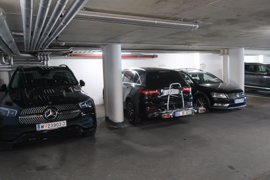 Hotel Alpina Wellness & Spa – The Room
For our stay in late August 2020, we chose a room with Genießerpension ("Gourmet Board"), which includes breakfast, dinner and an afternoon snack (see below). The room was one of their best categories, the Wellnesssuite ("Spa Suite"). For the two nights from Friday to Sunday, suite and food was 652 Euro, plus city tax (1.90 EUR per person and night).
The large room was welcoming from the very beginning. The room is very spacious – the hotel gives a size of 66 sqm. The living and sleeping area had a lot of space, a nice sofa area to relax as well as we nice work desk. The bed was definitely the eye-catcher of this room. The living area had a warm and cosy atmosphere, we loved it from the very beginning. Already at arrival, tehre was a basket at the wardrobe with two bathrobes and towels, so that you can immediately make use of the spa area. There is also a small dressing room.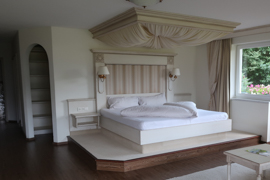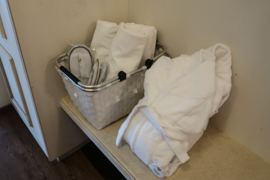 Whirlpool and Sauna en suite
The bathroom was very spacious as well. This suite comes with an infrared sauna (which is not that much my kind of thing – I like the proper ones or steam baths) and a large whirlpool bathtub. The bubbling function was a bit of weak, though. In addition, there are two sinks and a separate shower, which gave a lot of comfort. There is also some bath radio in the room, so that you had some music if you feel like relaxing. The toilet is located in a separate room.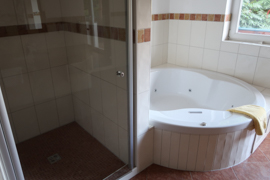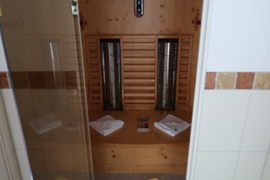 Amazing Balconies
To me, a lovely part of the room were the two large balconies. One of them is even connecting the bathroom with the living room (you may of course walk indoors as well). The additional living room one gives a beautiful view of the mountains around Kössen.
Hotel Alpina Wellness & Spa – Breakfast / Food
The hotel names their restaurant area "The smallest village of Tyrol". In fact, the design of the place is beautiful. Apart from the Jause, the afternoon snack, you had the same table for all meals, which we felt to be very convenient.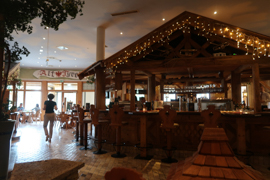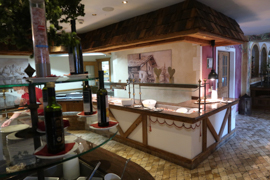 Lovely Dining
The hotel's performance at breakfast was really good. You had a really nice selection of items – I especially loved their bread selection. Some egg dishes were made live – I have to admit that I had significantly better omelettes in my life, though.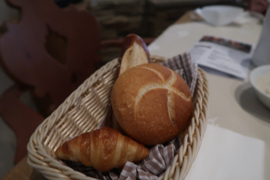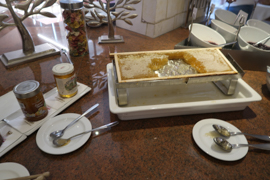 Like the breakfast, dinner and afternoon snack were given as a buffet. The quality of food was really good – sometimes, we felt that the side dishes do not really match to the main ones. Dinner did not include any drinks – the prices were absolutely reasonable, though. The selection of dinner items was great, including a nice range of starters, salads and desserts. The refilling of items went very well during all meals.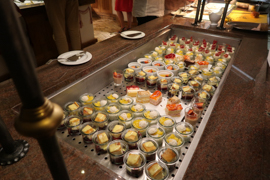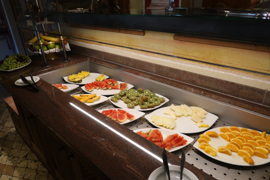 A service we really enjoyed was the afternoon service, which included one drink. There was sweet dishes / cake as well as savory options, both were really good. The Jause sometimes felt a bit too close to dinner – but the quality was just too good.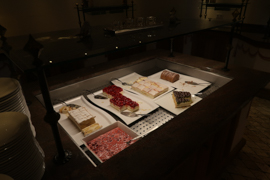 Hotel Alpina Wellness & Spa – Spa & Sports
One of the reasons why Hotel Alpina Wellness & Spa is likely the hotel I took most pictures of during my stay at Flyctory.com times is their amazing wide range of spa and relax facilities. Close to our hotel room was the Alpines Refugium, which was roughly open from breakfast to dinner time. The area comes with a connected indoor and outdoor pool, a lot of relax facilities, but also a sauna area with multiple saunas and steam baths. This are only is already superior than you might find in other hotels. The Alpines Refugium also hosts spa treatments like massages. My wife tried one and the service as well as the value for money was absolutely fine.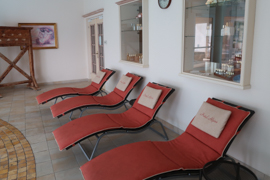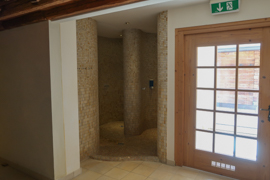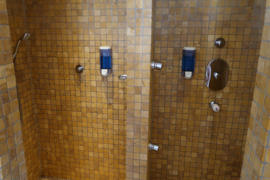 Family Pool Area
The second major area to relax is the Alpen-Hallenbad ("Alpine Indoor Pool"), which was operating from 7:30 to 21:30 hrs. The area features large bed-alike loungers to relax and a family sauna as well as an aromatherapy section. We were lucky that even though the area is intended to be used by families, we had it for our own for about an hour, which was amazing. There are water and tea dispensers if you want to have a drink as well.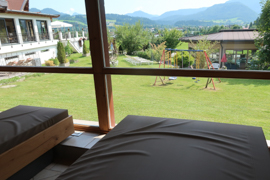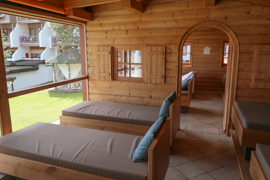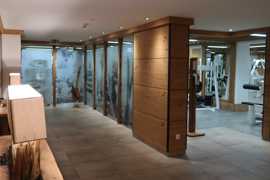 Sauna Village & Gym
The main sauna area is the Wilder Kaiser, which was running during the afternoon – another lovely place with multiple saunas, a salt water basin and a path with different kinds of showers. Again, there was plenty of space so that you could really enjoy yourself and relax.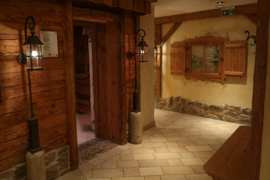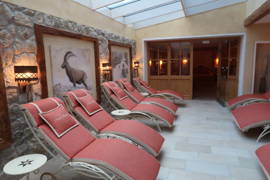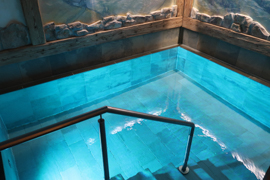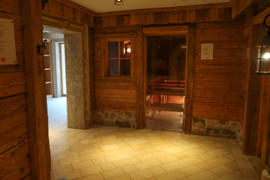 Last, but not least, there is also a 400 square meter gym in the hotel. I could not take too many pictures as the are was quite popular.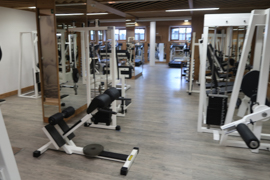 Hotel Alpina Wellness & Spa – Services
The service in the hotel was outstanding. The service has always been friendly and attentive. At check-in, you receive a welcome brochure with all times and information, which is really handy. The "Tyrol Village" even has a small chapel, which also reminds of the former manager of the family-driven hotel. There is also a playing room for children. The WiFi in the hotel worked very well.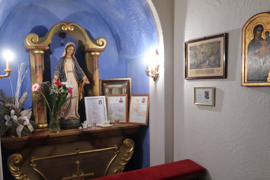 Hotel Alpina Wellness & Spa – My View
The hotel does an amazing service with a lot of heart and hospitality. The facilities are outstanding and well-maintained. It is hard to point out something we especially liked – it just so huge, so good. Finally, it is one of the best places I stayed in so far despite the high price, I would still say it is a very good value for money. If you need a hotel with some comfort in the area (and don't just need a place to sleep between your daytime hikes), this is definitely a very good option.
Superb 2021 Travel Reviews
Here are all my travel reviews released in 2021, which got a rating better than 4.5:
Flyctory.com and Austria
Here are all Flyctory.com postings related to Austria: