DJK Holzbüttgen close to Dusseldorf and Cologne is an amazing masterpiece of local sports club management. Having started with very basic conditions and limited floorball training capacities, the first male team promoted to the German top-class Bundesliga in the 2018/19 season (here is a report of their debut home match against Hamburg) and absolutely established in the league. One key factor of their success is the overwhelming local support – playing away matches in Holzbüttgen was a rather painful experience for some teams in the previous season.
In order to prepare for the 2019/20 Bundesliga season, Holzbüttgen hosted the RENEW Cup, which had been held in Wernigerode before that. Ten teams participated in the two-day and two-arena warmup for the real duties. I just had some few hours to have a brief look into both arenas – nevertheless, here is some report and some more pictures of the tournament.
This tournament review comes with a 403 item major size picture gallery.
RENEW Cup – The Venues
The tournament was played in two arenas. Both were located the Kaarst city limits, connected by a some 600 meter walk (or, due to traffic regulations, three kilometer drive)
The Stadtparkhalle is nowadays the typical home match arena of the DJK Holzbüttgen in the Bundesliga. It can hold up to 1,000 spectators (however, Holzbüttgen normally does not use all stands). The Sporthalle Bruchweg is the traditional home of the club. It is a typical school sports arena with a limited seating capacity in the gallery.
RENEW Cup – The Teams
The tournament hosted ten teams, split into two groups of five. Group A played at the Bruchweg. SSF Dragons Bonn was the first 1st Bundesliga team in this division (match report of their promotion round vs. Schriesheim), all other teams are competing in the 2019/20 2nd Bundesliga season. Group B was lead by the hosts Holzbüttgen. The Red Devils Wernigerode were another Bundesliga team in that division. On top of that, the Dutch national team competed as Team Netherlands. The Dümptener Füchse and Tollwut Ebersgöns will be 2nd Bundesliga teans for the following seson.
| Group A (Bruchweg) | Group B (Stadtparkhalle) |
| --- | --- |
| TV Eiche Horn Bremen | DJK Holzbüttgen |
| PSV 90 Dessau | Red Devils Wernigerode |
| SSF Dragons Bonn | Dümptener Füchse |
| FC Rennsteig Avalanche | Tollwut Ebersgöns |
| Blau-Weiß Schenefeld 96 | Team Niederlande |
The groups were a single round robin at a 3×15 minute match time (which was slightly optimistic for the tight schedule).Four rounds were played on Saturday, one on Sunday morning. This also meant that two teams, Bonn and Dümpten, had all their group stage matches on Saturday.
RENEW Cup – Group Matches
In Group A, I saw two matches. The first one, the Nothern Germany battle between Schenefeld (near Hamburg) and Bremen, was a quite tough match, which finally ended up in a close and hard-fought 2-2 tie.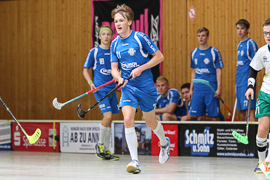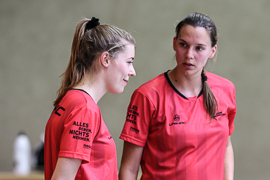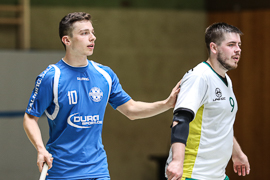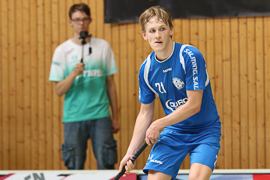 In the following match, Bonn had a surprisingly close fight with Dessau. Dessau finally won 9-8. Nevertheless, Bonn won this group and Dessau ended up last despite this remarkable victory.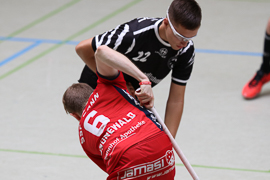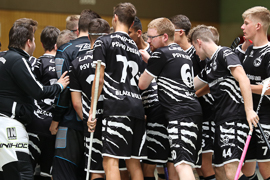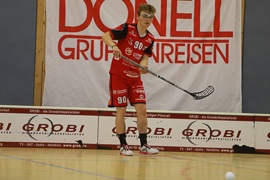 Group B
Due to the delays, I ended up to partially see three matches at the Stadtparkhalle. I saw the very end of a not-really close victory by Wernigerode, who rolled over the Dümptener Füchse by 12-1.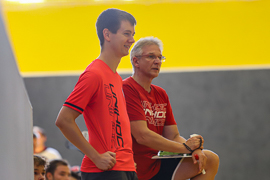 Ebersgöns had a tough time in their group matches. On the one hand, it was really remarkable that they could keep up with the (disappointing) Team Netherlands – they just did not earn the points they just felt to have deserved. The Dutch nipped over "Tollwut" by 5-4.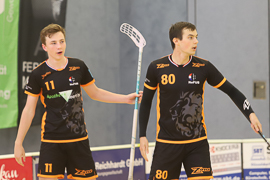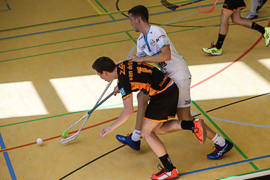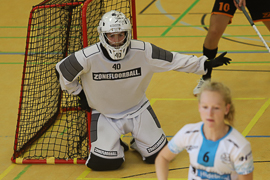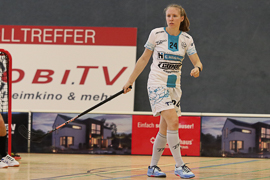 Finally, I also wanted to have a look how the hosts would compete in their own tournaments. Holzbüttgen gave a clear hint that they will be a strong team in the new season by a first match 6-1 win over Wernigerode, but the Dümptener Füchse did the right choices in their third match. The 5-3 victory against Holzbüttgen was the deciding factor that they even won the group – though they ended up with a negative goal difference after four matches.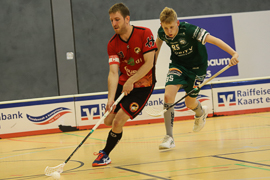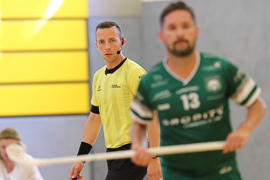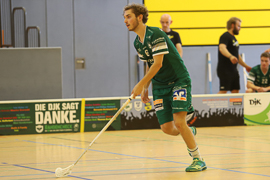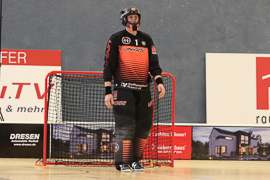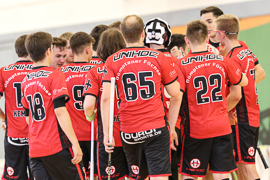 RENEW Cup – Placement Matches
I did not have any time to see the Placement matches. Bonn finally showed a brave performance in the finals, beating Dümpten by an amazing 11-0 score.  The other results on Sunday were as follows:
Place 3 Match: DJK Holzbüttgen – BW Schenefeld 9-3
Place 5 Match: Red Devils Wernigerode – TV Eiche Horn Bremen 8-3
Place 7 Match: FC Rennsteig Avalanche – Team Netherlands 3-1
Place 9 Match: Tollwut Ebersgöns – PSV 90 Dessau 5-3
RENEW Cup – My View
Great to have a major pre-season tournament in Western Germany now! Holzbüttgen may have to make some minor adjustments for 2020, but overall, they proofed that they grew as a club and are now also able to hosts these kind of two-arena events in their home town. There were a lot of close and interesting scores. Of course, you should not care too much about the results of these tournaments, but Bonn definitely gave a hint that they also have a team worth watching in the new Bundesliga season.
RENEW Cup – The Gallery
Flyctory.com features 403 pictures of the Tournament