In order to have a more comfortable (and longer) sleep, I decided to go for a night at the ibis hotel at Dusseldorf Main Station (Hauptbahnhof) before I headed on to Amsterdam. The hotel prices right after the Covid-19 openings in July 2020 were very low anyway, which was another argument to take that option.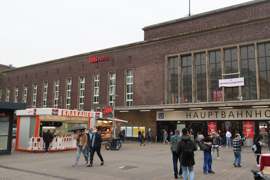 ibis Dusseldorf Main Station – Location
The hotel is not only located at Dusseldorf Main Station, it is in fact located right inside the traffic hub. The key entrance is heading to the main hall of the station, so that you can even reach its facilities easily in case of adverse weather. The hotel offers all kinds of public transportation connection. You might even use it before or after a flight at Dusseldorf Airport – the S11 regional rail directly connects Dusseldorf Main Station with Dusseldorf Airport Terminal within 12 minutes.
The train station offers all necessary traveler's facilities, including a supermarket. It is also just a short walk to city center and the Asian quarters in the city.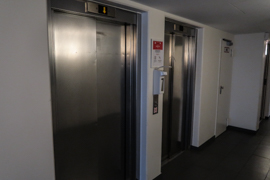 ibis Dusseldorf Main Station – Rooms
I had a flexible rate, based on the ibis Business card, without breakfast, at 50.45 EUR. The room was quite nice, just what you would imagine of an ibis room. The work desk was very wide, so it was comfortable to work there. The bathroom was clean and fine as well.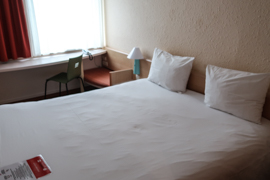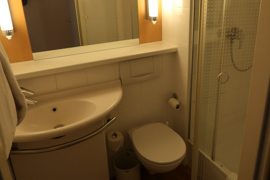 ibis Dusseldorf Main Station – Food
Usually, the hotel offers early-bird breakfast from 4:30 to 6:30 hrs and breakfast buffet thereafter until 10:00 hrs. Due to Covid-19 regulations and the general low level of reservations during these days, the hotel did not offer breakfast at all. Due to its superb location right in the main station and the numerous options in there, there were plently of alternatives. The restaurant area looked quite nice, though. The restaurant offered a bar service.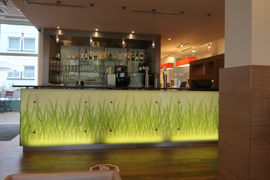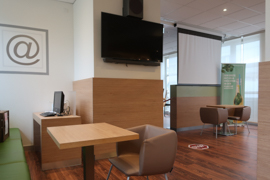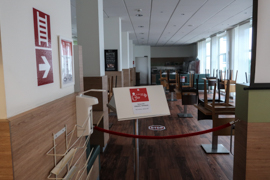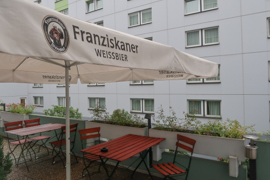 ibis Dusseldorf Main Station – Services
The staff at check-in was really friendly, I felt very welcome. Overall, I felt very safe, even though train stations are typically not the most cozy place. The standard WiFi was sometimes a bit of slow, but sufficient.
ibis Dusseldorf Main Station – My View
The hotel simply made what I expected from it: it gave me a good night in an excellent location, so that I could have a bit of a longer nap. Even though being more or less right in main terminal and still having a quiet and sufficiently comfortable night was just perfect for that reason. The good connection even makes it interesting as an airport hotel stay.
Flyctory.com in Dusseldorf
Here are all my postings about Dusseldorf:
Accor Hotels Reviews
Here are all postings related to Accor Hotels: