Sunday, 27th May 2018 – time to slowly head home. After quite a lot of flying, this has really been the first day since Tuesday at which I am not taking an intercontinental flight. Sounds crazy somehow, doesn't it.
Morning in Malaga
Just decided to have an easy and lazy morning in Malaga. Working on several postings, having a relaxed breakfast and then heading to the airport – which then worked out by train and not by taxi as I had to do the day before.
I have been at the airport quite early. After check-in (which just happened to open when I arrived – nice service 🙂 ), I took some more pictures of the old and new terminal to include them in my Malaga airport review. There were significantly people around than the day before, but in general, security was quite efficient and so I headed more or less straight to the airport lounge.
Malaga – Madrid – Düsseldorf – Home!
Day 5 added a bit more thrill to my trip than expected. The lounge in Malaga is is average – at least I looked forward to a nice Air Nostrum connection to Madrid, Terminal 4, The flight boarded in time, despite the incoming flight just arrived a couple of minutes ago – which gave us a quite long period of priority queuing before entering the plane (some fifteen minutes). The flight itself was quite smooth, but the Business Class was fully booked – which at Air Nostrum also implies that you do have a seat neighbor also in the front of the plane. As sandwich, there had just been the selection of a ham, pork or cheese roll. The cured ham was already gone when I wanted to order. Regarding it was an Air Nostrum flight, I would rate the food quality as rather poor.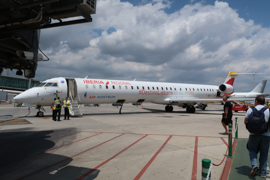 We could reduce our delay significantly and just touched down somw five minutes too late with another five to ten minutes taxiing to the Air Nostrum gates at the end of Madrid Terminal 4. There has just been some ten minutes until boarding my flight to Dusseldorf, which had been more or less on the other side of the building. Just having arrived there, the ground staff stated that the flight will be delayed by at least 2 1/2 hours due to a delay of the incoming plane – which has been quite a lie, as the EC-HUI Airbus 321 has already been at gate.
I just did some small shopping and went to the Sala Dali, how the Terminal 4 Iberia Lounge is called. The lounge agent also just was informed that there was a long delay on my leg. Just started to work for Flyctory.com, when I happened to look at the flight information screen. The IB 3132 flight to Dusseldorf was just boarding – the lounge reception was as surprised as I have been about that, so that I packed my stuff and rushed to boarding, which anyway took quite long due to the large capacity of the well-booked aircraft. Overall, we had quite many turbulences and a delay of some one hour, but the nice food and service definitely gave a plus to Iberia.
The captain surprised both, passengers and crew, with a very early "prepare for landing announcement". Finally, we have been on block, i.e. at gate, with a delay of some fourty minutes. The Dusseldorf luggage service has been just terrible – it took some fifty minutes before the first piece of luggage arrived. Finding out that my luggage has not made the connection in Madrid (despite the long effective transfer time…) and a couple of runs between different companies. Interesting to see that there is a company for the unloading process and another one who is doing lost and found for Iberia in Dusseldorf. Expect to get my stuff on Monday then!
My Thoughts and Experience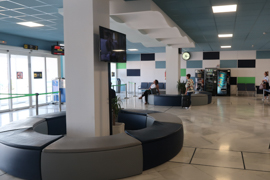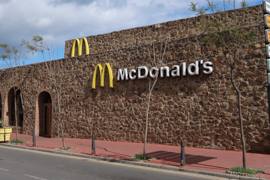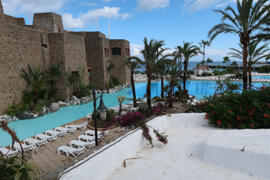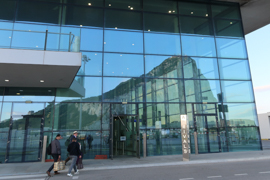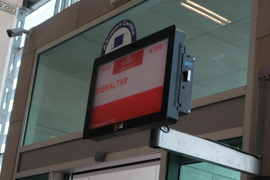 Overall, I headed back home with loads of new thoughts and experiences. The trip had much more of them than I expected and was definitely not just adding some strange airports and airlines to my flight statistics. My key findings and thoughts of that trip were:
Melilla and Ceuta are very interesting places. Neverthless, I ask myself if we should affort to have these exclave places. The two Spanish places in the middle of Morocco might thereby even be more reasonable than Gibraltar – why should the U.K. nowadays still have land to have some control over the Mediterranean? If you see that the European Union spent 30 million Euro each to protect these outposts of the community from illegal immigrants, this at least feels questionable to me.
Nevertheless, as I cannot change that situation anyway, I feel I should absolutely recommend to visit both places, especially Melilla.
Strange time difference: during Ramadan, Morocco is leaving the Daylight saving time, which leads to a two-hour time difference between Morocco and Central Europe. Felt very strange to me during travels, though I do understand the motivation, of course.
Daytrips to Southern Spanish cities (including the exclave) may have a tough opponent: siesta. Typically, stores and museums open from some 10am to 2pm (however, this in fact means 10:15 to 13:45 in minor places…) and then re-open in the late afternoon. If you stay in the city, it may just be the best to go with that way of life and have a nice lunch and relax as well – on a daytrip, I recommend to plan your day in a way that you are not affected by it.
My first helicopter flights… Absolutely loved that – very different kind of flying.
Tangier has been an interesting place as well. However, Moroccan culture is just a bit different. Being haunted by people asking if they may guide you until you finally took one is really… Special.
Swiftair? Hmm… 🙁
Picture selection above is just some characteristic ones of the whole trip.
Six Intercontinental Flight Weekend Gallery
Six Intercontinental Flights in 72 Hours
Here are the other postings of this Trip Report
Day 5, 27th May 2018: Back to Germany