During a business-related trip to Switzerland's economic capital, I stayed at Novotel Zurich Airport Messe (Trade Fair). Apart from attractive pricing, I majorly chose it due to its good connection to the airport and city center, where I had a dinner date. Here is my review.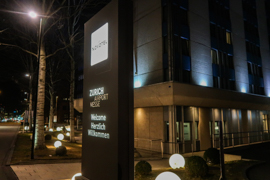 Novotel Zurich Airport Messe – Location
The hotel is located at Lindbergh-Platz. A tram station, Lindberghplatz (surprisingly slightly differently written), is right in front of the hotel and services tram lines 10 and 12. Both are connecting to the airport, line 10 also to city center and main station in the opposite direction. There is also an own parking garage and some car sharing cars around, so that you are quite perfectly connected.
The area is quite nice, featuring some interesting restaurants and businesses. The Hallenstadion indoor arena is in close proximity. Tram 12 also connects the hotel with the Glatt shopping center.
Novotel Zurich Airport Messe – Rooms
I booked into a Superior Room including breakfast, which was 109 CHF plus city tax (2.50 CHF). Due to my Accor LeClub Gold status, I have been upgraded to an Executive one. The architecture in a Novotel room is quite predictable. I love this moveable workdesk at Novotel rooms.
However, the room was really spacious and had some very nice amenities. There was a Nespresso machine and a free mini bar. It featured quite a lot of drinks and snacks, namely two bottles of water, two soft drinks, a beer and a juice and four different snacks. In addition I was welcomed by a little snack, a chocolate cake with some grapes, which was really delicious. I also had to smile about the Swiss Airline in-flight magazine provided, which I unfortunately did not have in my latest In-Flight Magazine review posting.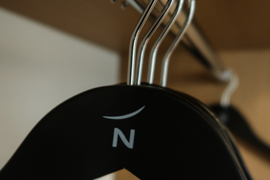 The bathroom featured a shower. It was very clean and equipped with the Novotel-style amenities.
Novotel Zurich Airport Messe – Breakfast
The stay at Novotel Zurich Airport Messe was really good – the breakfast buffet was even better. The variety was amazing, the presentation was lovely and the staff was keeping everything clean and filled up all the time. I especially like to point out the nice presentation and selection of bread and the nice tea area. There were also several juices. My day started just perfect.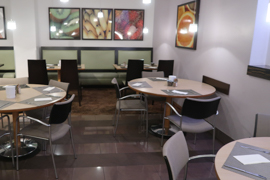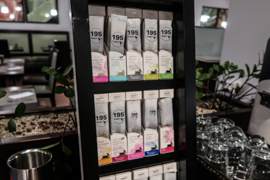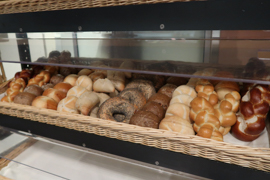 Novotel Zurich Airport Messe – Services
The staff was very friendly during check-in and check-out. The room was absolutely clean, there was no reason for any complaint. The complimentary in-room WiFi offered a very reasonable speed.
The hotel has some nice amenities like a play corner for kids. At the morning of my stay, two of three elevators were out of service, which is definitely a negative point for a seven level building. Like I wrote in my review of Novotel Toronto Center, this is not acceptable in my point of view.
On the positive side, there is also a very nice bar area and a small gym with modern machines and a great sauna area. I felt that the fitness area was not perfectly serviced, just very few new towels were available when I checked it right after opening at 6:00. Even worse, there were even some used towels in the dressing area at that time.
The hotel also offers a hotel shuttle, which roughly leaves every thirty minutes. Due to the good connection by tram, I did not have to use that service.
Novotel Zurich Airport Messe – My View
I like Novotel outlets in general – but this stay really exceeded my expectations. What a great value for money, good connections to the city center (30 minutes to main station without changing the tram), perfect connections to the airport, a nice room with free mini bar, nice facilities and a great breakfast. On the other hand, the servicing of the gym area did leave an impact on my view of the stay. Nevertheless, I felt that in my point of view, it was an amazing Novotel stay and thus I rate it in the Top Pick category.
There a couple of really good airport hotel options around Zurich Kloten Airport. For example, I also reviewed Hotel Allegra in Kloten itself. However, the Novotel strikes with the unbeatable connection options.
Accor Hotels Reviews
Here are all postings related to Accor Hotels:
More about Switzerland
Here are all other postings related to Switzerland: