As my August trip to Iceland was prolonged by one night, as my Icelandair business class flight to Frankfurt was shifted by one day. Thus, I did not only need a one-day additional car rental booking with Procar, but also a hotel for an additional night. I opted for a place close to Keflavik Airport (KEF) right at the center of the village. Hotel Duus persuaded me with (relatively) affordable rates at a nice location at the harbor.
Hotel Duus – Location
Hotel Duus is located right at the Northwest tip of Keflavik. It is just a few minutes drive from Keflavik Airport – and a couple of the car rental companies who do not have airport offices are close to the hotel. There are a few parking lots in front of the hotel – it should overall be easy to park your car around the hotel. The closest bus station is a couple of hundred meters away – I would say that this place is rather an option for people with (rental) cars.
Right next to the hotel are the Reykjanes Art museum, the Duus Museum and the Geothermal Park Visitor Center. It is a a few hundred meters until you reach the main shopping and entertainment area of Keflavik, which is actually a really nice place.
Hotel Duus – The Room
I booked a single room with ocean view for a night from Thursday to Friday. Including breakfast, the flexible rate was 131 Euro. The room was located in the basement – unfortunately, there was no elevator to this room, so that I had to carry down my luggage there. The room was very compact, but cozy. It had surprisingly all facilities squeezed into a rather small space. It needed some effort to turn the small table into the Flyctory.com office, but it all worked out.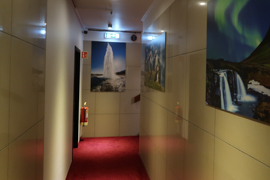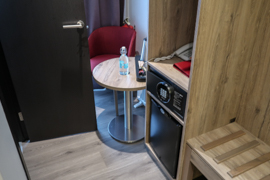 Even though the bathroom as also rather optimized to put everything into small space, it did not feel that small. I had some struggle to place my toiletry bag somewhere, that's all. Like the whole room, the bathroom as very clean and was absolutely fine for a one day stay.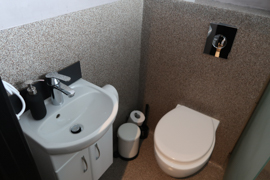 The most lovely part was the balcony of the room. Even though it was on parking lot level (there is more parking behind the hotel) and you could rather guess than spot the sea from this Ocean View hotel, it was just a nice place to have some fresh air. However, the rear parking lot felt to be popular among young locals for partying during my stay.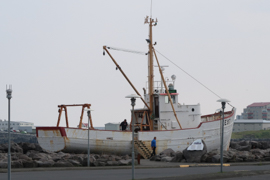 Hotel Duus – Breakfast & Food
One of the key services of Hotel Duus is that they also drive a beautiful cafe and restaurant, which is very popular among tourists and locals. The scenery is really lovely. Due to the very early Icelandair flights, especially to Central Europe, Hotel Duus is offering breakfast between 4:00 and 10:00hrs. This of course limits the options of dishes available. There are hot drinks, bread, cold cuts and some fruit. Warm dishes like eggs are just not possible during a that long time slot. However, there is porridge. Practically, you just walk into the cafe, take a table and grab anything you need from the buffet.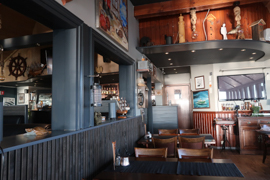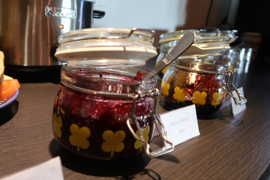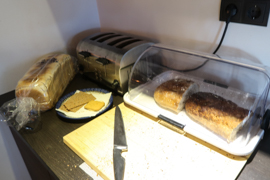 Hotel Duus – Services
The staff in Hotel Duus was really friendly and helpful. The WiFi worked very well.
Hotel Duus – My View
Overall, Hotel Duus is a really nice option if you need to have a reliable stay with good proximity to the airport (and do not favor the airport hotel). You shouldn't have too much luggage as at least the small single room is a bit of challenging in that regard. The staff was really kind and gave me a good stay. If you need the early breakfast, it is a great service – on the other hand, the concept itself leads to limited options. The value for money definitely comes with a very own metric for stays on Iceland, so that it is useless to discuss the value for money. Hotel Duus is in the price range of other places around.
Airport Hotels
Here are all hotels with a good airport connection:
Flyctory.com Pictured Stories
The key contents of Flyctory.com Pictured Stories are the picture, not the text: