The Pfahlbauten (Lake Dwelling) at Unteruhldingen, prehistoric houses built on wooden piles, are one of the Top 5 attractions of the Lake Constance area. As there are just limited places who have conserved villages of that kind, the place can do marketing with the UNESCO World Heritage symbol. You have to comment, though, that in fact Unteruhldingen shares this status with more than 100 other sites in Germany, Switzerland, Austria, Italy, Slovenia and France. Nonetheless, it was of course a must-visit to me, when I have been in the region in early June 2020.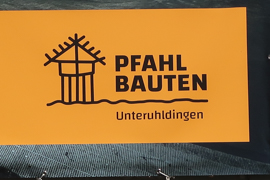 Pfahlbauten Unteruhldingen – Location & Admission
The Pfahlbauten are located right at the German shore of Lake Constance in the heart of Unteruhldingen. The traffic situation is very challenging, though: as the center of the village in practice does not have any parking facilities (apart from some handicapped parking quite close to the world heritage), you park outside the city and walk down to lake area. You should at least plan for 20 minutes parking, buying a parking ticket and walking down to the lake dwelling site. You have to pre-pay for parking, which is a rip-off in my point of view, as it is very hard for a first time visitor to judge how long you will stay in the city. This might not apply if you combine the Pfahlbauten with a day at the beach or with a boat trip from the nearby landing.
The site is open daily, 10:00 to 18:00 hrs. During Corona times, you were asked to buy timed tickets, which allow you to enter within a one hour time slot. Please note my section below on the Pfahlbauten Covid-19 / Corona handling. Adult admission is 10 Euro.
Pfahlbauten Unteruhldingen – The Houses
Right behind the entrance building, the loop trail to the houses is starting. In general, you walk through houses which are inspired by different epochs of living in that area. To be very clear: none of the houses you see there are (obviously) original, they are all reconstructed. There are information signs, which are majorly tri-lingual (German, English, French). The path created be the pile bridges is thereby – under social distancing rules – that narrow that you can rarely pass people safely. I personally have to say that I felt that the houses as such are nice, but that my by-far favorite of that part of the visit was definitely the scenery looking from the bridges to Lake Constance (at the beautiful weather conditions we had at 1st June 2020, when I visited the place).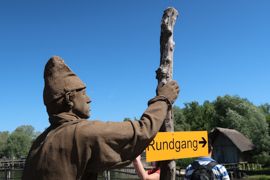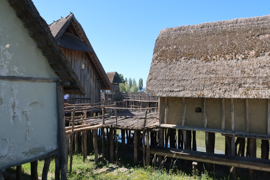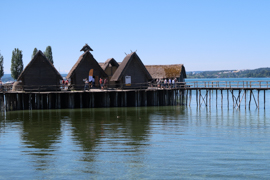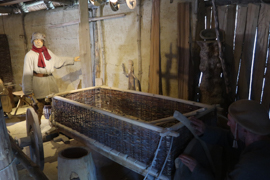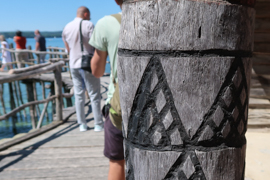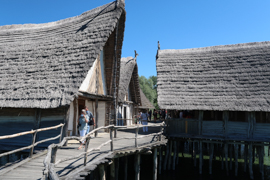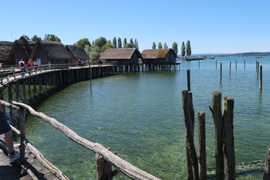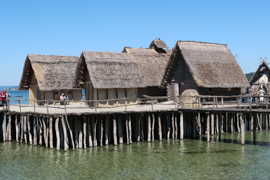 You can walk in to some of the houses. They are decorated in a way that they reflect selected topics about the lifestyle at these times, for example nutrition, but also certain tasks like stone processing. This may be somehow illustrative, but on the other hand, it did not feel really informative to me – I might though be gifted with places like the Neanderthal Museum, which tell much BC life in a much better way, in the area where I live.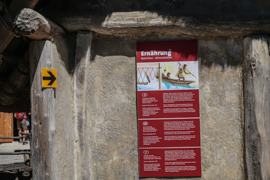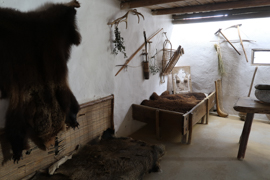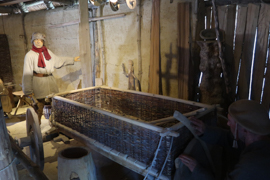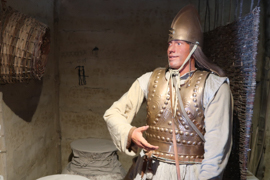 Pfahlbauten Unteruhldingen – Exhibition
At the end of your visit, there is a small exhibition hall, where you can also see some piles originally found at this place. It gives you some additional insights and artifacts. Unfortunately, it is just too small to be a really value on top of your visit, though it is indeed fascinating.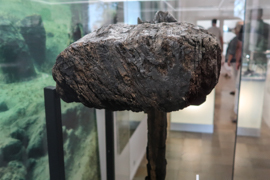 Pfahlbauten Unteruhldingen – Covid-19 Handling
So far, I you might feel that I somehow enjoyed the Pfahlbauten visit. I did not like it as much as other reviews may suggest overall, but it was okay, I especially liked the view of Lake Constance together with the houses. However, the whole visit was a disaster regarding hygienic measures, which started with massive queuing at short distances before the entrance. They nowadays changed the website slightly, I felt before my visit that I have to buy online tickets.
They even have been an a disadvantage as they had handling issues and sorted all online tickets to one queue – it easily took three to five minutes for people who had the ticket stored on their smartphone's wallet, while the walk-in guests were served at high speed.By the way, there were plastic walls at the cashier, but of the online ticket handling you had to chat with the people through the gap in the wall – cashiers not wearing masks. I limited myself to a fixed time slot, I gave you my money beforehand, I took the risk of not making it in time… Thanks for your service!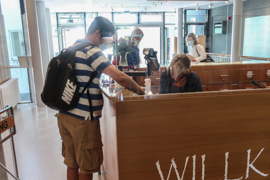 The visit made it even worse. They installed a round track to avoid people crossing routes, which is of course good. You may walk the route multiple times. In the open spaces, masks were not necessary, while you had to wear masks in the houses. Unfortunately, the did not control the people stream on the routes. Just let the masses in – at the documentation boards, there was no chance to keep social distancing if you wanted to read them. Some houses just had one entry / exit, which of course lead to congestion as well.
People staying on the narrow bridges for minutes at the same spot to do their very best social media posting? No issue – why should the staff care about it!? Even worse, they did some demonstrations of prehistoric life within the building. Great way to gather twenty people or more in one of the huts – and needless to say that "Six Feet Apart" was impossible.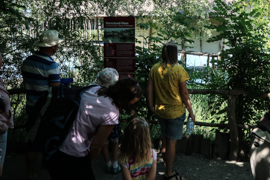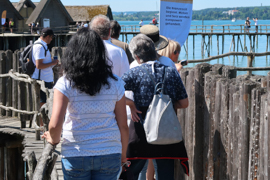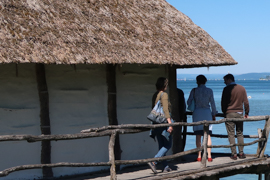 Pfahlbauten Unteruhldingen – Services
At least during Covid-19 times, there are no remarkable additional services than the visit itself. There were few employees who you could ask for assistance and orientation – but as stated above, they were obviously not instructed to care for a Covid-19-compliant processing. There is a small souvenir store on the back of the cashier area – which just leads to the fact that people cross their routes indoor. Another well-thought through Covid-19 concept (in case you did not get it: this has been ironic…)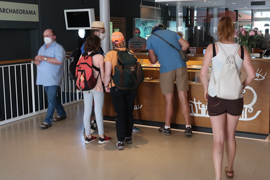 Pfahlbauten Unteruhldingen – My View
Maybe, under "normal" conditions, the Pfahlbauten in Unteruhldingen are a really nice place. I just saw restored houses, some limited information about the people's lifestyle – I appreciate the effort the museum took to create all this, but let's say 10 Euro are on the very upper limit of what I feel you should pay for that. There is not too much new information you receive in the place – and you can be a "blind passenger" and watch the houses from beach side. To be fair, it felt that some facilities were closed due to the hygienic situation.
Together with the parking "concept" I felt it was a rip-off – apart from that I felt that the city in general allowed far too many tourists in the whole village / beach area than sensible during Covid-19. It might make sense to limit parking lots – and by that, admission to the city in those times.
I feel: Don't go there currently!
Which leads me to my key point of critics: as I already wrote in my general experience posting about my Lake Constance trip, I just did not feel safe in here. The lake dwelling site just felt to make maximum profit, no real limitation of people at certain places, too few staff for a place like this which may make the people moving and by that reduce infection risk. Yes, we are getting more picky nowadays – and the more you can feel offended or cheated. Finally, this was the only place of my trip about which I would definitely say: if I was working in the responsible health authority, I would definitely have immediately closed down this place. Thus – at least at the moment – I would not recommend to visit Unteruhldingen and the Pfahlbauten.
Lake Constance (Bodensee)
Here are more postings related to Lake Constance (Bodensee) region:
Historic Museums
Here are all other postings on Historic Museums: