A five star stay in the lovely islands in the Azores capital, Ponta Delgada? Sounded like a nice sleep for my first time on the archipelago. Here is my view, whether it is worth to choose it for your Sao Miguel holidays.
Azor Hotel Ponta Delgada – Location
I wouldn't describe the Azor Hotel Ponta Delgada to be in the heart of the city – it is a bit East of the key touristic city center. However, it is right across the street to the harbour, where a lot of whale watching and other boat tours are leaving – so I guess that you will like the location definitely, if you fancy one of those trips – they often do leave very early.
Having said that, Ponta Delgada is quite compact, so it is just a maybe five to ten minutes walk to the historic center. On the other hand, you are very well connected to the expressways around the city. A taxi ride to the airport is some ten to fifteen minutes with a fixed price, which depends on number of persons and luggage (I paid ten Euros).  It took an additional ten minutes unitil my called taxi arrived at the hotel – surprisingly, there is no taxi stand at the hotel.
Azor Hotel Ponta Delgada – Rooms
I had a two-night stay at the Azor hotel in late May, when I (amonst other things) did the one-day scooter surrounding of the Sao Miguel islands (links to part 1 and part 2 of the trip report). Including breakfast, I paid roughly 250 Euro total for the stay for a standard room with sea view. On the bottom of this picture block, you also see the view to the opposite city site. The room was really beautiful with a nice balcony. I absolutely loved the view from there. Three cushions per person was also a very nice deal. The room included a complimentary minibar which had been refilled daily with mineral water and two kinds of soda. In addition, there have been hot drink making facilities. I also liked the multi-format power plug at the workdesk, so that North American and UK tourists do not necessarily need a plug adapter.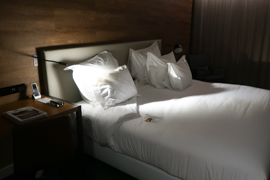 City View: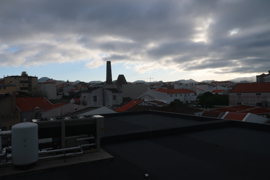 Azor Hotel Ponta Delgada – Breakfast
The breakfast buffet has maybe not been the most diverse one I ever had, but therefore the quality has been quite awesome. I absolutely liked the made-to-order egg dish area and the Patel de Nata. There was sufficient bread, cakes, fresh fruit, smoked salmon and cold cuts. Sparkling wine was also available. Hot drinks have been served at your table. The service was very good. The large glass front of the breakfast area gave a lovely view of the harbour area.
Azor Hotel Ponta Delgada – Services and Facilities
The reception did an absolutely fine job: check-in as well as check-out went fine – especially the check-in and welcome was very friendly, I felt welcome from the very beginning. I had one "complaint" / information, as I had to inform that my credit card has been hacked just some twenty minutes after check-in. I feel that they did not handle this situation well. I would definitely not assume that the disclosure of my credit card data has been caused at a Portuguese bank or payment provider (being a cause of my Six Intercontinent Flight Trip with a stop in Morocco the week before or my online shopping activities may be much more probable), but I feel it should nevertheless be treated as a serious information.
House keeping has been excellent as well. What I definitely liked that – apart from a welcome cookie – there has been a small flyer with the Azores' Top 10 activities on my bed at arrival.
The hotel offers a gym and a pool, both open 24 hours. The best way to access both of them is using a separate elevator, which connects all floors between first and top floor (not: ground floor). The pool is on an open, but wind-protected area at the seventh floor and is just a gem with beautiful views. From noon to midnight, you may also indulge yourself at the "Whalewatching Bar". The gym is in the first floor, located behind the restaurant / breakfast room. I felt it is really large and again beautifully equipped. A nice opportunity to relax after my scooter trip on the island.
The hotel also hosts a casino. I did not visit this one.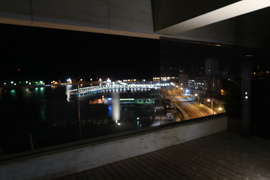 Azor Hotel Ponta Delgada – My View
Wow – this has been a nice one! I did an absolutely excellent choice for my stay at the Azores and can highly recommend this place. A hotel hospitality and performance, which definitely deserves the "Top Pick!" tag rating. It is hard to pick what I liked especially, but I would maybe go for three things: First of all, the view from the room. It felt lovely to me, very beautiful. Secondly, the lovely breakfast buffet. Not that much of an overwhelming variety, but excellent quality. Loved it! FInally, the pool area on rooftop is just top notch. If you want Ponta Delgada to be your Sao Miguel travel hub, you should definitely keep this one in mind!