Driving a model landscape or a large model train landscape in Germany is a difficult business: Even if you do a good job – if one compares you to the Hamburg Miniatur Wunderland, you are lost. The best rated attraction in Germany, which even beats Cologne Cathedral or Neuschwanstein Castle in reviews regularly, is simply too good, too outstanding. During a visit in June 2021, I visited Little Big City Berlin. They follow an interesting concept: instead of trying to display a certain region at a fixed time as well as possible, they show Berlin over time, from the beginnings to today. Here are my thoughts about whether they did well.
Little Big City Berlin – Location & Admission
Little Big City is located at the Alexanderplatz, the square which also hosts the famous Berlin TV-Tower. Traffic connections are excellent, from numerous bus and tram connects to local trains. The area hosts a couple of sights and stores, so that the parking situation around Little Big City Berlin is good as well – you just need to ask yourself whether you really want to drive into the very center of the German capital.
During my visit, the exhibition was opening from 11:00 to 17:00 hrs. Adult admission is 16 Euro. As the place belongs to Merlin Entertainment, you can buy combined ticket with SeaLIfe Berlin, Madame Tussauds, Berlin Dungeon or any combination of them, which partially leads to a significant reduction in the total ticket price. You may also use the German Merlin Annual Pass (called Abenteuer Pass, meaning "Adventure Pass").
Little Big City Berlin – The Visit
Before you enter the in-fact exhibition, you walk through displays of some historic events of the city. Like the whole place, any explanation is in German and English. There is a small audiovisual presentation before you enter the exhibition space. It is introducing to the characters, which you meet at multiple spots in the model landscape.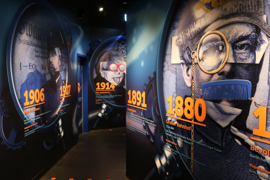 You start your walk through model Berlin in the 12th century. There is the opportunity to activate some animations or moving displays throughout the whole visit. In the Medieval Berlin, for example, you can activate a fight of two knights. The first centuries pass rather quick. You have to say that the concept of the place also includes that if you have two items next to each other, they might display events which are separated by a century or more, especially in the early stages your visit (later, the events get closer, of course). You don't just run into very well-known historic occasions, but also rather surprising minor things like the first public toilet.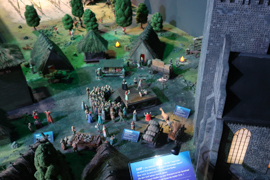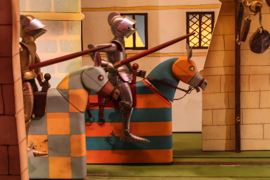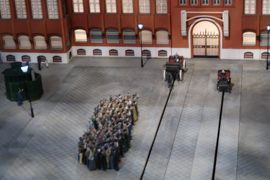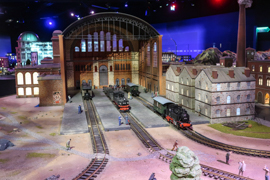 Nazi Era in Nighttime Only
Little Big Berlin comes with a nice change of daytime and nighttime (even though I thought that the night display lasts a bit too long. In one area, however, Little Big City is just showing you the city at night: the time of the Nazi era is a display in (relative) darkness. In general, I feel that this section is one of the most impressive one of the whole exhibition.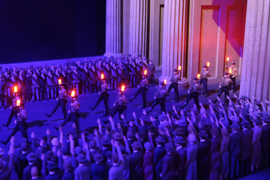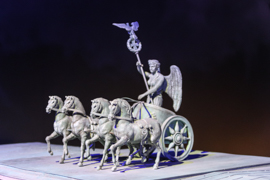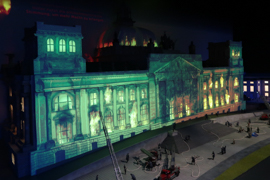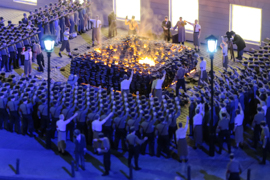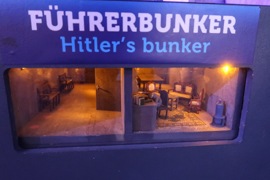 A major part of the remaining model landscape is about the split Berlin. Starting with the Luftbrücke (Air Bridge) and the construction of the Berlin Wall, you also run into Kennedy's famous speech or a GDR military parade. After the Nazi parade in the corresponding section, the Brandenburg Gate is in display for a second time as well.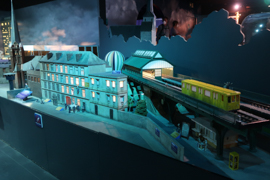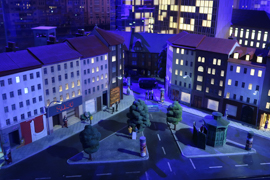 And then, there is the Hoff
It is a bit of stereotypical, but one of the last interactive displays you can play with is tearing down the Berlin wall. And, somehow of course, Little Big City just has to go for what you would expect: David Hasselhoff is standing on a platform and singing Looking for Freedom, with some fireworks in the background. Could there be more kitsch than that?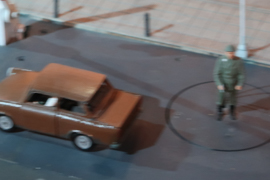 Little Big City Berlin – Services
The staff was really friendly and helpful in case of questions. Almost needless to say that there is a souvenir store at the end of your walk through historic Berlin, model size.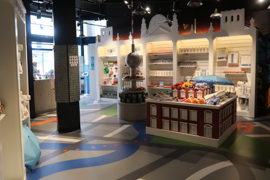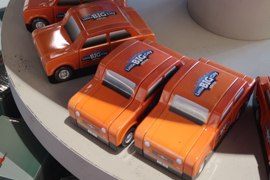 Little Big City Berlin – My View
Little Big City follows a really cool idea – thus, I overall liked the place. There are some weaker spots and I would have loved to see some more post-1990 moments in the scaled version of the capital. But overall, it is a nice little place. If you visit Berlin, you are likely in this area one day anyway. I would recommend to visit Little Big City – especially if you go for other Merlin places anyway.
Scale Modeling at Flyctory.com
Cars, Trains, Planes and more – here are postings about the world in model size:
Flyctory.com in Berlin
Here are all postings related to the German capital: