Lindlar, a minor Eastern suburb of Cologne, hosts one of two open-air museums driven by the regional Rhineland authority LVR. The key focus is on living in the Bergisches Land region in the 19th and early 20th century and is organised in several groups of historic buildings, which have been brought to Lindlar and put up there again. The German name is LVR Freilichtmuseum Lindlar.
Lindlar Open Air Museum – Location & Admission
The most popular way of accessing the Lindlar Open Air Museum is likely leaving the A4 motorway East of Cologne at the Untereschbach exit and heading Northbound for some 15 kms. There is a parking lot near the entrance (2 Euro parking fee, summer only). In case of events, there is also a Northern Gate entrance, which is generally closed. The museum is open all-year, Monday closed, with 10-18 hrs opening times in summer and a two hours earlier closing in winter. You may be allowed to exit the park later through evening gates, but the exhibitions in the houses are closed after these hours.
Adult admission for the museum is 6 Euro, kids younger than 18 years are free. The LVR is offering to have an annual ticket for all their museums, which is even offering free access to the similar facilities of the LWL, which is the regional authority for the Northeastern regions of Northrhine-Westfalia. This ticket is 25 EUR for an adult or 35 EUR for two of them. I already covered the Alte Dornbach Paper Mill and the the Ratingen-Cromford Textile Factory, which are both included in that ticket as well.
We explored the park in clockwise direction, the areas are given in the corresponding order. The area is comparably hilly, but the steepest hills are explicitly marked in the museum map. Most of the tracks are generally accessible, just some shortcuts are excluded. There are specific services for wheelchair users (see below). Some new houses are currently under construction, so there could be additional attractions during your visit.
Lindlar Open Air Museum – Entrance / Steinscheid
The first area you will visit, Weiler Steinscheid is dominated by the buildings of the huge farm buldings of Hof Peters. The are is not just informing about former farming methods, but also illustrates the post-WW II hunger and how people deal with it. These special exhibitions are just a great plus to the museum and have a show a nice diversity of topics. Another interesting exhibition in the area is the blacksmith's shop.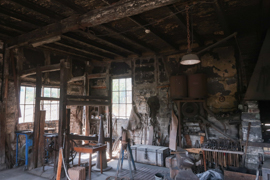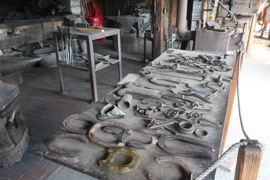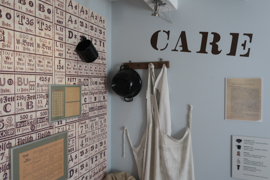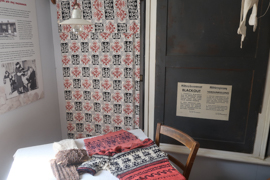 Lindlar Open Air Museum – Am Mühlenberg
"Am Mühlenberg" has just recently be opened. It is quite uphill and a bit separate from the other areas. There is an old industrial railroad, which was not in use at the time of visit. Therefore, the other exhibits are very interesting: the area starts with historic stone pit equipment, which is quite characteristic for the region. There are two major houses, a forester`s house and Haus Lindscheid, which is an ordinary house. Apart from a small exhibition, it shows historic life in several rooms. A nice addition is a small chapel which has been moved from Rösrath-Hellenthal to the open air museum.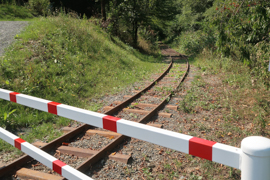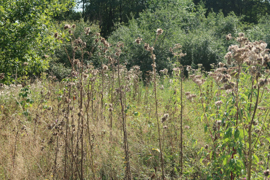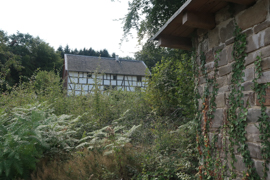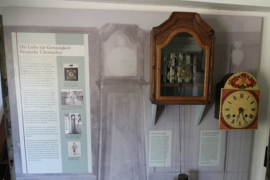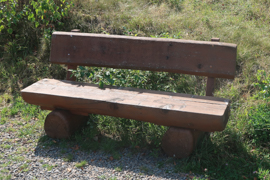 Lindlar Open Air Museum – Oberlingenbach & Gut Dahl
Not just because it hosts the restaurant Lingenbacher Hof (see below), Oberlingenbach is quite likely the area you will spent most time in, just due to the diversity of exhibitions and buildings in there. Due to the way we entered the area, we first entered the interesting rope maker's shop (bad luck there was no demonstration at that time), followed by a mill building hosting two exhibition. The upper level one showed the history of producing rasps in the area. We loved the ground floor exhibition, which showed how people in the past transformed rags and other old clothing.
The main area of Oberlingenbach hosts a lot of exhibits on farming – there are also some living animal around. Another designated exhibition deals with the usage of water.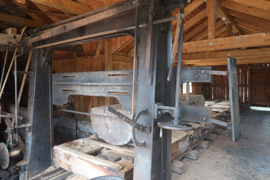 A bit away from the remaining exhibitions is the house of the band maker (like hatbands etc.). The house is very interesting – first of all, due to the band making machine, which is exhibited and is still working, but also due to a lovely garden area around.
Gut Dahl
Up the hill, there is Gut Dahl, which also hosts a hostel for school groups and other educative reasons.
Lindlar Open Air Museum – Hof zum Eigen
This are shows a typical farming village. The most interesting house might be the historic bakery, which is sporadically used by the museum. The huge barn, which can also be used for parties, is also very impressive.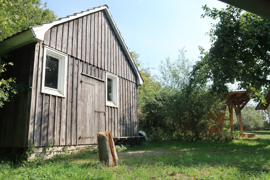 Lindlar Open Air Museum – Environment
The Lindlar Open Air Museum is much more than the selection / collection of houses. Even if there are many people around, most of the areas are peaceful and quiet and there is a lot of plants and animals (mainly birds) to explore – you may even grab a blackberry directly from the bushes if you dare to do so :).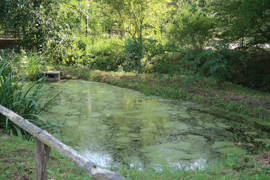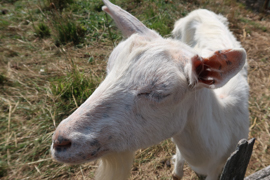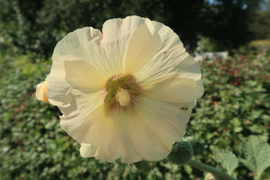 Lindlar Open Air Museum – Services
The museum offers several services to make your stay more enjoyable. You can for example have a handcart or suitable wheelchairs (electric/non-electric) or binoculars to watch the birdlife for free, you just need to have a deposit. There is also an audio guide, which is even available in English (did not test it). The main building's shop also offers local produce and some other nice products. It even hosts a local tourist information.
There are two locations where you can buy a snack: the tavern-like Lingenbacher Hof offers cake, warm and cold dishes and the regional traditional waffles as well as drinks. They even have an open-air area, where you can buy drinks and ice cream, but are explicitly allowed to consume your picnic. A small kiosk which also has an amazing selection of old-fashioned sweets is located near Gut Dahl. This unfortunately means that especially in the Mühlenberg area, it is challenging to fight your thirst. There are picnic areas and benches to relax throughout the park.
Sanitary services are frequently spread through the park. Any of the toilets I checked were spotless, which was very positive to me.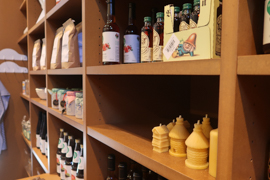 Lindlar Open Air Museum – My View
Despite living that quite near to it, I did not really know about this amazing place: especially at sunny weather (which we had), the Lindlar Open Air Museum is a true beauty and an entertaining, educative and relaxing place. There could maybe be more demonstrations – these are much more frequent in Lindlar's sister museum in Kommern. I will definitely come back to this place, as he variety of animals, exhibitions and stories is just outstanding. A definite five-star experience!
Postings of the Greater Cologne Region
Here are postings which are dealing with the Greater Cologne and Rhineland region:
Postings: Museums & Exhibitions
Here are all my postings about all kinds of museums and kind of other exhibitions: