The city of Venlo in the Netherlands is maybe some sort of perfect illustration of profiting from the Schengen Agreement, which allows border-free travel within a majority of European countries, and different national legislation: especially on Saturdays, when the town right at the German border has its market day, hordes of German storm over the A61 motorway to go shopping and enjoy the beautiful city.
One of the main destinations, which has become some sort of tourist attraction (I wonder that it is not listed in Atlas Obscura): the supermarket 2 Brüder ("Two Brothers"), better known under his former full name Die 2 Brüder von Venlo ("The two brothers of Venlo"). If you happen to speak German or Dutch, you will recognize that this name is not too Dutch, but German. It's Dutch name would be De Twee Gebroeders (van Venlo). The store is fully aiming to make their business with customers from the East of Venlo (which is in fact Germany). I just had to share this place with you.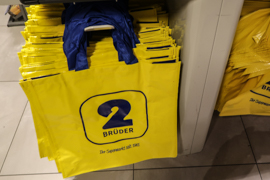 2 Brüder – Location & Access / Opening Times
The store is located right in the heart of Venlo. The address is Geldersepoort 10, but in fact, it is located right at Monseigneur Nolensplein, where the Saturday market is happening. Under that square, there is a huge parking garage, which will be packed on Saturday mornings. On especially full days like before Christmas or when there are national holidays in Germany, people report to wait for a parking lot for up to 30 minutes. The supermarket itself does not have a parking lot. If you did heavy shopping, you can take your cart to the parking lot for a 10 Euro deposit. The current Saturday parking fee at the garage is 2.66 Euro / hour. It is lower outside the weekend.
The 2 Brüder open 9:00 to 18:00 hrs on Monday, 8:30 to 18:00 Tuesday and Wednesday, 8:30 to 18:30 Thursday and Friday, 7:00 to 18:00 (in line with the early market opening) on Saturday and 10:00 to 18:00 on Sundays. As in Germany, stores are legally closed on Sundays, this is also a very popular shopping day in Venlo. The city is absolutely beautiful and is a lovely stroll (outside weekends, where it is too buzy, maybe). There is a lot of other shopping and also some sights around.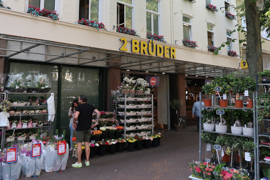 Alternatives
Though I like the store and I feel you just have to see it once in a lifetime, there are plenty of alternatives for grocery and food shopping in Venlo nowadays. My personal favorite is the Albert Heijn XL store at the Trefcenter, Nijmeegseweg, which is a nice shopping mall with some other stores (and also free parking) North of the city center.
2 Brüder – History
Geurt and Gerrit Snetselaar founded a store for delicatessen and fresh fruit and vegetables in the heart of Venlo in 1961. However, the store felt to become a huge fail, already after two months, the just did not make any money. Thus, the decided to focus on the German market. While the peers in the Dutch city smiled at them, they quadrupled their revenue in the first week by placing ads in Germany already – in a time, where there were different currencies and border controls between the country. The key reason for that are different taxation rules: Germany has a special tax on coffee and tea, so that these products are (still today) significantly cheaper in the Netherlands. Nowadays, the 2 Brüder also profit from the fact that drinks in cans are subject to a deposit in Germany. Undoubtedly, the store is the main driver, why Venlo became such a popular shopping destination for German people during the last years. The name change from Die 2 Brüder von Venlo to 2 Brüder was performed in 2019. The store nowadays has some 5,000 square meters and employs about 200 people.
Enschede Expansion
The concept is that successful that in May 2020, the company decided to found a new store in Enschede in the Overijssel province. The store is already open, but will be enlarged during the next months.
2 Brüder (Venlo) – The Store
Nowadays, right after you entered the store, you head towards the upper level via an escalator. The first product you are facing is cofffee, the product with the 2 Brüder made famous. I am sure you find your brew in there, they nowadays even sell brands like Starbucks. The area also features tea and some biscuits. There is also a serviced sale for pralines – however, this seems to be closed during peak days.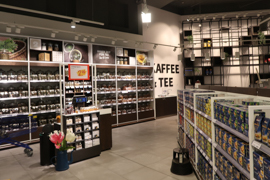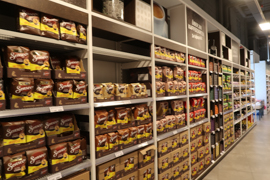 Apart from coffee and tea, the upper floor majorly features sweets. I feel the selection of Haribo wine gums is close to the selection at their minor factory stores. There is a lot of chocolate and some typical Dutch sweets. The upper floor also features the drugstore area (as the Netherlands partially have considerably different prices on medicine) and the toilet.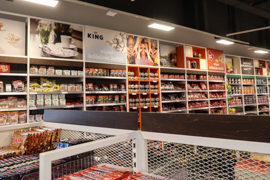 On the lower level you start with a nice selection of Asia food, spices and sauced and canned fruits / vegetables. There are also crisps and other snacks.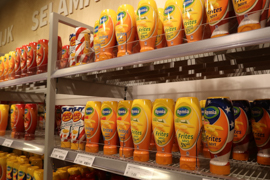 One of the key areas nowadays is drinks, which are sold in cans in a high proportion due to the different deposit systems between the countries.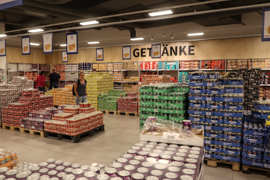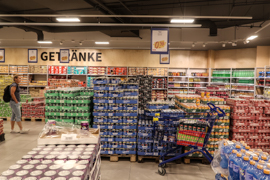 Before you leave the store, you pass the chilled and fresh food as well as the frozen stuff. Of course, there is Dutch cheese, but you also get Bavarian-style meat loaf. A popular area is also fish and dairy products, majorly the Dutch vla.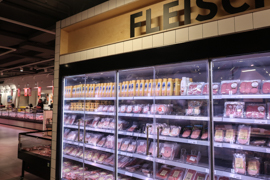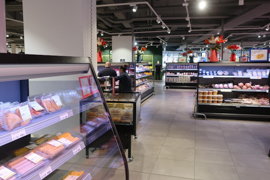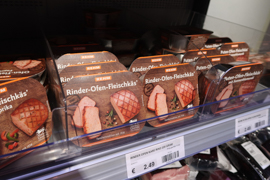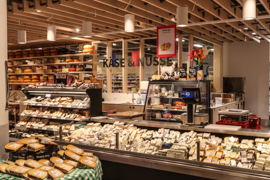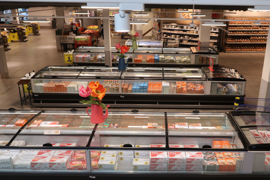 2 Brüder (Venlo) – Restaurant & Snack Bar
Nowadays, the 2 Brüder features two places to refill yourself. The snack bar is heading towards market square and offers minor things like waffles or sausage, while the restaurant on the opposite side serves full dishes. Both places are very popular as well.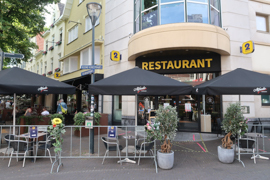 2 Brüder (Venlo) – My View
It is very hard for me to define a fair view on the Venlo version of the two brothers empire. First of all, it is a great and beautiful supermarket. No argue against it. If you happen to have a chance to go shopping there Monday to Friday, you will enjoy it. Their prices might be slightly higher than their peers, but they simply have great stuff and quite a lot of items you would neither get in German stores nor in other Dutch ones.
The reason for my partially fractious relationship is the weekend, especially Saturday. And it is about my people, the German visitors there. I really admire the crew of the strore that they handle that weekly crush in such a calm and organized way. I really feel sorry for the behavior of some German people in the store – you also have to state that the store likely does not attract a representative sample of German people. If Dutch people sometimes dislike their neighbors, Venlo on a Saturday gives you some reason for it. If it is economically (and ecologically) sensible to go shopping in Venlo from Cologne or Dusseldorf is likely arguable (even though most shopping carts value far more than 100 Euro). The supermarket itself is, however, just a well-driven place and a perfect example how to aim for a well-chosen target group of customers.
Everything about the Netherlands
Here are all postings related to the Netherlands:
Postings about Shopping
Here are all postings related to Shopping: