Early summer 2022. After the Covid-19 crisis feels to have come to a certain end, air travelers all over Europe need to stay strong: newspapers report about handling issues in practically all major European airports. German newspapers complain about long queues and baggage handling times, Dutch passengers even alter to German airports, as Amsterdam-Schiphol (AMS) is even worse and people typically wait outside(!) the terminal building as the queues are too long. I just wanted to see what is going on and do my own analysis.
Dusseldorf Airport (DUS) has a beautiful tool, which allows me to watch a typical morning at the airport without being there by myself: they have public webcams, one overlooking the landside area of the A Gates area.Another advantage of Dusseldorf (DUS) to me is that it is my most frequently flown airport, so that I know the facilities very well. I have some background in analyzing traffic systems in regards of their robustness against delays and in modeling waiting lines. Nonetheless, this blog is not scientific and might also have some mistakes. I just did screenshots so that you cannot reconcile the walking routes of individual passengers. In general, I feel that the quality is not good enough to identify persons. The post is based on the morning of 16th June 2022, a Thursday morning, which was a public holiday in this part of Germany.
With this posting, I am not trying to "bash" Dusseldorf Airport (DUS). The analysis would be similar at many European airports in this time. The tools, esp. the webcam, just make it handier for me to chose this travel hub.
The Post-Covid Situation at European Airports
There are a lot of very bad, but also some very good sum-ups, why Covid-19 lead to a mess in the 2022 aviation world. To make the long story short, there were two factors: the airports and airport service providers fired many employees during the low flight volume pandemic. After traveling goes back to normal, they did not make people going back to their jobs or acquire new ones. Depending on the job, you need a certain time for training before you are fit for work as well. The second effect is that people longed much more for traveling again than some companies might have expected. The demand almost exploded, booking figures for holiday destinations are back to 2019 level. Too low capacity, too high demand… You know the result.
A much better – and more detailed – analysis, including the view of flight crew and pilots, can be found in this excellent video:
Dusseldorf Airport – A Gate Area Overview
Especially for those of you, I give you a little overview below, what you see on the pictures. The most interesting areas are the top right of the webcam, where you see the Eurowings check-In for all flights. The Hurghada flight (see schedule below) has a designated check-in area. Correndon is splitting their check-in by flight on the bottom right side. The waiting line for the Security, A Gates, is rather in the middle of the left hand side of the webcam. You have to say that the significantly larger part of the line for the security control is out of sight of the webcam.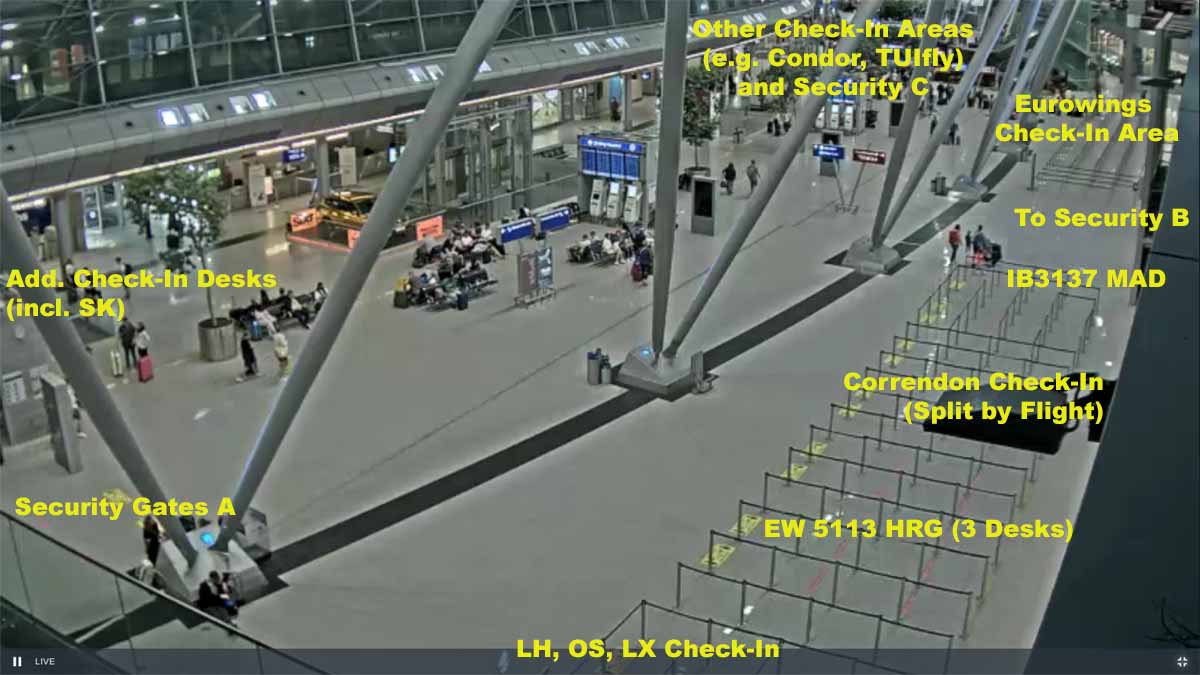 Here are some more views, I took of this part of the airport on other days (in the late evening hours when there was less operation). The first snaps are taken from the rather large Eurowings area. The next pictures are illustrating the check-in area used by Iberia, Correndon, the three major Lufthansa carriers and the Hurghada flight on the illustration above. These places are also in the rear of the picture with the golden (car rental) advertisement car, which is a good orientation on the Dusseldorf webcam.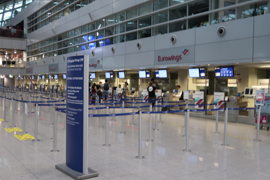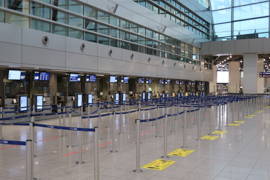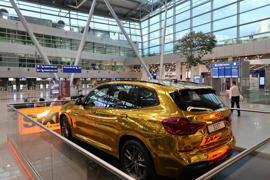 Finally, here are some impressions of the entrance to the Security Gates A. I feel that even the rather small picture format illustrates the vast capacity of "storing" people in this area in addition to queues you will see in the screenshots below.
In contrast to the typical way Flyctory.com is set up, you may click on the major size webcam pictures to enlarge them for more detail.
Dusseldorf Airport at 16th June – Flight Schedule
One thing I feel is very neglected in many specific local analysis is the flight schedule. I will look into the time between 3:00 and roughly 6:00 hrs local time. Dusseldorf Airport is not allowed to operate in night hours, the first planes in fact take off at 6:00 hrs. As people are told to be at the airport three hours in advance, here is the flight schedule of that day between 5:50 (off block time, so that they have ten minutes for departure) and 9:00 hrs: You have to clearly state that this is a rather moderate schedule for summer season in Dusseldorf – especially during summer school holidays, the airport is running at an even higher frequency.
| | | | | |
| --- | --- | --- | --- | --- |
| Time | Flight | Number | Destination | Aircraft |
| 5:50 | DE | 1152 | Split (SPU) | 75T |
| 5:50 | X3 | 2312 | Palma de Mallorca (PMI) | 73H |
| 5:50 | DE | 1514 | Palma de Mallorca (PMI) | 75T |
| 5:50 | DE | 1774 | Palma de Mallorca (PMI) | 320 |
| 5:50 | DE | 1756 | Samos (SMI) | 320 |
| 6:00 | LH | 73 | Frankfurt (FRA) | 319 |
| 6:00 | X3 | 2404 | Mahon / Menorca (MAH) | 73H |
| 6:00 | X3 | 2914 | Ibiza (IBZ) | 73H |
| 6:00 | X3 | 4588 | Rhodes (RHO) | 73H |
| 6:00 | DE | 1622 | Rhodes (RHO) | 32B |
| 6:05 | EW | 9584 | Palma de Mallorca (PMI) | 32N |
| 6:10 | SK | 620 | Copenhagen (CPH) | CR9 |
| 6:10 | EW | 9536 | Malaga (AGP) | 32A |
| 6:10 | DE | 1620 | Kos (KGS) | 32B |
| 6:20 | KL | 1852 | Amsterdam (AMS) | E90 |
| 6:20 | EW | 9048 | Berlin (BER) | 319 |
| 6:20 | EW | 9612 | Korfu (CFU) | 320 |
| 6:20 | DE | 1780 | Preveza (PVK) | 32B |
| 6:20 | DE | 1146 | Zakynthos (ZTH) | 320 |
| 6:30 | EW | 4840 | Palma de Mallorca (PMI) | 320 |
| 6:35 | EW | 4239 | Prague (PRG) | 319 |
| 6:35 | EW | 9654 | Thessaloniki (SKG) | 320 |
| 6:35 | EW | 9630 | Rhodes (RHO) | 32A |
| 6:40 | BA | 3270 | London-City (LCY) | E90 |
| 6:40 | AF | 1107 | Paris (CDG) | E90 |
| 6:40 | EW | 9340 | Manchester (MAN) | 320 |
| 6:50 | EW | 9762 | Zurich (ZRH) | 223 |
| 6:50 | EW | 9826 | Milan (MXP) | 32A |
| 6:50 | EW | 9468 | London (LHR) | 223 |
| 6:50 | EW | 9784 | Budapest (BUD) | 32A |
| 6:50 | EW | 9680 | Athens (ATH) | 320 |
| 6:55 | EW | 9742 | Geneva (GVA) | 319 |
| 7:00 | EW | 9082 | Munich (MUC) | 319 |
| 7:00 | EW | 9336 | Birmingham (BHX) | 223 |
| 7:00 | XR | 4040 | Korfu (CFU) | 738 |
| 7:05 | EW | 9814 | Catania (CTA) | 319 |
| 7:10 | EW | 9810 | Venice (VCE) | 223 |
| 7:10 | EW | 9754 | Vienna (VIE) | 223 |
| 7:10 | EW | 9868 | Cagliari (CAG) | 319 |
| 7:10 | X3 | 2322 | Palma de Mallorca (PMI) | 73H |
| 7:10 | EW | 9530 | Alicante (ALC) | 320 |
| 7:10 | EW | 5112 | Hurghada (HRG) | 32A |
| 7:15 | XR | 4044 | Tenerife South (TFS) | 738 |
| 7:20 | BA | 935 | London (LHR) | 319 |
| 7:20 | LO | 406 | Warsaw (WAW) | E75 |
| 7:20 | EW | 9216 | Stockholm (ARN) | 319 |
| 7:25 | LH | 2035 | Munich (MUC) | 319 |
| 7:30 | EW | 9242 | Copenhagen (CPH) | 319 |
| 7:30 | TK | 1530 | Istanbul (IST) | 321 |
| 7:30 | XQ | 185 | Antalya (AYT) | 73H |
| 7:50 | EW | 9882 | Rome (FCO) | 320 |
| 7:50 | IB | 3137 | Madrid (MAD) | 32A |
| 7:55 | EW | 9578 | Palma de Mallorca (PMI) | 32A |
| 8:00 | PC | 1006 | Istanbul S-G (SAW) | 738 |
| 8:05 | XQ | 181 | Antalya (AYT) | 7M8 |
| 8:05 | XQ | 749 | Gaziantep (GZT) | 73H |
| 8:15 | KL | 1854 | Amsterdam (AMS) | E75 |
| 8:25 | EW | 4335 | Salzburg (SZG) | 319 |
| 8:25 | XQ | 281 | Antalya (AYT) | 73H |
| 8:35 | LH | 79 | Frankfurt (FRA) | E90 |
| 8:35 | EW | 7061 | Hamburg (HAM) | 32A |
| 8:40 | TK | 4317 | Antalya (AYT) | 73H |
| 9:05 | AF | 1307 | Pairs (CDG) | E90 |
| 9:05 | DE | 1848 | Palma de Mallorca (PMI) | 75T |
| 9:05 | XQ | 685 | Dalaman (DLM) | 73H |
The exact destinations don't matter to much, it is rather about the size of the planes (i.e. the number of passengers) and which gates they are using. In Dusseldorf, you may use any security for any gates, but this is rarely known by passengers (and also rarely promoted by the staff). C Gates are for non-Schengen flights. A Gates are typically used by Lufthansa, Eurowings and Star Alliance, there were a few Condor A Gates flights that day as well, but you can roughly say that most Schengen holiday flights (e.g. Spain, Italy, Greece), if not operated by Eurowings are using B Gates.
I feel the high load of planes scheduled to depart / go off-block (i.e. leave the gate/parking position) between 05:50 and 06:20 hrs is questionable, especially if you are running under capacity constraints. Of course, the earlier planes leave, the more rotations / flights they can do that day – and that finally leads to more (economic) efficiency and cheaper flights.
The Morning of 16th June at Dusseldorf Airport
I started watching the webcam at 3:00 hrs local time. People were told to be at least three hours before departure at the airport – so that I felt this might be a good choice. There have been some webcam outages at the beginning, but luckily, none of them really affected me watching what was going on.
My general assumption will be that all airport parties are acting smart. This for example includes the management of the check-in desks and the security control. If they, for example, don't open more check-in gates or don't open them earlier, I assume that they believe it is working out or that they don't have sufficient capacity for that. Especially at the end of my three-hour journey, I will have to deviate from that assumption, I sometimes marked things in the screenshot, so that it is easier for you to reconcile. I will always give you the exact time, with seconds, at which I took screenshots. There is, of course, a certain latency.
At 03:00:40
I started watching the webcam at 02:57 (the screenshot I used for the overview above). What you see is that at least quite some people are in line with what they have been told by the airline: the first Eurowings (EW) flights are scheduled for departure at 06:05 and 06:10 – the people are in fact in line three hours before. The check-in desk for Eurowings is not open yet. Unfortunately, we cannot see the other two major airlines in the morning slot, Condor (DE) and TUIfly (X3). You also see that the airport is not too crowded.
03:15:03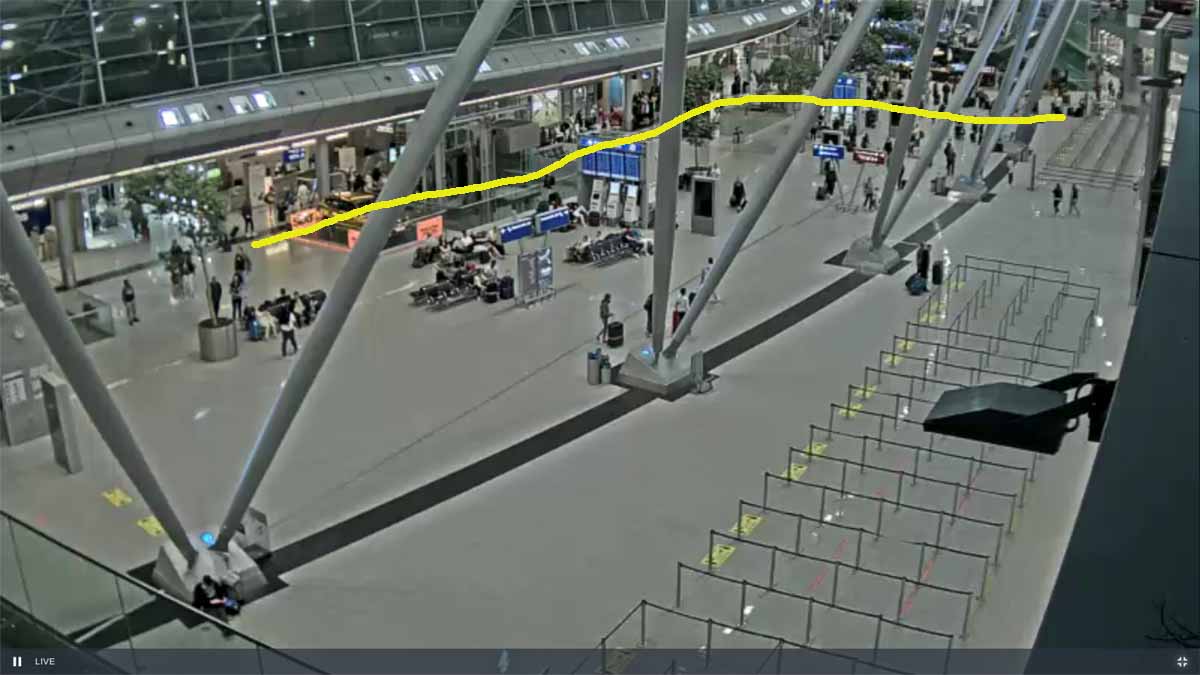 Unfortunately, there was a webcam outage and I originally wanted to stop this experiment already, but fortunately, the webcam recovered. The picture might look not too interesting at first sight, this is why I marked the EW queue again. You see that within 15 minutes, despite we are still about three hour to the first departure, the queue got significantly longer. I was quite surprised how quickly the line is developing. Bear in mind that the peak of Eurowings departures is rather between 06:30 and 07:10 hrs.
03:26:14
About two minutes before I took this screenshots, Eurowings opened the waiting queues for the check-in. Despite that, you cannot see the end of the queue any more. If you would assume that all passengers would arrive exactly three hours before their flights (which is obviously nonsense, but a nice model), the majority of Eurowings passengers would still not be in the terminal. We could expect them within the next 30 to 45 minutes, though. About this time, Condors seems to start operating. If I trusted the waiting times at security Dusseldorf Airport is regularly updating (also online), the B Gate security will state a waiting time of over 20 minutes already very soon. Security at A is definitely closed, C likely as well – both show waiting times of less than five minutes or similar.
However, the queue for Eurowings gets more compact again, as this picture as of 03:32:54 shows. This is because the queue is not moving any more, people reduce the distance between each other. You also see some first passengers in the waiting lines for the check-in desks on the bottom right. So far, if you arrived early for a Eurowings flight, your only advantage is a good position in the waiting line.Sounds sarcastic – but of course that also means that you have an advantage against other Eurowings passengers once it comes to the airport security. Despite quite some people wait for some half an hour or longer now, you saw that they move slowly and relaxed. I hardly spotted any different behavior. The passengers seemed to expect the scenario of waiting.
03:47:07
This is quite an interesting one. Eurowings started to run the check-in some three, four minutes before. The queue you see there, marked with the yellow arrow, is neither for a Correndon nor for the Hurghada flight, but the end of the Eurowings queue. Despite check-in has started, the line for Eurowings flights has massively grown. On the bottom left corner, you also see the first people waiting for Security A to open.
03:52:06
This one is just some five minutes later. The airport management saw that problem with the too long queue. Unfortunately (for my analysis), they moved the queue so that it is ending somewhere at the very top of the screenshot. This is of course very smart management, as they don't block check-in desks any more. However, you see that especially the active Eurowings check-in now feeds the waiting line for Security A gates. On the other hand, the two Correndon flights and the Eurowings line for the Hurghada flights are growing as well, no check-in action there so far. These lines might thus be crossing soon (which always leads to stress and chaos).
What I was impressed about was that still the people were moving very slowly and relaxed. It is also interesting that hardly any person leaving the Eurowings check-in headed to the (open) security area of the B Gates. They decided to go for Security A Gates, even though this area was still not operating.
03:58:35
It is amazing how quickly the situation can change within six minutes. The queue at Security Gates A is rapidly growing in that situation. In these moments, I was especially thinking about smaller services like SK 620 by SAS to Copenhagen (CPH): You would likely easily handle the check-in of the flight if you open the counter 90 minutes before departure… But then, you risk that half of your flight is stuck somewhere in one of these lines. Thus, in a situation, where the airport is lacking is resources, you might still have to use some inefficiently (too long counter opening times) to ensure that a flight can be operated.
04:11:40 / 04:16:54
Security at the A Gates was still closed and more and more people tried to join its queue. On the upper picture, taken at 04:11 hrs, you cannot spot the end of the line for Security A any more. If you wouldn't be able to draw the exact waiting lines any more in the picture below, some five minutes later, if you hadn't the context of the screenshots before. That's like about the situation German yellow press is doing the best snaps for their daily airport updates I am really tired about..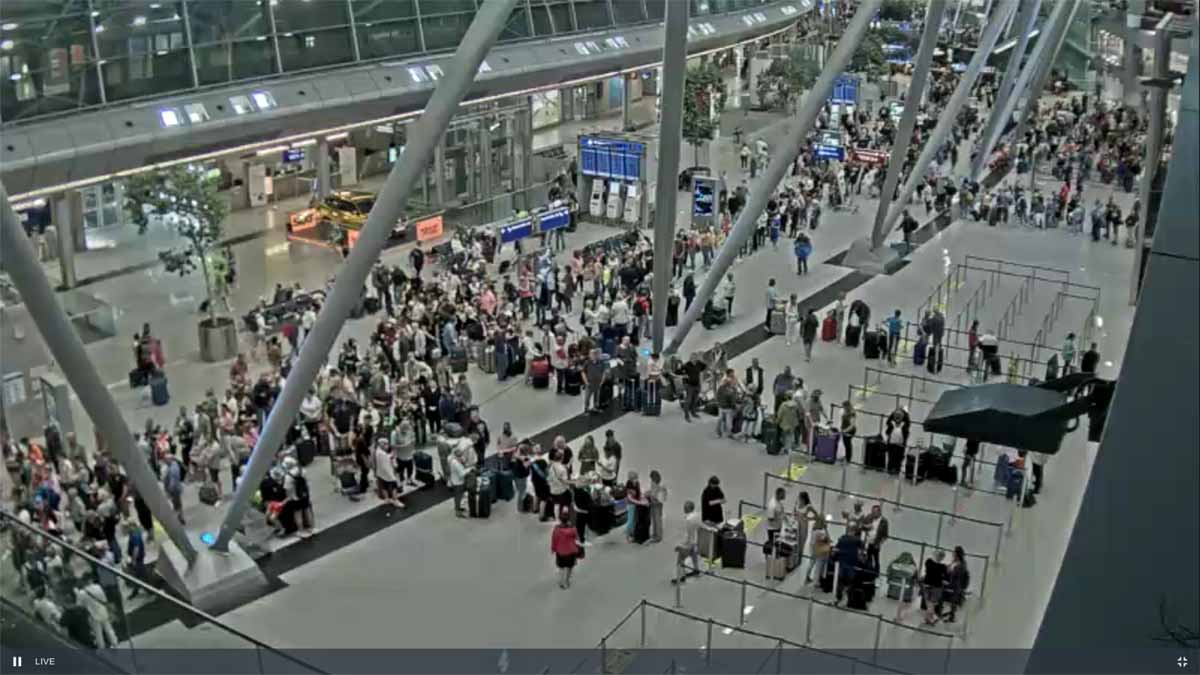 Just one or two minutes later, the Security at the A Gates opened. This just means that part of the queue is moving to the waiting lines the camera is not covering. but still that relaxed the situation in the terminal.
04:31:24
Due to the boarding pass check, the line at Security A is not moving very fast, but overall, moving the passengers to the lines behind boarding pass check worked surprisingly smoothly. The lines at the Correndon and Hurghada flight check-ins grew steadily. Bear in mind that scheduled departure for these flights is less than three hours ahead. Again, these people arrived early in favor of a good position at check-in. The counters were still closed.
04:57:34
Undoubtedly, the terminal area is crowded, but operations went smoothly. The check-in counters in the bottom right had opened in the meantime. Watching the webcam felt like watching a well-running process. Yeah, people were in long queues, but there were just very few service interruptions. I already felt that this analysis is over. Then, something very surprising happened.
05:09:03
So far, I felt that Dusseldorf Airport and the airlines really had done a great job – but part of this thought was obviously based that the camera does not show the check-in counters behind the Eurowings desks. Almost like in panic, airport staff urged people from the Hurghada flight to move to right next to the Lufthansa check-in. The Correndon gates have also been slightly moved. Then, masses of people came from the area where the Condor and TUIfly check-in counters are located. These people were running and very hectic. I first felt it was a riot or something, but then I checked the online flight status:
Condor now stated check-in counters 109-190 for the Split and Samos flight, TUIfly showed 139-207. This, as such, is of course nonsense, there are numerous check-in counters, including Eurowings, Correndon and Iberia in between which were used. Obviously, the airlines in the rear of the terminal could not handle all passengers and needed additional check-in capacities. By the way, this also applied for KLM, whose flight is just so small that it comes with a comparably small impact to the situation.
Screenshot above from Dusseldorf Airport website
05:12:15
I took this shot just three minutes later… and you still saw quite a lot of people running to the area in the front as well as to the check-in desks you reach when you run to the top-left corner. The airport staff did a great job by somehow trying to keep access to the security – but of course, now you had a hectic situation.
It was amazing how quickly the additional capacities could be acitivated and people could in fact check-in. This just took some five to ten minutes. But at this point in time, these airlines had flights which almost almost hit boarding time. They obviously did not calculate or predict the right capacities they needed – especially as those seemed to be available. Remarkable that Eurowings did not go through similar issues – even though their slightly later departures suggest that their passengers might have a worse position waiting for the security check.
05:31:36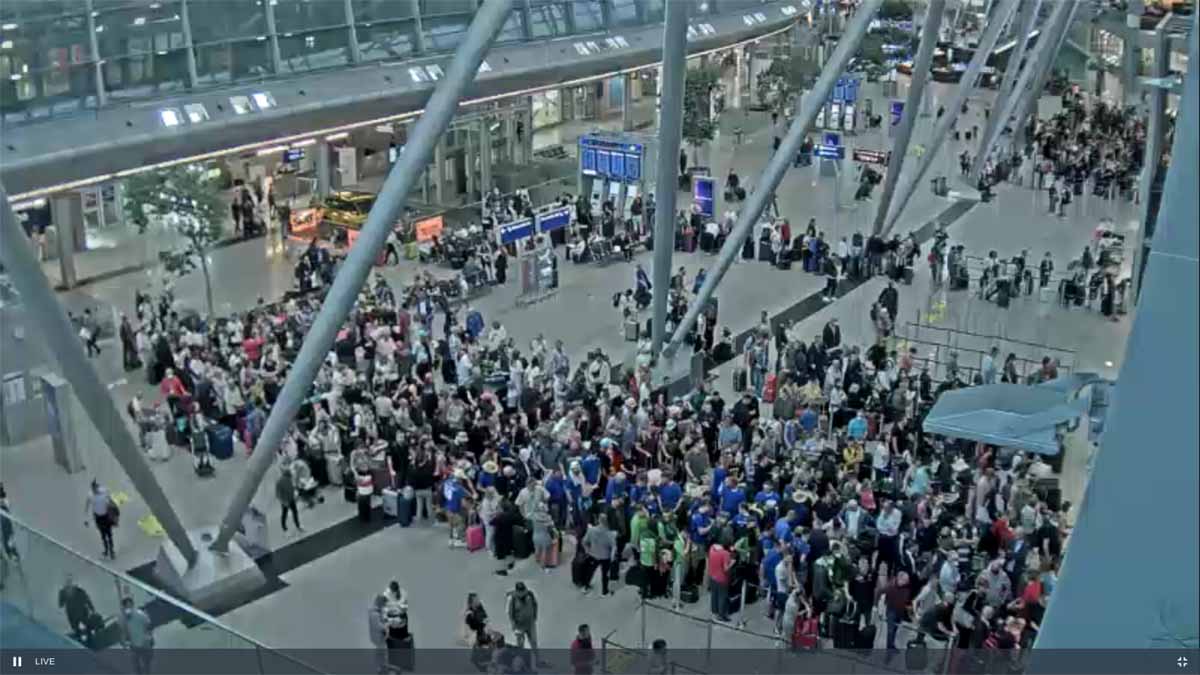 As I said above, I felt it was amazing how quickly the airlines and the airport got back control of the situation. After people were initially quite hectic in the lines, you could see that the situation significantly calmed down. The predicted handling time at security went down again. Not too surprisingly, though, there were first major delays, e.g. DE 1620 to Kos, which was assumed to depart 150 minutes later (finally, the delay was some three hours). Another Condor flight to Zakyntos had a +60 already, TUIfly's X3 2312 to Palma (PMI) finally arrived there with a 95 minute delay.
Some ten minutes later, I decided to close the webcam feed, as the system was stable.
My thoughts based on the 16th June 2022 Experience
This posting comes with a lot of caveats: I am not an expert for most of the skills you would need for a deep analysis. In addition, I don't have access to all data. Especially, it would have been interesting to see the rear part of the terminal as well. And, of course, it is just a one day observation. Nonetheless, I feel that there is quite some amazing staff at Dusseldorf Airport (DUS). Otherwise, they would not be able to handle these queues quite efficiently. However, you also see in this analysis that some airlines reacted too late.
I personally feel that no airline should have a that concentrated schedule at the beginning of the day as Condor had that day (honestly, they have that very frequently in Dusseldorf). Once you get into trouble with something, you affect too many flights in parallel. If you can proof that your team is able to handle the situation, also under minor disturbances, it's fine. Otherwise, your departure times should be spread temporarily. We have a low capacity situation. In a certain extent, the flight schedule should also protect check-in agents and security from waves of passengers under huge time pressure, which you finally cannot handle.
Some Other Ideas To Improve The Situation
I just felt to add some other ideas how to improve the situation for air travel, specifically in Dusseldorf. Being not an expert at all, they are just ideas, some of them might be not realistic, either due to restrictions at the airport or also because they won't be accepted by passengers:
Re-order Passengers at Check-In
For the community of passengers, it might be unfortunate that people at the front of the check-in line will depart in three hours, while the guests leaving in one hour are rather in the rear. This might lead to missed flights or delays. You cannot sort people all the time, of course (and there wouldn't be any reason to be early if you did), but you could maybe arrange the waiting lines by time sections: there is one waiting line for 5:50 to 6:30 departures, one for 6:30 to 7:00 hrs etc.You can simply pick, which passenger you like to serve. Maybe you grab three urgent groups, followed by one less urgent or similar.
The disadvantage might be that people systematically go for late arrival at the airport, as they are aware of their late arrival priority status.
Dynamic Usage of Check-In Counters
This one is somehow linked to the idea above. If you have your customers arranged by urge / departure time (there might also be a priority due to frequent traveler status etc.), you might also assign more or less check-in desks to that group. Of course, it might not be realistic that Eurowings staff might not help out Condor as they are low on capacity, but you could at least do within one airline, ideally if their desks are all next to another. You sometimes see that late flights or very popular destinations come with designated check-in desks.
Better Equipped Security Stations
Many German airports are unfortunately poorly equipped at the security check lines. While airports like Amsterdam have lines where you don't need to take our electronic equipment or many British places have several desks where you can put your hand luggage into the trays, inexperienced passengers or those with a lot of luggage (or nasty people who just want to break the rules) typically delay processes in German airports significantly. There have been some upgrades in the recent past, but the traditional "one passenger blocks all" places are still very frequently used. Dusseldorf has a few of them.
Free / Cheaper Evening / Off-Peak Check-In
At least regarding the check-in, it is questionable to me, whether you really have to check-in a few hours before you in fact fly. Some airlines (especially major ones, who anyway operate all day) offer evening check-in. Typically, this costs a fee. Yeah, you need space to store the luggage before the flight, but in a situation like this, wouldn't it be better to honor passengers who check way before their flight in low-peak situations? Maybe giving them a drink voucher, early boarding or whatever? Some low-cost carriers like Ryanair already charge you for checking in. I don't like that – but wouldn't it be maybe an idea if you pay less when you go for a less popular check-in time slot? You already pass less for flying with hand luggage only for the same reason – because you make less / more efficient use of the airport's and airlines capacities.
Be Prepared – We're in this togehter
Last, but not least. It is also about each and every one of us. Be prepared. I mean it in a rather wide sense: make absolutely sure you have the right documents for check-in. There are a lot of more or less useful passenger forms required nowadays. Also use the waiting line at security to give the guys there a smooth process. Take your notebook out, be quick. By the way, the rules about liquids on board are the same since two decades. They won't be changed just for you. And, of course, be polite to the people working for you. Even if there is anything which makes you think they might not do an ideal job – they are still much more helpful to you than all the people who are missing in the current aviation staffing.
Happy to discuss with you.
Finally, if you look at the times you really need for check-in, security and going to the gate, this might be a net of 20 minutes at most airports, even major ones. The remaining time is buffer (which you do need), waiting times (which nobody needs) and maybe entertainment time (like shopping, eating – which you might need or not). If airports would be really efficient, arriving 40 minutes before boarding might be absolutely fine. However, you might also spent less money there. There are always two sides of a medal. Currently, the coin feels very one-sided, though.
Aviation on Flyctory.com
Here are all postings about Airports & Airlines:
Covid-19 Postings on Flyctory.com
Here are all postings related to the 2020 Covid-19 crisis: