FRS Helgoline Halunder Jet VIP Premium Class
117.50 EUR (daytrip return)
Helgoland (in English also called Heligoland) is very often referred to as Germany's only deep-sea island. Even though this nice marketing strategy is as much of a lie as many Instagram influencer story postings, there are some hard facts, why Germans love the island. It's got amazing nature. You can see Atlantic grey seal and masses of birds. Okay – it is also tax and customs free. I have never been to the island before, but on a trip in June 2021, I decided to take my debut.
While most of the options are ship connections from Cuxhaven or Büsum at the German North Sea coast, the catamaran Halunder Jet connects Hamburg with the island once per day. I had a one-way ticket, flying back with OFD airlines to German mainland. Here are my thoughts.
FRS Helgoline – Network
The connection is driven by FRS Helgoline. It is in fact a daughter of the shipping company FRS. The company, which has been founded in 1991, but in fact is a merger of two companies at that time, is having multiple ventures in Germany. For example, they also connect Sylt with Denmark by ferry or drive the ferry connection Glückstadt and Wischhafen over the Elbe river. They also operate internationally and for example connect Algeciras in Southern Spain with Tangier in Morocco and Ceuta.
FRS Helgoline themselves just drive the Hamburg to Heligoland connection. The ship departs in Hamburg in the morning (9:00 during my cruise) and arrives at the island at about 12:45 hrs. There is a stop for passengers to board in Cuxhaven. From there, the trip is about 70 to 75 minutes. If you do a daytrip, you have some 3:30 hrs on the island only before the ship is heading back to Hamburg. On two days a week, they leave later so that you have about an additional hour.
Halunder Jet – The Ship
The Halunder Jet as I rode it is in fact the second generation of a catamaran. This new ship is operating since April 2018. The catamaran connection is only active in summer and around Christmas. The ship is about 55 meters long and 14 meters wide with a maximum draft of 2.5 meters. It is driven by four diesel engines with a total power of 8,960 kW driving four propellers. The total capacity of the ship is 680, which also illustrates the importance of Helgoland tourism. There are some 1,300 permanent residents only on the island. The maximum travel speed of the catamaran is 65 km/h.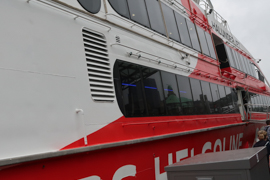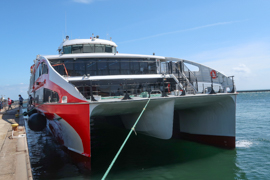 There are three classes on board: the standard traveling experience is called Jet Class. They are the interior seats on the lower deck and the rear of the upper deck. If you sit at the window in these areas, you are part of the Paronama Class. Premium Class is the front part of the upper deck and offers most luxury. The very front row of Panorama Class (lower deck) and Premium Class, which offer an unobstructed view in the direction of travel, is called VIP seating. The Premium Class has an own balcony in the direction of travel. Nobody used it during my trip, so that I did not dare to go out. Due to the massive speed, it is closed between Hamburg and Cuxhaven anyway. You may use the open decks at the rear of the ship. Premium Class seating is separated by doors from the other parts of the ship.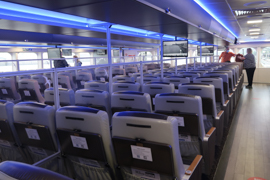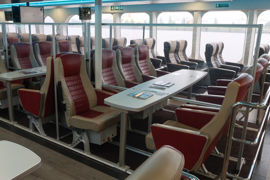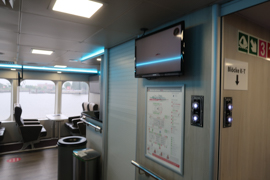 FRS Helgoline Halunder Jet – Tariff & Luggage
For my one-way trip with Halunder Jet the VIP Premium Class, I paid 106.50 Euro. This is about the most ridiculous trip you can take (I just wanted to take the flight back), as the return ticket on the same day would have been just some 20 Euro more. If you stay on the island and have a return some days later, you still pay significantly less than two one-ways. There are alternatives to combine flight and ship with other shipping companies, though. The cheapest same day return Jet Class adult ticket is 76.10 EUR is low season and 96.40 EUR in high season. There are also family tickets etc. Tickets from Cuxhaven are about 15 Euro lower (even though the trip time is significantly shorter).
Hand luggage is allowed. You can also bring one suitcase with you if you stay on the island Heligoland has some special rules – one of them is that you must not bring your luggage to your accommodation, it will be transferred to the place. Thus, you check it in at Hamburg already. Helgoland laws forbit you to bring bicycles on the island. Electric scooters are also not allowed.
FRS Helgoline Halunder Jet – Boarding in Hamburg
Halunder Jet is departing from the famous Landungsbrücken in St. Pauli. You can easily reach the location by S-Bahn commuter train. If you step out of the station, you already see the ship, so that you really cannot miss it. Traveling with hand luggage only. boarding at Hamburg was really easy. There is no distinction between the travel classes – all passengers board through one entrance. As Helgoland had very strict Covid-19 rules at that time, you could even to an antigene testing right before the trip. If you travel with luggage, you check it in right in front of the ship – which felt to be very well organized as well.
FRS Helgoline Halunder Jet – VIP Premium Class
I am not sure whether I would prefer the fixed tables or foldable ones – but apart from this minor thing, the Premium Class cabin at the front of the upper deck has really been posh. Nice, cozy seats, very spacious, comfortable and a nice recline. One thing which has been a bit of strange is that seats at the sides of the cabin came with power plugs, while my seat in the middle front of the area did not have one. Premium Class even has own toilets, which was very handy. In Hamburg, I initially struggled with the signposting to my seat, but my struggle was at least partially also my fault.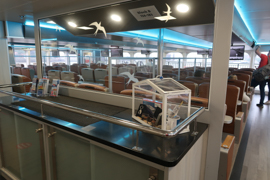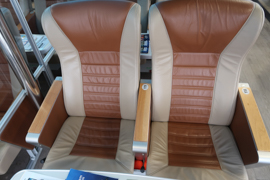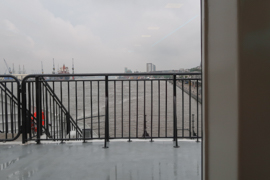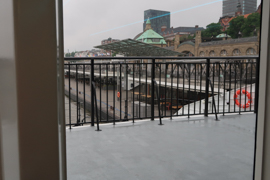 FRS Helgoline Halunder Jet – The Cruise
Halunder Jet left Hamburg practically exactly in time. I of course loved to pass all the harbor area. Once the Elbe River became a bit wider, the ship quite significantly accelerated to full speed. We arrived in Cuxhaven in time – but the layover there was some ten minutes longer than scheduled. The catamaran could not catch up material time of that. Especially on the open sea between Cuxhaven and Helgoland, I have been really impressed how calm the Halunder Jet navigated, even at its high speed.
I could not find too much information about it, but you could definitely doubt if that kind of traveling is ecologically sensible. This also included that we at least killed one seagull between Cuxhaven and Helgoland – the birds cannot react quite enough when the boat is approaching them with that high speed – and they get caught in the catamaran wings. The view was crystal clear (after some massive showers between Hamburg and Cuxhaven), so that the approach to Heligoland was really enjoyable.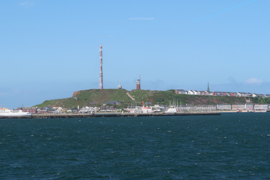 FRS Helgoline Halunder Jet – Unboarding in Helgoland
The part of the cruise I was really unhappy with was the unboarding at Helgoland. You reach Premium Class through a staircase quite at the front of the ship. Lower deck were asked to unboard through an exit at the rear, while Premium Class should use the front exit. You could easily control that with one or two people and/or rope markings. However, the staff did not care – which finally lead to the situation that Premium Class left the boat last. Call be arrogang, but I feel that is absolutely unappropriate and thus also respectless to people you finally drive cruises like that with more expansive tickets.
FRS Helgoline Halunder Jet – Services
There are information screens throughout the ship. Halunder Jet offers free WiFi (limited to 5 GB per device). Logging into the WiFi feels to be really petulant and might need some patience, but thereafter, the connection was really good. Premium Class passengers (at least) received service at their seats. Hot drinks and sodas are included in the ticket price, which is really nice. You also got some free fruit – the VIP seats even had a nice fruit dish. Of course, you had to pay for food – the quality I had and I saw at other tables was really nice. In Premium class, mean deals with a drink are reduced by the soft drink price, which I felt really nice. The staff was very attentive and friendly, I really loved their service.
Of course, there are bars for the other passengers as well. However, due to the pandemic regulations, some of them were not operating. For standard passengers, the really nice breakfast plate including a hot drink is 9.90 EUR, which I feel is absolutely reasonable.
Apart from the normal security stuff, I really liked that there was the Bordbuch on-board magazine. While you just pace over the North Sea from Cuxhaven, the trip from Hamburg to the stop-over city is really picturesque and the brochure gives a lot of information (which is partially also shown on the screen). Of course there is also some information in it how to spent your money best on Helgoland.
FRS Helgoline Halunder Jet – My View
I definitely fell in love to Helgoland this day – and I really enjoyed the cruise and comfort of the FRS Helgoline Halunder Jet. I would definitely love to come back to the island and would likely opt for this transportation again – it is just extremely comfortable. The price is not that low – but the peers do not go for significantly different fees for their cruises from Cuxhaven or other North Sea harbors. Last, but not least, the unboarding process definitely leads to a negative impact on the rating, unfortunately. Thus, the rating is just on the lowest range of a Top Pick!
Ships & Water Travel
Here are more Flyctory.com postings about Ships & Water Travel:
Hamburg – Travel-related postings
Here are all my Travel-related postings about Hamburg: