More than 1,100 rooms in the German capital – the Estrel Hotel in Germany's capital Berlin is just a massive Eye-Catcher when you pass by the complex close to commuter ring train station "Sonnenallee". I happened to stay in this hotel during the International Congress of Actuaries in 2018, which has been hosted in their facilities. Here is my review, strongly focussing on the hotel stay, but also giving some congress insights.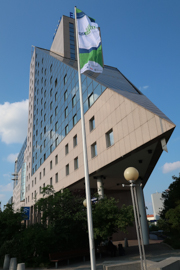 Location and Background – Estrel Hotel
Not just due to its history, Berlin is a very widespread city with a couple of "city centres". The Estrel hotel, located in the former Western Berlin Neukölln district (but close to the former Berlin Wall), does not feel to be very central, though. It is currently quite nicely connected to the Berlin commuter train / "S-Bahn" circle line with the Sonnenalllee station just some five minutes walk away. In addition, there will be an exit right of the Berlin city motorway A100 right next to the place (currently under construction), which will also lead to much better connections to the Berlin airports: the trip from Berlin-Tegel TXL took me some 40 minutes taxi time, the return rather about an hour, and will be between 40 EUR and 50 EUR. If you connect from Schönefeld SXF or – one day – from the new Berlin-Brandenburg airport BER (which will be located at the same site), the connections should be quicker and cheaper. The area is dominated by a clash of different cultures, but compared to other Berlin areas, you feel absolutely safe.
The story of the Estrel is quite interesting, though: while you first feel that Estrel somehow sounds like a hotel group you never heard of, this place is in fact private property and fully owned by the founder, Ekkehard Streletzki. It is quite interesting to read about the history of the place, which the visionary owner subsequently made to this Germany's largest accomodation place. Unfortunately, all more detailed articles about the Estrel I found are in German, so I did not link them here.
Rooms – Estrel Hotel
During my stay, I had a Standard Room, which is the lowest category of rooms. During the conference, I paid roughly 150 EUR per night, conference rate. If there are no / not big enough conventions, you will easily get the same room in single occupancy for half of the price.
I have to say that this section is maybe my most difficult partial posting so far for flyctory.com. I did not like the room. There were lacks of cleanliness, e.g. at the suitcase rack, though the overall cleanliness was very fine. Much more, I disliked the equipment of the room which is classified and advertised as a **** Superior room. For example, there is one power plug at the work desk and one at one side of the bed (not on both sides of the double bed). To be very precise, there are two more, one in the bathroom where you need to unplug the hairdresser and one under the luggage rack, where it is absolutely useless. Another example is that there are no amenities in the bathroom like body cream. Shampoo in the bath/shower and hand soap near the not-too fancy sink are offered by major dispensers. The mandatory need for amenities for a German four star room is likely covered by the nail file in the too small wardrobe. I did not feel like being in a four star at all, a solid three star category is what I felt instead. It is however quite impossible to support that feeling with arguments, as the room finally just fulfils all minimum requirements – for example, these two power plugs mentioned is exactly what you need to cover for four starts… I just feel it is not sufficient for a congress/business place.
One thing I felt to be very critical was this chain to additionally close / secure the room door from inside. Would you imagine that the right thing on the picture is in fact a button you need to press to release it after you closed the chain? I did not recognize, reception did not tell me after I called them. The technician came within just five minutes and told me with a smile how it works (while I was already ready to unfasten the chain with a screwdriver…). I feel this is highly, highly dangerous in case of a fire or similar emergency situations.
There are of course numerous higher room categories, up to Suite level.
Breakfast / Restaurants – Estrel Hotel
Breakfast service is not included in the prices I stated above and is charged with 19 Euro per person. Breakfast time is from 6:30 to 10:30am. Breakfast is served in one corner area of the hotel lobby, which tends to be quite noisy because of that. There are omelette stations – this are only on the upper level of the breakfast area, which they did not open before 7:30am during the conference. I felt that was extremely unfortunate. However, the remaining buffet was very nice. Coffee has been placed in thermos jugs at the tables, which were set for four people each, but by far too small for that capacity. All other hot drinks as well as any food is full self-service. The best part of the buffet it definitely an amazing variety of bread and rolls of different kinds. There are limited hot dishes, a nice selection of cold cuts (no salmon or similar) and a wide variety of healthier choices. The quality of the buffet was absolutely fine. As you "pay" / authorise your breakfast pay with your keycard, I guess that you should not put it on the table to reserve it. Most of the time, the breakfast service was fine,
There are numerous hotel restaurants in the lobby. In addition, there is a Biergarten just across the quiet road, which belongs to the hotel and offered a very cozy party during the ICA convention I visited.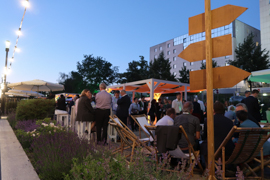 Services / Entertainment – Estrel Hotel
One attraction massively and successfully promoted by the Estrel Hotel is the "Stars in Concert" cover artist show, which is running six days a week and quite well visited. Apart from that, the hotel offers the expected service ameninities like a spa and sauna and a spacious fitness center, which is nice, but might be comparably small for a 1,100 room stay. In addition, the Estrel is very keen on showing a variety of arts.
Congress Facilities – Estrel Hotel
You might already recognize that I am not overwhelmed by the Estrel Hotel facilities. However, where this place is really doing a job close to perfection is on the conference side. They did an amazing job during the five-day International Congress for Actuaries, which has been visited by some 2,700 delegates on the peak Wednesday and by at least 1,500 on the other day. The queues, e.g. at lunch, were quite limited. Even luggage storage and other necessary services were professional and efficient. Some rooms might in fact not be used for the attendance on which they have been driven during the conference (for example, because you cannot see the screen any more in the rear half of the room), but any kind of human-made technical issues were also very rare.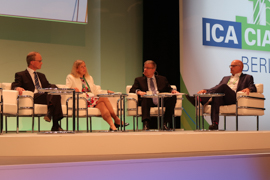 Outlook – Estrel Hotel
The development is not over – the Estrel Hotel is a massive success! Next to the current building, the new Estrel Tower is just about to be constructed, adding more than 800 rooms to the hotel capacity. More than that, the tower will become Berlin's tallest house with a height of 175 metres.
My View on Estrel Hotel Berlin
First of all: the Estrel is an amazing place – and the processes in the hotel seem to work quite well. Nevertheless, I have to say, I have been disappointed. It is not a Four Star Superior stay to me. The bathroom is rather run-down and cheapest possible. No ammenities is just ridiculous for that price. The hotel is quite away from the city centres, but that is maybe not that disturbing as the Berlin attractions are fairly wide-spread anyway.
The Estrel is a success story and will continue to be one, despite of my critics – maybe also, because Ekkehard Streletzki dared to do something nobody else is offering in the whole country. He just put this building into the right spot with no other hotels around – if there is a conference in Streletzki's room, you will try to sleep in there as well, just because it is that much more convenient.
All Hotel Reviews
Here are all postings about hotels and other accomondation:
Postings about Germany
Here are all Flyctory.com postings related to Germany: