Helsinki Airport is nicely staffed with airport hotels: the GLO Hotel is located right inside the terminal building, two more hotels, the Scandic Helsinki Airport and Hilton Helsinki Airport are located in close walking distance. Typically, as I favor Hilton Hotels, that one is my choice, especially in order to have a good sleep before very early morning departures to Germany. In early January I had some more time at Vantaa Airport and could review the Hilton. The review reflects previous stays and experience as well.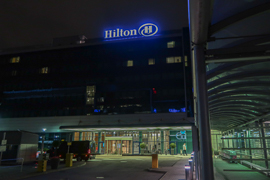 Hilton Helsinki Airport – Location
Similar to the Scandic Hotel, you exit the landside part of Terminal 2 at its very far end and take a – mostly covered and wind protected – walkway to the hotel. Walking distance is roughly three minutes. A short elevator ride is necessary to reach the hotel.
Apart from the hotel facilities, you will of course likely use the infrastructure of the airport. Terminal 2 features a small supermarket, which may be quite helpful. Of course, there are also restaurants and bars on the landside part of the terminal. If you want to have a look into Helsinki city, the airport station is located between the terminals and connects you to Helsinki Central Station in some 30 minutes. From several locations in the hotel, you have a quite nice view over the airport facilities and the runway.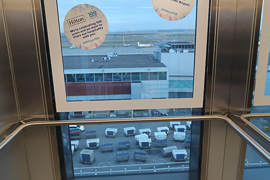 Hilton Helsinki Airport – Rooms
During my first stay, I have still been Hilton Honors Gold member, while I had already reached Diamond status during my second one. In both cases, I booked a King Room at a prepaid rate, which has been 155 EUR in August 2019 and 122 EUR in January 2020. I have been upgraded in both cases to a higher category, Executive floor during my second visit. In both cases, the rooms have been quite equivalent in the equipment, a bit of on the outdated side, but quite a lot of space, at least.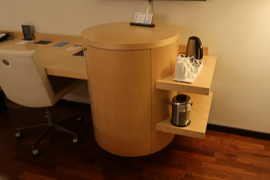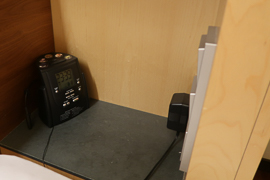 The bathroom is compact, but it was clean and even featured a bathtub as well as all the typical Hilton amenities.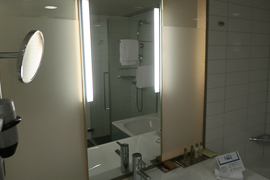 Unfortunately, during the second stay, the state of the room was not pleasing. My wife found a stopper of a champagne bottle on the desk next to her bed. One bathrobe was obviously used and still in the room, while we just found the packaging of one of the pair of slippers. In addition, the light on the make up mirror in the bathroom was not working. As it was too late, we did not want to change the room any more. As the minibar looked strange as well, I had to reconfirm with the reception that nothing was missing in there.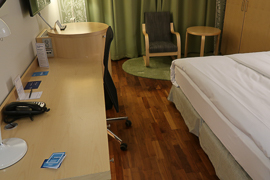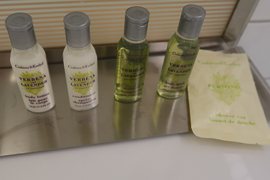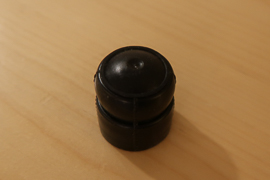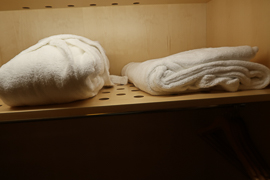 Hilton Helsinki Airport – Exceutive Lounge
I did not really make use of the Executive Lounge, but at least had a chance to look into it. The place looks cozy, especially the artificial fireplace adds some nice atmosphere.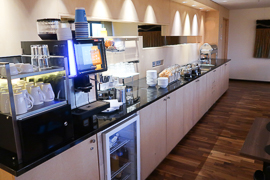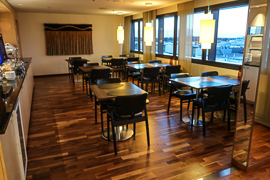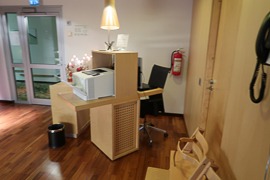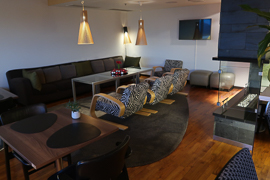 Hilton Helsinki Airport – Breakfast / Food
I had a couple of stays in this hotel before, but I rarely made it to the proper breakfast buffet, as I was typically heading for 6 a.m. flights to Germany. During my January 2020 stay, I had the chance to enjoy it though. The selection of food was quite nice, very Scandinavian with some special items like lovely smoked salmon. You could also order eggs as you like, though I did not fully understand the system. There were a lot of healthy choices and sweet temptations anyway, so that I did not miss that too much.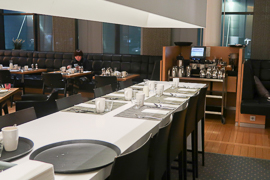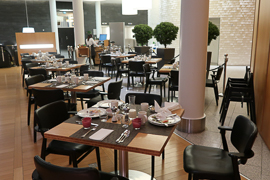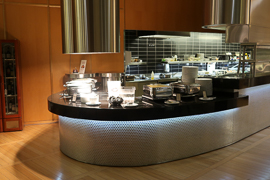 The breakfast is served int he restaurant, which can of course also be used for dining. Next to it is a lovely bar area, which has a very nice setup.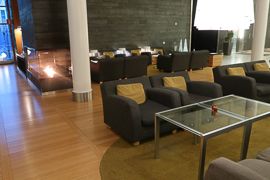 Hilton Helsinki Airport – Services
At any of our stays, the staff at check-in and check-out was very nice and professional. While checking out after our January stay, they were very interested about our feedback, which I generally appreciate very much.
The internet experience during my two stays have been very different. Surprisingly, during my first stay, when I was "just" a Hilton Gold member, I had better internet than during my second one, where I have been upgraded to Executive Floor, but to a room in the very edge of the hotel. I had a lot of file transfer of completed pictures processed during my Finnair flight from Dubai and it definitely took too long with multiple interruptions to load them to Google Drive.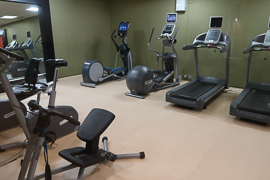 In the basement, the hotel also offers a gym and – of course – a sauna, which looked quite nice to me.
Hilton Helsinki Airport – My View
Mixed emotions: Hilton Helsinki Airport is my preferred stay for Helsinki-Vantaa airport. Nevertheless, the second stay I had there, which is part of my review, was definitely by far the worst one I ever had there. Thus, the hotel has to miss the high rating – lucky for the place that I decide to base my review on two stays within a few months. Otherwise, the rating would definite out of the range a place like that should achieve.
Finland at Flyctory.com
Here are all postings on Flyctory.com about Finland:
Airport Hotels
Here are all hotels with a good airport connection: