More than 5,000 small buckets one next to another in a bunch of aisles within one store. The contents: interlocking building bricks. Or Klemmbausteine or Noppensteine, how they are called in Germany. As you might have learned in my Bricky Trouble posting, this wording does include the products of the global market leader in this kind of scale modeling. However, if you visit the Loop5 shopping mall in Weiterstadt, you won't find any LEGO® bricks in this very special place.
It is driven by BlueBrixx, one of the most important peers of the Danish in Germany and Europe. The shop close not too far away from Frankfurt features the world largest brick bar – the highest level of these bricks variety in one physical store. This is at least how BlueBrixx announced it – I know that there are some other major places in the world, like the factory store at LEGOland Günzburg in Southern Germany. After oour visit at MySpa Private Spa in Mainz not that far away, I just had to do the detour to Loop5 and share my impressions of this place in a Pictured Story.
Loop5 Weiterstadt – Location & Transport
Loop5 is a shopping mall and shopping district right at the A5 motorway in Weiterstadt. The town is located Northwest of Darmstadt and not too far away from Frankurt Airport. Loop5 itself is a mall, which had a lot of reconstruction and empty stores during my visit. However, there are a lot of other stores around. The connection by car is great. The next stop of public transport would be Darmstadt Main Station, but even that would lead to a some four kilometer walk.
BlueBrixx – Some Facts
BlueBrixx is a company driven by the BB Services GmbH. The CEO of the company is Klaus Kiunke. BlueBrixx became famous by having a wide range of interlocking building bricks sets, which they can produce in relatively small volumes. They support their sale very actively via social media, especially on YouTube. Their own basic sets don't have instructions in the box, but online only (for free). Especially in earlier years, there were quite significant discussions about the overall quality of the sets – especially as BlueBrixx does not produce bricks on their own, but buys them from different companies in China. Furthermore, the company had some legal problems, especially with the Danish market leader. BlueBrixx, who is also reselling sets from other companies and acts like an import trader, is part of a major group.
Some Views of The BlueBrixx Megastore
The BlueBrixx Megastore is located in the basement of the Loop5 mall. The store is a bit of hidden – the more it is impressive once you are in. The sets from BlueBrixx and other manufacturers are majorly located on the walls of the store, while the center features the huge brick bar.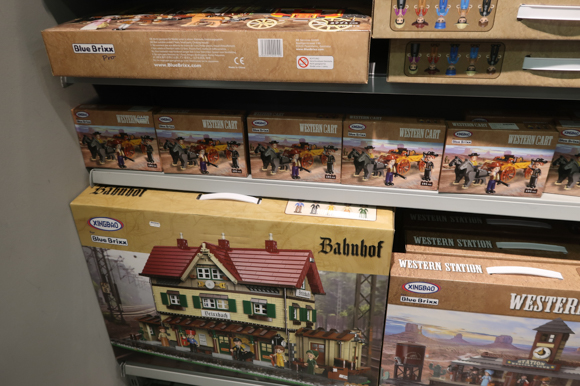 Especially regarding the sets BlueBrixx is reselling, there is a wide range of sets in store. You already see that in the pictures I took in here. From architecture sets like the Rome Coliseum or a wide range of cars to rather questionable items like weapons built in bricks (which are actually quite popular in Asia) – if you like these kind of bricks, you will likely find the right set. There are also dedicated sets for kids or female brick fans.
5000 Different Bricks
Even though I did not buy a single piece, walking through the aisles with all the buckets of full of bricks is quite fascinating In contrast to the "normal" boxes, which of course have a fixed price per set, individual bricks are typically priced by weight.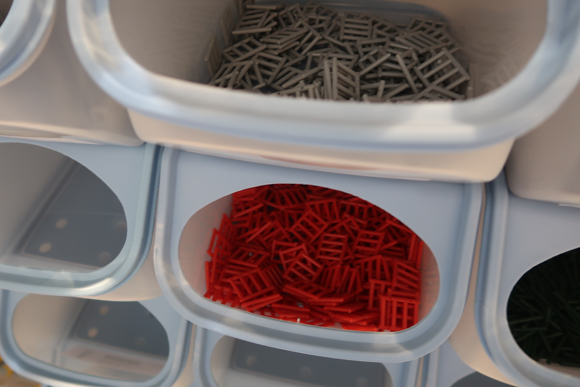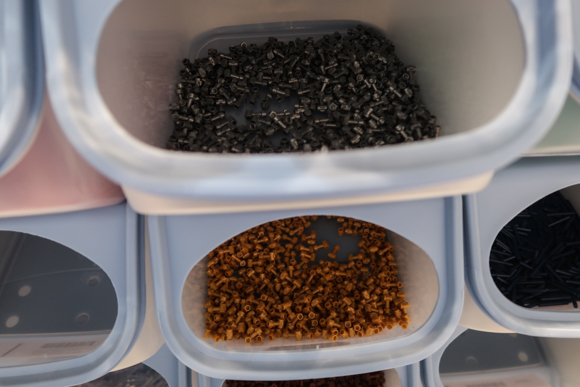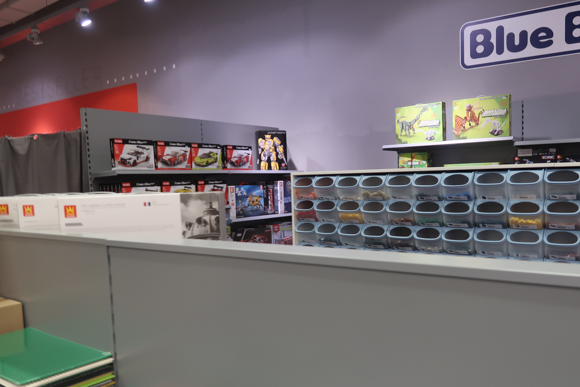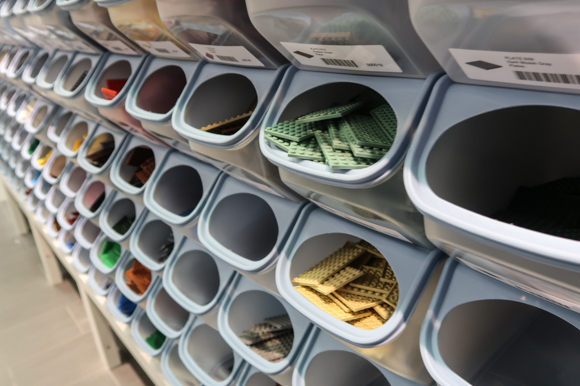 Scale Modeling at Flyctory.com
Cars, Trains, Planes and more – here are postings about the world in model size:
"Travel with Kids" Postings
Here are all postings about locations I recommend to visit with kids: