What is Germany's most popular tourist attractions? According to many popular rankings including TripAdvisor, it is neither the Brandenburg Gate in Berlin nor Cologne Cathedral or Castle Neuschwanstein. It is Miniatur Wunderland in Hamburg! Never heard of it? It is the largest model railroad in the world. Even people who are not into trains or modeling at all are typically amazed to it. To me, it is one of the most amazing and magical places in Germany, definitely. During a late July 2020 visit, I managed to collect sufficient material for a Flyctory.com review.
Miniatur Wunderland has been selected as my Favorite Museum in 2020, excluding some explicitly selected topics.
Miniatur Wunderland – Location & Admission
MiWuLa, as it is often abbreviated, is located right in the heart of the Speicherstadt, former harbor trade buildings and warehouses. Nowadays, it is a very modern place who use the historic buildings for business and attractions. Some of them are the Hamburg Dungeon, a spice museum or the German Customs Museum. The recently built Elbphilharmonie (Elbe Philharmonic Hall) is just a short walk away. The public transport connection is best by bus – the metro stations around are Baumwall (Elbphilharmonie) and Überseequartier. There is very limited parking space around, so I would not recommend to arrive by car.
The opening times of Miniatur Wunderland already tell you about its massive popularity. At the time of writing, doors open at 7:00 hrs every day. At the moment, times are very volatile, but during school holidays, they sometimes close around 2:00 hrs – at night! But even in lower peak times, you will have opening times like 8:00 to 23:00 hrs at least. You may queue for tickets, but in general should buy timed tickets in advance, especially on weekends. Admission differs with the time slot, but is typically around 20 Euro, adult admission.
Miniatur Wunderland – Figures & Future Extentions
The current figures are already outstanding. Miniatur Wunderland already covers over 1,000 trains, who operated on a 15.4 km track network and pull 10,000 carriages. The total size of the layout is 1,500 square meters, roughly 16,000 square feet. The current "population" of the world in 1:87 H0 scale world is roughly 263,000 model figures. Two areas would have special issues with Covid-19 measures: There are 20,000 people watching a DJ Bobo pop concert and 12,000 people cheer at the Hamburg soccer derby in the model of the Hamburg Volksparkstadion (the capacity of the original place is 51,500). There is also a 57,000 model people replica of the Berlin Olympic Stadium for charity (see below). The Scandinavia area is able to simulate high and low tide and for that manages 30,000 liters of water.
The two founders of the project, Frederik and Gerrit Braun, opened the gates of the exhibition in August 2001 with a 300 sqm layout space. In the meantime, they have been awarded with the German Federal Cross of Merit (Bundesverdienstkreuz) for their effort and social engagement. The attraction won countless national and international awards.
Just a few days before my visit, MiWuLa built a bridge from their original building to a neighboring one across one of the channels in Speicherstadt. Until the late 2020's, they are expecting to enlarge the layout size to 2,300 square meters in 13 regional sections. This will roughly increase the total construction time to 900,000 hours with a total construction budget of 30 million Euro. The next addition which is already under public construction is a model replica of Monaco, which will feature real Formula One racing.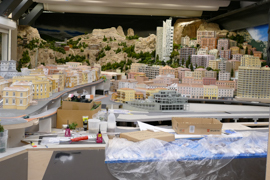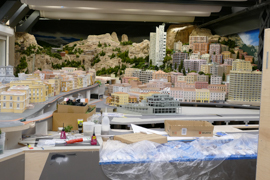 Miniatur Wunderland – The Visit
Miniatur Wunderland is split into several sections representing different regions. MiWuLa started with Central Germany / Harz region, Austria and the fictive city of Knuffingen. Currently there are ten working sections. As said, Monaco and the Provence region were under final construction during my visit. There are quite frequent places where you can even interact with the exhibition and make things move or illuminate. The regions / ciities in the models are however not exact models, but (obviously) feature key attractions.
The exhibition tells a lot of serious – and ironic – side stories. For example, there is a penguin waiting for a train at a station, you might also find Santa Clause, naked people and a lot of funny situations. Due to the Covid-19 distancing (see below), I could not show you as many of these stories as I could have been under normal conditions. Miniatur Wunderland features day and night. One day is thereby equivalent to fifteen minutes, ten minutes at full light and three minutes at night with corresponding sunrises / sunsets. The sections below are more or less given in the order of my visit.
Bavaria
Bavaria was one of the first regions I visited. Castle Neuschwanstein is likely the most prominent model in this section. One model I loved – even though the original is located Northeast of Berlin – is the Eberswalde-Niederfinow shiplift. You can also see a very typical Bavarian festival procession.
Switzerland
20,000 people are attending the DJ Bobo open air show – but of course, there are mountains including the Matterhorn, a chocolate factory, a model of Chur station and  a chocolate factory. Switzerland only has a track length of 3,000 meters. Parts of the section also reflect the Southern Swiss Ticino canton / state.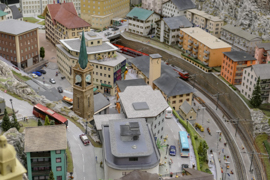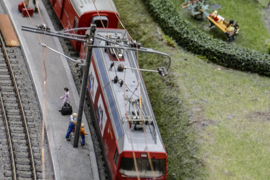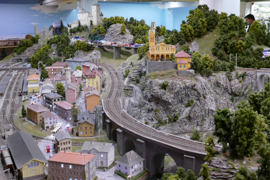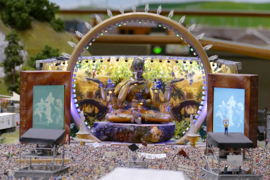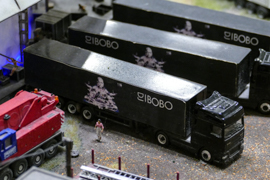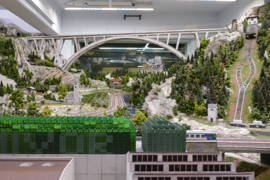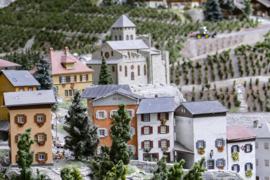 Italy / Venice
Italy and Venice are split into subsections, Venice is fully separate. The Venice section is one of the smallest and "only" covers nine square meters, but therefore tries to structurally replicate the entire city center. It is not covering rail traffic at all, but therefore of course featuring the ships and gondolas. The section has also been built to point out the massive damage over-tourism and flooding do to the city. Venice is a relatively new addition to Miniatur Wunderland and has been opened in February 2018.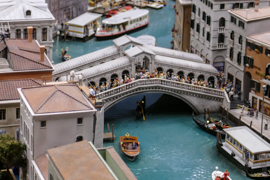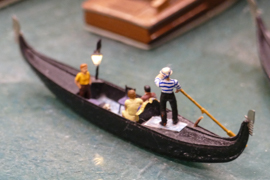 The Italian section has been opened in 2016 already. It is a beauty and majorly impresses by its model making skills. The level of details is awesome and the illumination is likely unique worldwide. Of course, you can meet the pope in his Vatican City gardens – and Rome Termini Station is much more beautiful than it felt to me in real during my 2020 rail trip to the country. You also have Mount Vesuvius and Pompeii in display as well as many other beautiful spots – love it!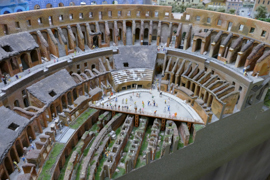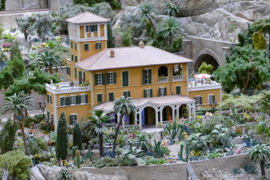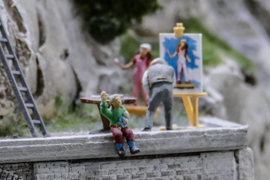 "Farbenspiel" Charity Model
If you do not know the story behind the model of the Berlin Olympic Stadium, it might be quite confusing for you. The stadium features a show of Helene Fischer, one of the most successful female music acts worldwide (even though is especially huge in German speaking countries – in 2018, she for example beat Celine Dion and Britney Spears in the respective Forbes ranking). which as such has really taken place in July 2015. For a charity TV show in December 2015 in national TV, Ein Herz für Kinder, people paid up to 100 Euro for a concert ticket in this model concert, i.e. the right to select a model figure, which is then placed into this arena. The profit was 400,000 Euro, which was donated to that charity.
America
The America section is trying to reflect all North American sights and aspects in a 100 square meter display. You find Mount Rushmore and the Grand Canyon as Las Vegas in this diorama.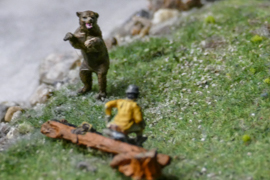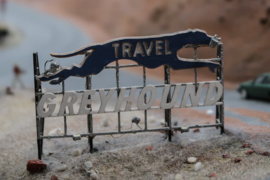 The illumination of the Las Vegas part is outstanding. The Minatur Wunderland website states that about a tenth of the lights installed in the whole attractions are lighting up in the Sin City section.
Scandinavia
Scandinavia is huge – the 2005 opened section is technically one of the most interesting and versatile ones. One part of this sections features the snowy regions of the North of Scandinavia with their heavy industries. Adjacent to that are some sights of Reykjavik, Iceland.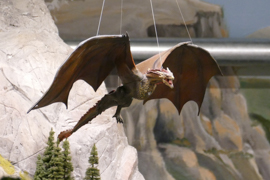 The most impressive part of Scandinavia – and likely one of the most signature parts of the whole MiWuLa – however, is the Baltic Sea exhibit with real water, high and low tide and ships, which are moving in a controlled way in that area, even through naval locks. This technical feature is one of the most outstanding technical solutions, it requires sixteen high-speed infrared cameras and eight servers analyse the data which is created by the communication between the cameras and the ships. The area also features a ten meter long bridge.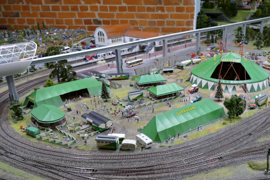 Hamburg
Miniatur Wunderland is sometimes even quite visionary – from Scandinavia, you can travel with the Transrapid maglev to Hamburg. The area features 50,000 model figures 200 square meters and a track length of 2,600 meters. There are numerous Hamburg sights including the Elbe Philharmonic Hall (which was in fact completed before the in-fact building). The model of the Köhlbrandbrücke (Köhlbrand Bridge) is massive.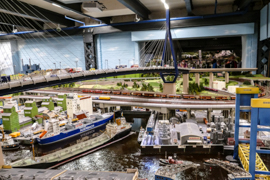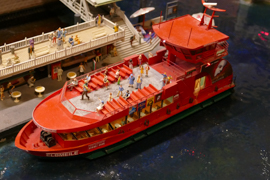 For many visitors, of course, the model of the Volksparkstadion, the Hamburg soccer stadium, is one of the key attractions of their visit. It is an amazing masterpiece of model making. For models like this, Miniatur Wunderland needs to alter the scale, by the way. You thus may recognize that the size of the stadium is smaller than it actually should be, due to the 1:150 scale used.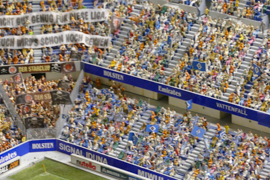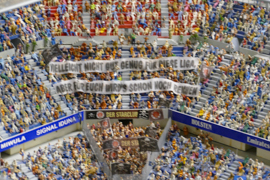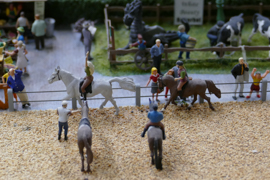 Fun Fair (Middle Germany)
In fact, Middle Germany, which has been opened in 2001, is one of the oldest sections of Miniatur Wunderland. Some of the highlights is the massive ICE high speed train network and a couple of castles. People are enjoying themselves on the beach.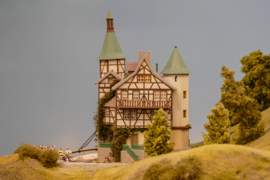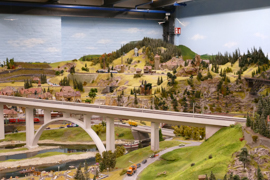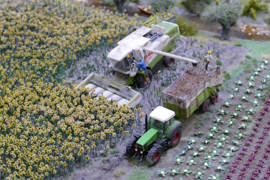 As the previous section felt to be too outdated to the Miniatur Wunderland people, they updated the fun fair section and released the new version in June 2020. The Kirmes as it is called in German, is one of the most outstanding features of the whole attraction. 750,000 Euro have been invested to update the eight square meter section. This small part of the attraction features 100,000 LED lights. In average each major ride has 1,200 to 2,000 of them – overall there are 150 rides and attractions in this area. Due to its cheer density, there is so much to explore in this area, which is a true masterpiece. For example the wildwater ride is using real water.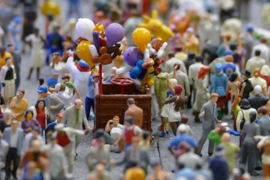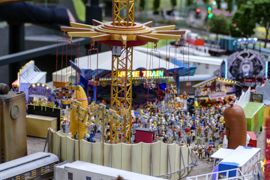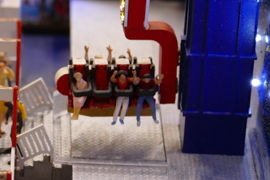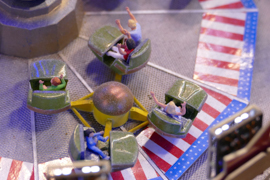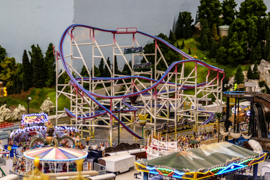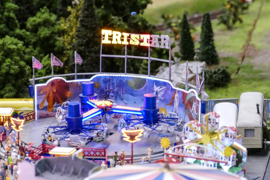 Austria
There are a lot of mountains and winter sports in the 60 square meter area featuring Austria. A beautiful area, which is one of the most traditional ones at MiWuLa.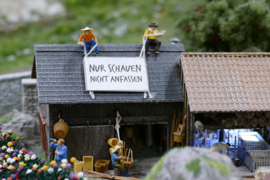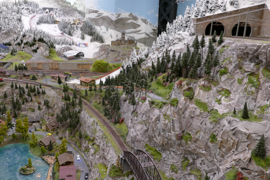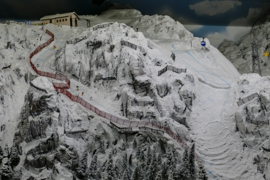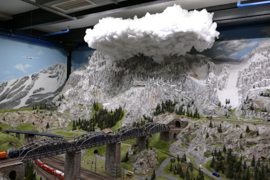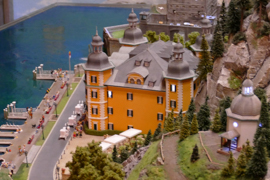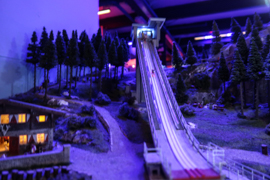 Knuffingen
I did not call Hamburg the home town section of the Miniatur Wunderland, because somehow, this should be the (fictive) city of Knuffingen. One of the key features of this traditional area is the massive presence of their fire fighters – there are even fires in the characteristic Knuffingen castle. At the time of opening Miniatur Wunderland and Knuffingen, the way of controlling cars over in the city traffic was revolutionary – there are hardly any car accidents in Knuffingen apart from the intended ones.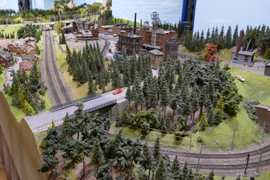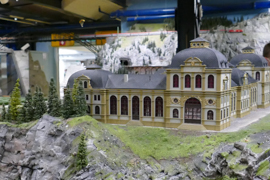 Knuffingen Airport
I placed my favorite section of Miniatur Wunderland at the end of my review. Knuffingen Airport is named to be the smallest airport in the world – at least in the eyes of the Wunderland people. When I used the word revolutionary for the car control in Knuffingen City, there is hardly any word which can describe the amazing technique which is used to make this airport really operating. There are 250 flights per day. Planes are really moving on the apron, getting ready for their flight. Due to a special system and some doors in the walls, the planes are really starting and landing. It is really tough to describe the precision of that system – even at Gulliver's Gate in New York, where they use similar techniques (due to collaboration with Hamburg), they are not even close to Knuffingen Airport.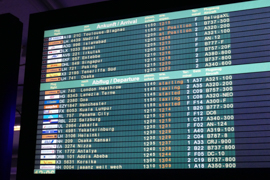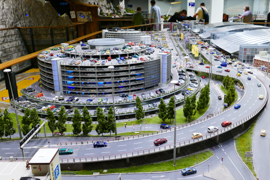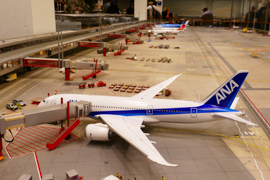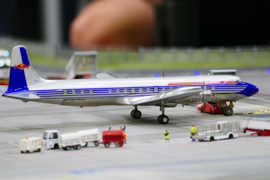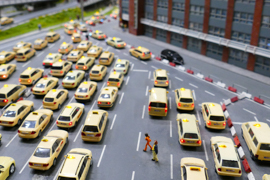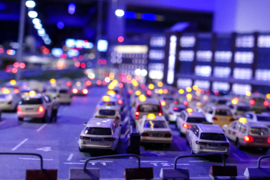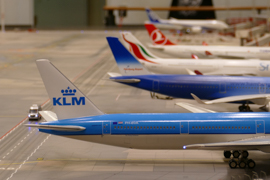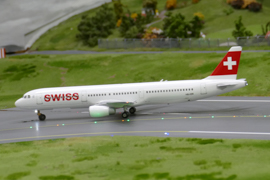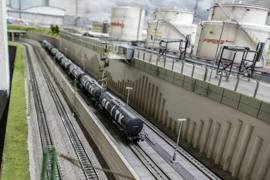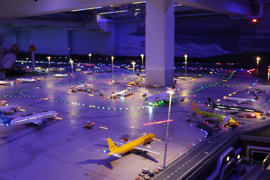 Technical Facilities
Quite some of the control rooms are visible to public. It is really interesting to see how much effort is necessary to control and manage the whole Miniatur Wunderland world. You can also watch the crew working on new models or maintaining existing ones.
Miniatur Wunderland – Covid-19 Measures
Visiting Miniatur Wunderland in July 2020, Covid-19 was definitely a huge topic. The attraction is by far not running on full capacity. The Wunderlanders have however made maybe the best Covid-19 concept I have visited since attractions are opening again. There are one-way streets you should walk along in the whole building, the round-way system is really designed well. There is frequent maintenance in it. However, it is finally up to the visitors, who sometimes do not pay sufficient respect to the rules and the health of others, even though I would say that even that is far better compared to other places.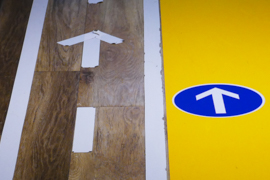 The aspect of social distancing unfortunately lead to the situation that I cannot present you that many of these little stories the figures at Miniatur Wunderland tell you. I just did not want to spent too much time at one spot of the exhibition, knowing that in fact that means that 1.5 meters around me, there should not be another person who enjoys a similar view on this amazing tiny world.
Miniatur Wunderland – Services
Of course, you can buy some souvenirs (from Hamburg ones to model working stuff) at the shop at the entrance / exit. The prices are very moderate.
The Miniatur Wunderland also features a restaurant for guests. Even though the service was limited in Covid-19 times, I absolutely enjoyed a relaxing bite there.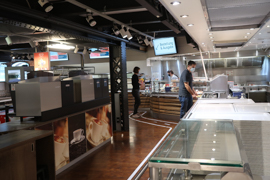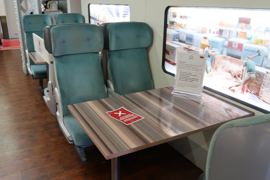 Miniatur Wunderland – My View
It is special. It is outstanding. Even as a Cologne person, I have to say that it is well deserved that Miniatur Wunderland regularly beats attractions like Cologne Cathedral in touristic rankings. The founders of this place are visionary, crazy, sticklers for details and believe in their teams. Frederik and Gerrit Braun are unique people and they created a unique place.
If you visit Hamburg and haven't visited this magnificent place, you have done something wrong. I would even say that you should reserve half a day for this Speicherplatz wonderland if you are somehow in Germany. You do not need to like model trains – you just need to enjoy being fascinated. I love Miniatur Wunderland every time I visit it – and discover new things and entertaining stories.
Top Pick! Travel in Germany
Here are all travel experiences in Germany, which received my Top Pick! award:
"Rides on Rail" Postings
Here is everything about trains, trams and other rail vehicles: