After having a couple of hotel reviews from nearby cities Dusseldorf and Bonn already, I felt it was a huge lack on Flyctory.com not to have a hotel review from my beloved home town Cologne. I was thus looking for a posh place – with the key constraint that my first night of in the Rhine metropolis should have a view to Cologne's most iconic attraction, Cologne Cathedral. As part of all the Covid-19 times sales prices, I ran into a nice offer of Maritim Cologne via Booking.com. The four star place is very centrally located and also famous in Cologne for a lot of events. The Booking.com rating, however, is surprisingly low, just about 8.1 at the time of writing.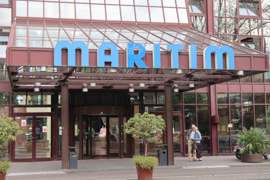 Maritim Cologne – Location
Maritim Hotel Cologne is located right at the edge of Heumarkt, which is for example hosting the beginning of the carnival season (not in 2020, for sure) or parts of the Cologne Old Town Christmas Market. From both Cologne long distance rail stations, Cologne Main Station as well as Cologne Trade Fair / Deutz, it is just a two-stop Underground ride to the Heumarkt station. Both train stations connect to the airport as well. The taxi transfer time from / to the hotel significantly changes with the traffic – a early morning no-rush hour ride to the airport can easily be as quick as 15 minutes – but don't complain if you need the triple time in afternoon hours.
Cologne Old Town is really vibrant and the heart of touristic Cologne as well. Bachelor parties may be quite bothering on Saturday nights, but overall, you will find a lot of nice opportunity to enjoy the local brew Kölsch or to a grab a bite. The key shopping streets Hohe Straße and Schildergasse are also in short walking distance to the hotel. Most key Cologne attractions are just a short walk away as well.
Maritim Cologne – Lobby
The way I structure hotel reviews very often leads to the situation that the lobby and entrance area feels to be strongly neglected in my thoughts about recent abroad stays. Even if you easily see that the building is indeed 1980's architecture, the lobby of the Maritim hotel definitely deserves a designated section. The reception is located at entrance / ground floor level, while all restaurants but also services like a car rental, small shops and even a hairdresser are located on first floor level. The patio area of the hotel feels absolutely impressive.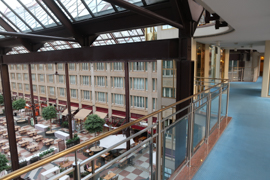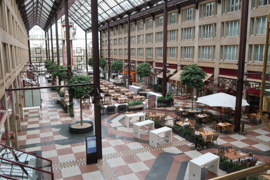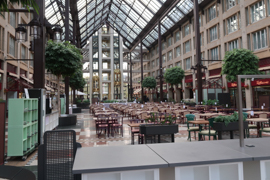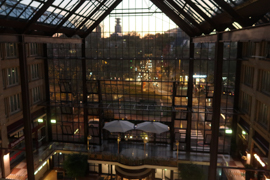 Maritim Cologne – Rooms
I booked a Superior Room via booking.com for a flexible rate of 115.92 EUR, breakfast included. Booking.com stated that all rooms of that category have cathedral view. Unfortunately, in the corner room which has originally been assigned to me, I was just more or less directly looking on a wall when I faced cathedral direction. I did have some River Rhine view, though, which was majorly blocked by a tree. I am in general not sure if my originally assigned room really had the right category – you might spot some other differences in size and equipment of that room at the end of the third floor corridor.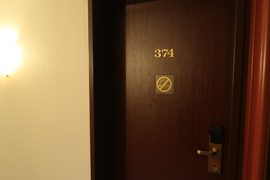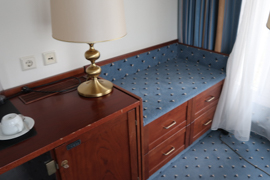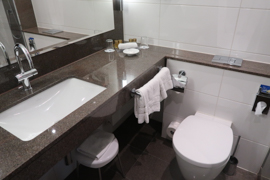 Moved to a Cathedral Room View Superior Room
After claiming for a Cathedral Room View room, I have been moved to a much better place, on the fifth floor. The room was significantly larger. Both rooms clearly had a late 1980's style, which partially felt a bit too outdated and slightly run down. Especially the design of the bed table was rather nostalgic. The room was well serviced and clean, though – so there was definitely no potential for complaints from that side.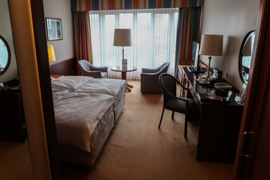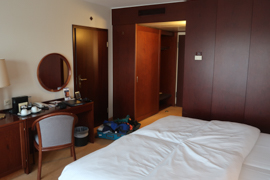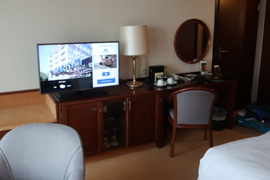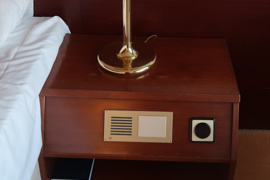 Unfortunately, some of my bathroom pictures failed – but this room now also had a much larger bathtub bathroom. The controls of the bathtub were the same I had recently before at Bonn Marriott. Especially the bathtub felt a bit run down again, but overall, the bathroom was fine and also came with some nice amenitieis.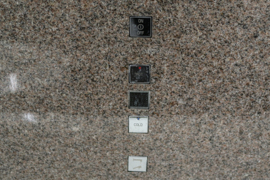 Lovely View
Call it Last But Not Least or Save the Best for Last – the view from that Maritim Cologne room was simply outstanding. I loved to watch my city and just had to keep the blinds off during the whole night. Absolutely loved that view – ain't it stunning?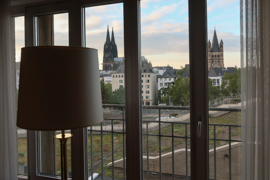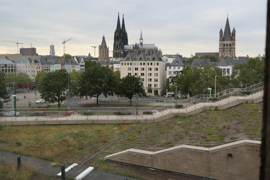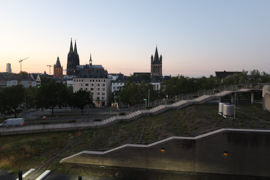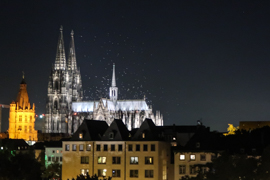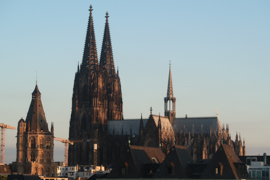 Maritim Cologne – Breakfast
The breakfast buffet at Maritim Cologne was definitely a blast. The presentation was a bit on the traditional side – and, to be straight, there were also quite traditional dishes like Mett (minced raw pork) rather than a wide selection of cereals, but I absolutely loved the variety of items and their quality. They also featured a nice selection of tea and some nice warm dishes. The hygienic concept felt well thought-through – there has solely been some acceptance issues with the hotel guests here and there.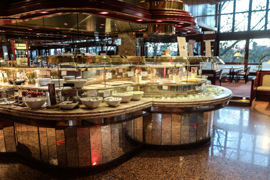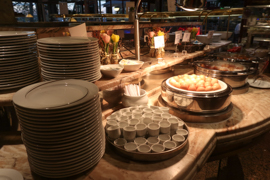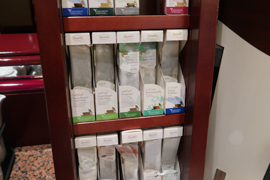 Maritim Cologne – Service
The staff at Maritim Cologne was really lovely and caring. The standard WiFi had at most reasonable quality and on top of that restricted for two devices per room.
The gym and pool area was not serviced at all. This also included that there were no towels or similar available at pool area (which lead to confusion among all guests). The gym is definitely too small for a hotel of that size – the pool area is a beauty, however. The pool may not be super-large, but I really loved the environment.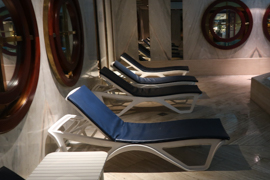 Overall, I had the feeling that the hotel management put too much burden on the young, motivated staff. Especially with some seminars held in the hotel, there was quite a lot of work for the employees.
Maritim Cologne – My View
My stay at the Maritim in Cologne was good, but with some negative points. I felt that there was too few staff and that overall, the hotel needs to reach the next level, the next generation of hotelling. The WiFi was too poor, the gym too small and you also need to start renovating the rooms to move away from the old-fashioned touch. The staff is driving this hotel in an excellent manner, though, so that you still have a good time in a central location (potentially, with an amazing view, depending on your room).
German Hotels
Here are all Flyctory.com postings dealing with hotels located in Germany:
Postings about Cologne
Here are all postings about my home town Cologne: