Due to a late rail arrival at Munich Central Station, I looked for an overnight opportunity around the central travel hub in September 2020. I finally opted for the Leonardo Hotel Munich City Center, which is just a short walk away. Here are my travel experiences.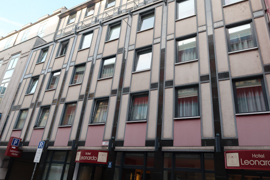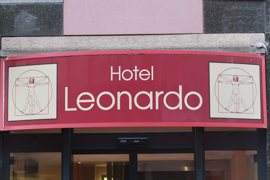 Leonardo Munich City Center – Location
From the Southern exit of Munich Central Station, the hotel is just a three minute walk across the Bayerstraße. The adress is Senefelderstraße 4. Apart from rail travel, there are some tram lines and other public traffic connections around. From Munich rail station, you can also connect to the airport – a trip from city center to the airport is generally a comparably bothering trip.
The area is host to multiple hotels and is rather basic. There are, however, a lot of budget food opportunities and the city center of Munich with the underground shopping center Stachus is just a short walk away. The area might feel a bit odd, but is overall safe.
Leonardo Munich City Center – Rooms
I had a one night stay in September 2020. The flexible room rate, including breakfast, was 70.20 EUR. I had a room on the sixth floor. I liked the Leonardo da Vinci design, not only in the hotel logo, but also on the carpet and – later – in the bathroom. My room was rather compact, but very nicely and smartly designed, so that it offered more space than expected.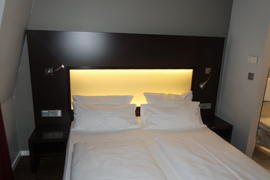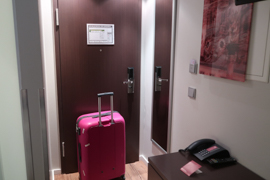 The shower bathroom was compact as well – but as long as you do not with three suitcases, the room was sensible for a city trip. The bathroom was clean and absolutely sufficient. The Leonardo design definitely made me smile – I like that kind of branding.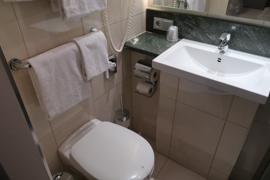 Leonardo Munich City Center – Breakfast
Breakfast in the restaurant on ground floor was really good – much better than I expected. The selection of items was really nice and the staff did a great job maintaining the buffet. The breakfast area was nice as well.
Leonardo Munich City Center – Services
Check-in was very friendly, the staff was very attentive and kind. The WiFi in the room was reasonable. The hotel also drives an own parking garage, the price is 21 Euro per night.
Leonardo Munich City Center – My View
I just felt like having a reliable and reasonably priced stay close to Munich Central Station – and the Leonardo definitely exceeded my expectation. Great staff, great breakfast and a very useful location makes the Leonardo a very good stay for a trip to Munich. The room is compact and the WiFi could use some more speed – but if the pricing is right, this place is indeed a good option.
Flyctory.com in Munich
Here are all other Flyctory.com postings related to Greater Munich:
Rail Station Hotel Reviews
Here are hotel reviews of places which are close to a main long-distance rail station: