Visiting the Floorball Champions Cup in Gävle in early January 2019, I selected the Scandic hotel group outpost at the edge of the host city as the stay for my reporting. The hotel is located quite nicely if you need a stop on a longer trip – but I never had it before for a longer stay. Here is a review.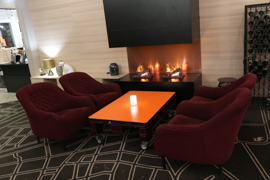 Scandic Hotel Gävle Väst – Location
Scandic Hotel Gävle Väst is located right at Trafikplats Gävle Väst, where the motorways E4 (Stockholm – Northern Sweden) and E16 (to Falun) meet. Thus, it is very popular amongst transit travellers.
Despite this location, there are not too many services around. A gas station is close to the next E16 exit. Typical motorway facilities like a MAX burger store are rather at the Southwestern edge of the city.
Scandic Hotel Gävle Väst – Rooms
The single room I booked via Expedia was about 2,800 SEK for three nights, which is equivalent to 265 Euro. Breakfast was included in the rate.
The room was comparably small, but very clean. At least, you had plenty of storage and power plugs. The bed was quite spacious and there was a reasonably sized TV. A very funny item was the map of the Scandinavia.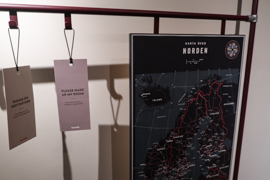 The bathroom with shower had a reasonable size. The shower is at the same level as toilet and sink, which is a typical Scandinavian design. However, the floor was not too wet after showering. The vanity mirror was a bit too oddly placed, though.
Scandic Hotel Gävle Väst – Breakfast / Restaurant
Breakfast times are very important for my plannings – and the ones at Scandic Hotel Gävle Väst feel to be really weird: during all days of my stay, breakfast was served from 6:30to 9:30. This is the time from Wednesday to Sunday. However, on Monday, this is shifted by half an hour – 7:00 to 10:00 Really weird, Tuesday breakfast is from 8:00 to 11:00 – so if you are on a transit, this can really lead to trouble.
Breakfast had a nice selection, though. The hotel states that you can select of 150 different items – this may be less than it reads, but really gives some nice variety. As warm dishes, there was rice pudding and oatmeal, scrambled eggs, bacon, beans and sausage. The hotel also offers a nice selection of different kinds of breads.  There is a separate buffet of gluten-free, vegan and other special dietary products. For a drink, there is the hotel bar, which I did not test.
Scandic Hotel Gävle Väst – Services
The WiFi in the room was very good. The only somehow questonable feature was that you had to re-login every 12 hours. At least you did not need to re-enter any credentials. The room service was fine However, after the first night, I had a single instead of a double blanket without asking for it. The reception staff was very helpful as well.
Next to the reception, there is a small shop where you can buy some snacks, sandwiches, drinks and travel items. You can also grab cutlery there and make use of a mcrowave oven. The hotel also features a gym and a pool with sauna. The gym is compact and could be very crowded in case sports teams are around. During my stay, the hotel was full of sports teams. The pool is comparably tiny, but charming and the whole pool and sauna area is very reasonable and clean. There is also a ladies sauna on request.
Scandic Hotel Gävle Väst – My View
I have to be honest: Scandic Hotel Gävle Väst might not be I would favor to stay in for a intensive-workload sports tournament like the Champions Cup. It is a bit too cozy and uncomfortable for that. But on the other hand, it is clean, has a nice breakfast and even the small pool and sauna area. Thus, at least for transiting (this is where I used the place for in the past), it is definitely a good option. And if you get a rate similar to the one I paid, you definitely have a good deal and a very fair value for money.
All Hotel Reviews
Here are all postings about hotels and other accomondation:
Flyctory.com in Sweden
Here are all Flyctory.com postings about Sweden: