Greetsiel is one of the popular villages in East Frisia, right at North Sea. Especially the picturesque harbor area is attracting tourists. Now having more summer-alike temperatures in Germany, I felt it is a good opportunity to take you on a virtual walk through city center. Here is my Pictured Story.
Greetsiel – Location & Transport
Greetsiel is a village with some 1,500 inhabitants – and at least the same number of tourists per day. It is one of the most Northwestern places in Germany, located in East Frisia. In fact, it is part of the city of Krummhörn and is thus part of the same commune like the famous Pilsum Light Tower (which is just a few kilometers away)
Greetsiel is a very touristic city. Thus, there are several parking opportunities around city center. There is also a scheduled bus service, line 421, from Emden. If you book early enough, you will also find a nice stay in and around the city. In Greetsiel, shops typically also open on Sundays in summer months. Especially on sunny summer weekends, the city may be very crowded, though.
Views of Greetsiel
My wife and I visited Greetsiel on a lovely day in summer 2021. We parked at a parking lot West of the city center and walked into the city. The closer you get to the city center, the more there are touristic services in each building – shops, cafes or accommodation. The Pilsum Light Tower is one of the key attractions of the region and thus also very present in Greetsiel. The village is really beautiful and also has a lot of floral decoration. On the East edge of Greetsiel, there is also a picturesque traditional windmill.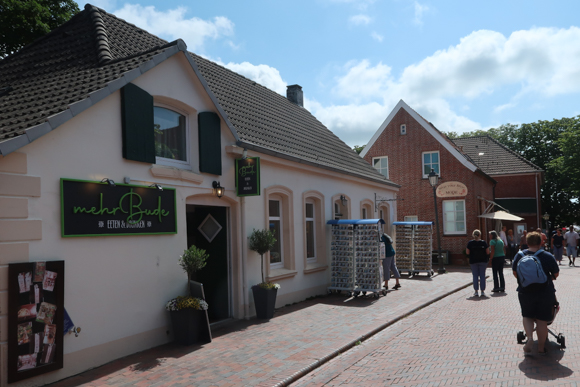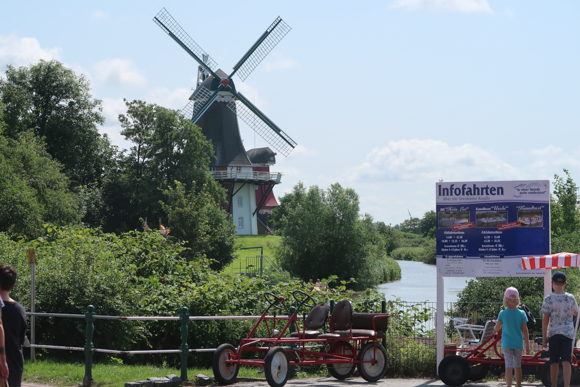 The key attraction of the city, however, is the traditional harbor area. There are a lot of restaurants and snack bars around the siel (sluice), some of the ships offer cruises to the mudflat areas, which also allows you to do seal watching. Typical East Frisia tea ceremonies or just some fresh fish are likely the favorites of the visitors. Below the harbor pictures, I also included some views of the stores in Greetsiel. Tourists can finally invest their money in memorabilia of all kind.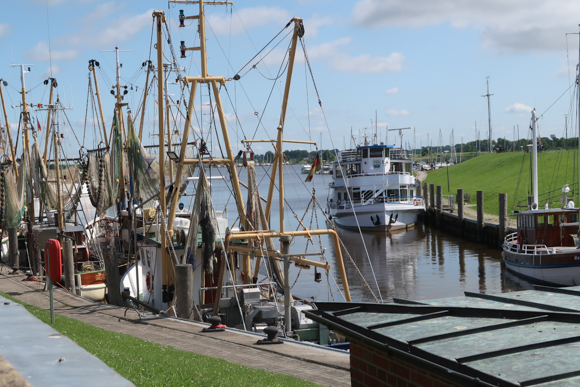 Flyctory.com in East Frisia
Here are all my postings related to East Frisia in Germany:
Ships & Water Travel
Here are more Flyctory.com postings about Ships & Water Travel: