Okay, I give in: this trip is weird. While people typically feel that I am "just" a die hard aviation nerd, I also love rail travel. And I collect points at bahn bonus, the frequent traveler program of Deutsche Bahn, the German rail system. The points expire three years after the respective trip – and thus I typically forget to use them somehow (as I am rather focusing on the status). In late 2022, I wanted to avoid it and roughly half of the points for a One Day First Class Ticket. Nationwide, no limit on the number of trips. The only restriction: it is only valid on Saturdays (until Sunday, 10:00hrs). I had a couple of weird ideas. Finally, I went to go for all of these in one go:
I wanted to visit all four major cities in Germany on the trip, i.e. Cologne, Munich, Hamburg and Berlin. The trip I finally went for even covers the Top 11 of them.
I always wanted to the see Premium Lounge of German Rail in Berlin, which is only open to flexible first class tickets – and products like this day ticket. By the way, that ticket also felt like a good opportunity to see some more Premium Spaces of other German Rail Lounges as well. Finally I upgraded the idea to visit the Premium Lounge / Premium Spaces in the three largest cities of the country. Cologne was unfortunately not possible due to the timing.
Then, I had the thought if it might be possible to visit all 16 states of Germany in a one day rail trip.
The answer on the last bullet point is yes (and it is actually more easy than it sounds like – see below), but together with the other constraints, it was quite a challenge and I could not start and and finish in my home town Cologne, as I originally hoped to do. Here is my one day trip report from this rail ride through Germany, which I finally took on 14th January 2023.I split my trip report into two parts
All German States on One Rail Trip – The Trip
This is my schedule of my trip.
The trains are supposed to touch the following German states (not ones on my trip in italics):
ICE 920: Hesse, Rhineland-Palatinate, North Rhine-Westphalia, Lower Saxony, Bremen, Lower Saxony, Hamburg
ICE 507: Hamburg, Schleswig-Holstein, Mecklenburg-Hither Pomerania, Brandenburg, Berlin
ICE 509: Berlin, Brandenburg, Saxony-Anhalt, Saxony, Saxony-Anhalt, Thuringia, Bavaria
ICE 590: Bavaria, Baden-Wuerttemberg
ICE 836: Baden-Wuerttemberg, Rheinland-Palatinate, Saarland
Hamburg, Berlin and Bremen are city states so that the city equals the state border (in case of Bremen, there is also a second city included, Bremerhaven). As said, the trip also made me pass the eleven largest cities in Germany. Dresden is the largest city in Germany which I did not expect to pass or step out of the train. By the way, if you asked yourself whether the trip through all sixteen states would have been possible on one day, I could have made it from Koblenz South of Cologne with a similar itinerary:
This trip, which concludes in two regional train connections (RE 1 in fact takes the detour via Saarbruecken) was also my fallback solution in case I see that I run into that significant delays that the trip via Munich is not possible. Finally, I traveled exactly the route I planned. None of the trains deviated (at my point of arrival) from the scheduled time for more than five minutes. The only change was that the Hamburg to Berlin train has been serviced by a replacement ICE, which lead to a new train number (ICE 2807 instead of ICE 507) and that all seat reservations were voided.
All German States on One Rail Trip – Why and How?
Why? I don't know. I just had the idea to do it. And once I try to turn these kind of things into real. I initially went for a round trip from and to Cologne, but then felt that this way of doing it is significantly more convenient. Finally, this trip is also some sort of exploring how it will be alike for me. Being in the train for so long will be interesting. I am also not a too good train sleeper typically. There was also the potential that I have to accept that I cannot make it. Some sort of weird travel challenge. And: this time it is even rather environmental-friendly.
You can of course buy a couple of separate tickets to do this trip. Deutsche Bahn is having dynamic pricing, so that it is hard to say what this trip in fact would cost if you book it on separate tickets. I used frequent rail traveler points. 3,000 of them (which is roughly an investment of 3,000 EUR in train tickets, but you can generate them in other means as well) lead to a First Class Day Ticket for Saturdays. The ticket is valid from midnight until 10:00 on Sunday morning. You see that the trip from Frankfurt Airport is leaving slightly earlier – I bought a separate ticket to Mainz, where the train was scheduled to arrive at 23:59 and depart at 0:01. I needed to position to Frankfurt Airport anyway, which I could do on the same ticket. In order to avoid that I have to wake up early in Saarbrücken, I bought a reprise ticket from there back to Cologne.
A feature of this trip is also that you have quite some breaks (in Hamburg, Berlin, Munich). I am also thinking of traveling from the Northernmost German train station (Westerland on Sylt) to the Southernmost one (Oberstdorf) – or do the same thing from West (Übach-Palenberg near Aachen) to East (Görlitz). You can book these kind of things on a single train ticket easily – which typically leads to relatively cheap ticket prices if you book well ahead. Thus, using this day ticket thing is likely not too effective.
All German States on One Rail Trip – The Prelude
The day at work was weird. I had a lot of work to do and other stuff, e.g. for Flyctory. The days before were very busy as well, so that I  already felt very tired when I took my car to Cologne Main Station. I already knew that the train I originally booked to position to Frankfurt Airport has been delayed, but I was lucky that the train conductor allowed me to take an earlier connection. Thus, I arrived rather relaxed in Frankfurt Airport. The nice Rail Lounge at Frankfurt Airport was already closed, but the stop gave me the opportunity to stock up my food for the trip, at least until Hamburg. What do you need for a 16 state, 24 hour trip? No idea. So far, I just had a bunch of water and some energy drinks with me… and ten remaining drink voucher for Deutsche Bahn I can use onboard. I was quite sure that this trip will include some gin and tonics. Overall, the first leg to Frankfurt was relaxed. Let's get the party started!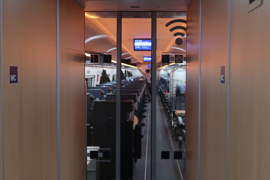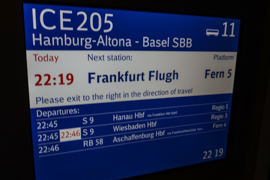 All German States on One Rail Trip – Leg 1: Frankfurt Airport to Hamburg
With just over seven hours, this was the longest leg of my journey. Due to the earlier positioning train, I had sufficient time to stock up at the supermarket right at Frankfurt Airport Rail Station. Quite a lot of people around at that time. Not only travelers and people who in fact feel to live in there, but also airport workers who had a beer together after a tough day at work. I also went for a quick bite, some Swiss sausage salad, which I bought at the supermarket – than it was not that much time I had to wait until the train arrived with a few minutes delay.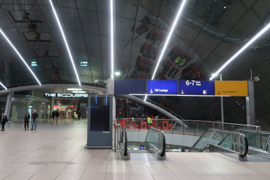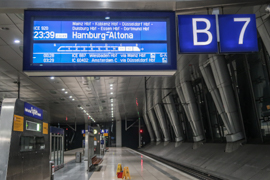 We had roughly five minutes delay and I would have loved to do Hesse in the validity of the Saturday Day Ticket and not on my additional one, but we crossed the River Rhine and thus the border from Hesse to Rhineland-Palatinate at 23:58. Second state made on that list. By the way, starting in Frankfurt, I also touched the largest German city, which is having less than a million inhabitants. I did some Flyctory.com work, but latest after catching some fresh air in Koblenz (where the train had a scheduled ten minute stop), I felt more and more dizzy and tired.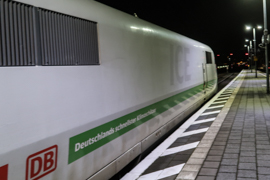 I more or less slept until the train reached Essen in the Ruhrgebiet, which is some two hours after Koblenz. Definitely, I had worse naps in some airline economy and premium economy seats. Going for a table seat with four seats was a good choice, for sure.I at least briefly woke up at Cologne (or: precisely: the Trade Fair/Deutz station) and in Dusseldorf main station. With Cologne, I also crossed the first city which is more than one million people. I especially loved to have a short period of being awake in Leverkusen, my residence.  The atmosphere was calm. In Essen, some drunk party people entered the train (and left at the next stop, Bochum). They were a bit of loud, but finally friendly people. And they sang the Steiger, a traditional German miners' song, which I learned during my time at Clausthal Technical University.
Night time is sleep time
Finally, I slept more or less until Hamburg. I thus more or less missed entering Lower Saxony near Osnabrück and stopping at Bremen as well as I had already slept when the train was entering my home state, North Rhine-Westphalia, a few hours earlier. I had a short period of working, but finally, I woke up some twenty minutes before the train was about to stop at Hamburg Harburg station. At least I would like not miss the moment we head into Hamburg State.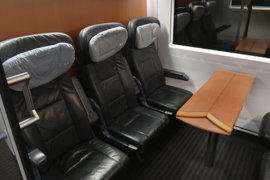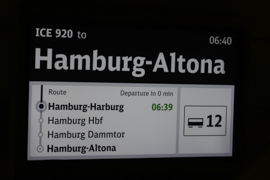 Maybe I was also just too frustrated. Right after Münster I wanted to have my first gin and tonic…. But found out that the restaurant car is not operating on this serivice (which Deutsche Bahn clearly declares). One thing I definitely underestimated is the amount of liquid you need to drink on a trip like this – especially with the mask mandate still in place. After leaving home until Hamburg, I already had some two liters. By the way, the train was back in time, even a bit too early. I was expected to arrive at Hamburg Main Station at 6:50, forty minutes before the Rail Lounge there was going to open.
All German States on One Rail Trip – Leg 2: Hamburg to Berlin
Finally, the train was very few minutes late. More than enough time to grab some Franzbrötchen (sweet bread rolls, you have to try them when in Hamburg) at my favorite provider and stock up my water reserves. Nice timing: the supermarket at Hamburg main station is opening at 7:00 – their "salad" buffet is even featuring tiramisu. Then I had some time to explore the strange ones at Hamburg Main Station – there are quite a couple of them. At 07:30, the German Rail Lounge opened. A nice perk of my day ticket: I had access to the Premium area, which is only available to Platinum tier frequent travelers and First Class travelers on flexible tickets (which I typically don't use). Fresh made cappuccino and some croissants – not too bad before the short hop to the German capital.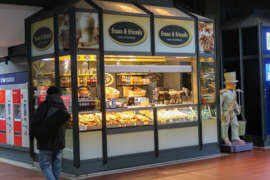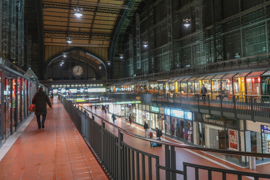 There was a replacement rail service for the ICE I intended to take. As I happened to reserve a seat for the wrong day, I was very fine with it. All the seat reservations had to be voided (as it  had been another train layout) and the schedule was not really impacted, anyway. Two hours time to spend in Berlin ahead after the shortest of all legs on my 24 hour trip. On the way there, I also checked the States of Schleswig-Holstein, Mecklenburg-Hither Pomerania and Brandenburg.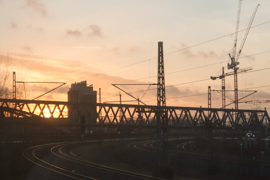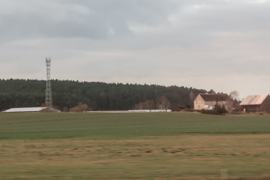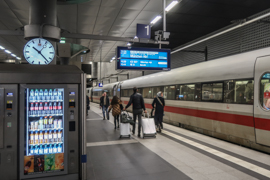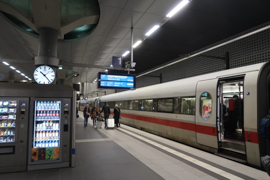 All German States on One Rail Trip – Part 2
Here is the second part of my trip review:
All German States (and the Eleven Biggest Cities) on one Rail Ticket – Part 2
Trip Reports
Here are all (other) Trip Report postings:
German Museums
Here are all my postings about museums and exhibitions related to or located in Germany: