I had a couple of private spa experiences with my wife already, like the MyWellness in Cologne or the Pure Spa in Oberhausen in Germany. In September 2022, we rented a private spa experience overnight, at the VIWA Spa in Wuppertal. I was really curious how this service would be alike. Here is my view on our experience.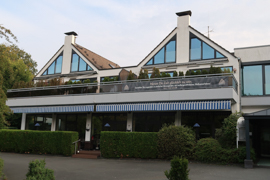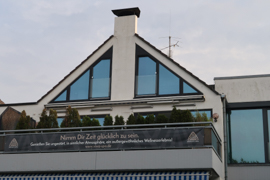 VIWA Spa – Location & Tariff
VIWA Spa is located in the Rainbow-Park in Wuppertal. The park also features tennis and badminton courts, a gym, German-style and (ten pin) bowling and other activities. Rainbow Park also features a restaurant, which can be used for catering the VIWA Spa. The area is located North of Wuppertal and can be reached quite well from the A46 autobahn. If want to arrive by public transport, there is a bus station (Dönberger Straße), which is served by the bus lines 625, 627, 637, CE65 and a night bus. The private spa is having a separate entrance at the corner of the building, which is only shared with the host. You need to walk stairs to get up there, though. Rainbow-Park is very popular, so that they run a large parking lot.
There are two daily shifts, where you can book the VIWA Spa private spa for four hours, 11:00 to 15:00 hrs and 17:00 to 21:00 hrs. Alternatively, you can book the suite from 18:00 to 9:00 hrs overnight, what we did. The price differs by weekday. During the week (Monday to Thursday), the morning slot is 149 EUR and the afternoon one 169 EUR. The overnight is 229 EUR. Weekends are 169/189/249 EUR. The price includes two people,additional persons are 40 EUR (I would not recommend that for an overnight stay, though).
VIWA Spa – The Private Spa
The private spa suite is a two level flat. The lower level features the entrance area, a high table, three loungers, the sauna and the bathroom with a separate toilet. We liked the design of the room. It is very spacious – and even if you have a bit of luggage as you stay overnight, it is really comfortable there. The room features a lot of carpets, artificial furs etc. for a cozy atmosphere. The whole spa flat was spotlessly clean at our arrival. The host did an awesome job there.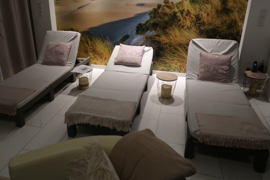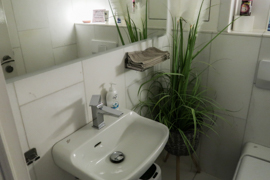 A circular staircase brings you to the upper floor, which features a bed, a TV, an artificial fireplace (not heating, just a display) – and the whirlpool. You have a huge window front, but other visitors of Rainbow Park cannot see you. As you see, there is a lot of space in the room, which allows you to spread out and relax.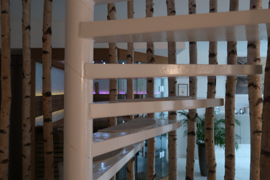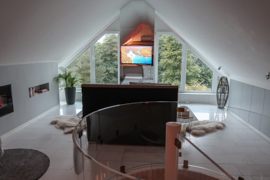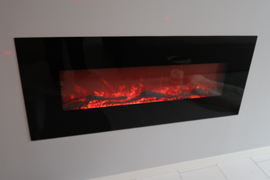 The lower level also features access to a lovely balcony. You are overall protected from views of visitors of other sections of Rainbow Park – however, they may be able to spot you if they go from outside to the badminton courts. The tilework of the balcony did not feel to set up very professionally, but this did not lead to safety issues.
Spa Facilities
The sauna on the lower floor is really spacious. It has been already heated at our visit. You may choose between a Finnish sauna-type setting or a less warm and more humid bio sauna. The rain shower with separate handle is also very nice. One of the loungers offers an artificial sun.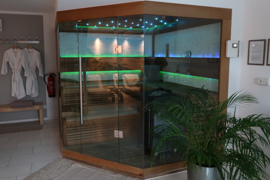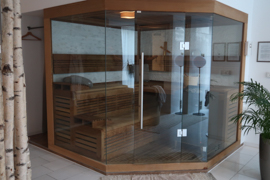 The whirlpool was amazingly illuminated during our visit. You have to say that it was a bit of small for two people. Therefor, it came with a waterfall setting, i.e. water is flowing down almost from the edge of the tub, which was a lovely option.
VIWA Spa – Service
Even though there were some communication issues before the reservation, the service during our stay was amazing. The service manager of the private spa gave us a some ten minute introduction to all rooms and functions. He is also offering massages on demand (at an additional fee) and is living right next door, in case there are questions. We also rented a bathrobe and additional towels (25 EUR), which was very handy. They did not ask for bathrobe sizes beforehand, though, so that mine was rather small. The room offers a lot of amenities, including items like deodorant spray or a portable Bluetooth speaker. There is free WiFi as well.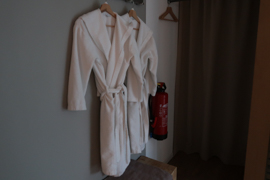 In contrast to the private spa places we have been before, there is no gate which allows you be served with catering. The room features a Nespresso machine – unfortunate, there was just one capsule per person (as well as one tea bag). There was also a 1.5l water bottle. In addition, you can grab drinks from a mini bar, which is having very reasonable pricing (you just leave the money in the room at check-out). Food can be ordered from the Rainbow Park restaurant, which is right below the private spa. Ordering works via a tablet. Unfortunately, they just deliver to the house door and not to the room. You get a call when they are ready. The food had a very fair pricing and had reasonable quality. The restaurant is not open in the morning, so that you have to go for other breakfast options.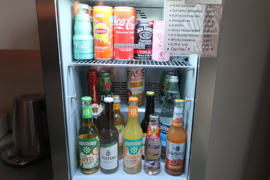 VIWA Spa – My View
The stay at the VIWA Private Spa Suite was lovely – we will definitely go for it again. I would, however, recommend to have dinner before. Even during the long 13 hour stay (you just sleep a bit in these hours as well), it just takes a bit of your time. The host is amazing and leads to a great experience. Definitely memorable and recommended!
Entertain & Relax in Germany
Here are all my reviews of the Entertain & Relax category related to Germany:
Wuppertal
Here are all my postings related to Wuppertal: