How could the Christmas days end better than with some warmth, sauna, whirlpool and… wait… It will be damn full in these places on a public holiday very likely. Thus, my wife and I (again) went for the adverse way and tried out another private spa, the Wellnest in Essen in the Ruhrgebiet region. They are currently only driving this place, but they soon want to open two more outlets, in Bonn and Cologne. My wife and I had a look at Boxing Day (26th December) 2022.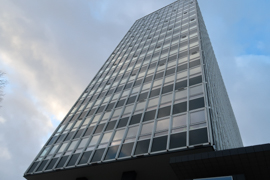 Wellnest Essen – Location & Access
The Wellnest Essen is located a couple of hundred meters North of Essen Main Station, on the bottom of the City Tower Essen building. There is a bus stop right in front of the building and the Berliner Platz offers a wide range of transport options – but finally we felt that going there by car is more comfortable and especially more relaxed after the stay. The City Tower parking garage is rather run down and has a blue light staircase (i.e. drug abuse possible in there), but at least parking is free for Wellnest clients – they do have own lot and free parking tickets in there. The Limbecker Platz shopping center is just a few steps away and feels very popular among locals – and people traveling in for it.
Typical Wellnest operating hours are 1000 to midnight daily. As in most of these places you are very, very optimistic to simply walk in and ask for a slot – reserving well in advance, especially during the weekend and close to public holidays, is very highly recommended.
Wellnest Essen – Tariff
My wife and I had a four hour stay at Boxing Day 2022 (26th December), which was 135.20 EUR. You have to state that this was likely an error fare and we in fact paid the Monday morning rate, even though that part of Christmas was of course a holiday. There have also been significant increases in price due to the rising energy costs. At the time of visit, one hour ranged per person between 21.90 EUR and 27.90 EUR, depending on the weekend and time of day. There are also several packages to add on experiences. We booked Love, which includes sparkling wine, sauna infusion and some romantic decoration, and Basic, which includes the towels and a bathrobe. The packages were 16.90 EUR / 11.90 EUR per person and stay so that we had a total of 192.80 EUR for the four hour stay. You have to pay the reservation at the time of booking.
Wellnest Essen – The Private Spa
In contrast to other places we were not lead to the spa suite but just have given the suite number. This was absolutely fine to me. In contrast you don't have to buy any kind of key cards, which we felt to be rather useless in other places. The spa suite was definitely smaller than other ones we had. To me the key difference was the wardrobe section, as this one was not separate from the remaining suite. This can be bothering as you in fact cross it very often during your stay so that the floor is wet when you want to dress up again. You also cross the area which you stepped on with your outdoor shoes, which is not ideal. The arrangement due to the packages we bought was lovely, though. Having water and some sparkling wine in the suite right when you enter simply feels welcoming and cozy.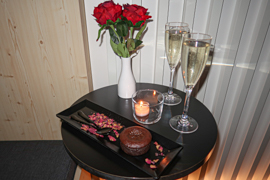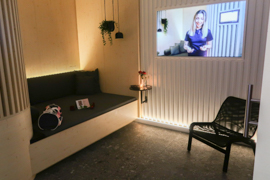 The sofa lounger was really nice and large. The sauna absolutely was fit for purpose. You could not order any other infusion for the sauna apart from the one which was included in your package. This felt a bit awkward. Furthermore, you have to chose one sauna temperature at check-in and cannot change it during the stay. The large jacuzzi was great and offered a couple of options to adjust the jets to your needs. The fog and rain shower was a beauty as well. The only shower handle / hose provided cold water only.
The touchscreen close to the wardrobe allows you to set up different music playlists, adjust the light and do similar things. We failed to use our own music (see below) or watch YouTube, though. Other places even had TV reception, so that the Wellnest felt a bit of thin in that sense. The bathroom was absolutely fit for purpose and had a nice design. Wellnest Essen has been the only place we visited so far which does not offer proper power outlets (only USB). This may be bothering, depending on what you want to do. There is a fifteen minute reminder before your booking is finished. Similar to food deliveries (see below), the signal could be more significant.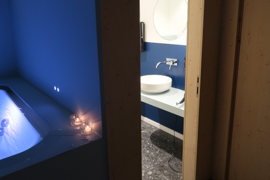 Wellnest Essen – Food & Drink
Like at most private spas, you order via a touchscreen and the food is delivered into a drawer, which is closed from both sides normally and thus guarantees privacy. However, this handover drawer did not work as good as it worked in other places and it even opened on the floor side again – which means that people could theoretically see us naked when we grabbed food from there. The food quality was very good. A salad bowl and chicken finger we had were even about restaurant quality. The focaccia could not keep up with that, but was nice as well.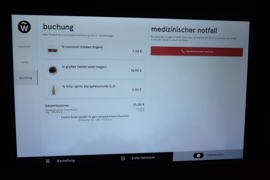 Unfortunately, the service at our first order (salad bowl and chicken fingers) took by far too long, over twenty minutes. This is simply too long. Time is running and you don't want to keep warm food somewhere. In addition, there is a minor optical signal when the staff is putting drinks or food into the handover drawer, but there is no announcement or similar signals, so that this was overall a bit too weak. Other places definitely do better here.
Wellnest Essen – Service
The staff was very nice at check-in. We were too early (low traffic) and could wait at the reception. Nonetheless, we were able to get into the suite a few minutes too early. The private spas feature a sound system, which should connect your mobile with the TV / sound system via WiFI somehow. While this feels to work for iPhones, they had a long list of issues with Android. I would have loved to be made aware of that before we try out many options to make it run. You can watch an introduction video in the spa suite, which I feel being very helpful.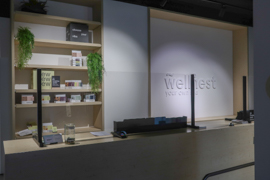 Wellnest Essen – My View
Having four hours at the Wellnest was fun. The staff was nice (but lacked to inform us about the music streaming). Other things like the wardrobe, streaming, the time until we got food are not ideal. Thus, I feel that Wellnest is definitely worse than the peers we visited so far. Nonetheless, it is a good option.
Spas & Health
Swimming pools, thermal pools and places to relax can be found under Spas & Health:
Ruhrgebiet Travel Postings
Here are all my travel postings related to the Ruhrgebiet Region in Germany: