The only hotel I stayed two nights in during my Six-Intercontinental-Flights weekend was the Sercotel Malaga. Here is the review of my stay from 25th to 27th May 2018.
In the meantime, this hotel has been re-branded as Eurostars Malaga.
Sercotel Malaga – Location
Regarding the location, I would say that the Sercotel Malaga is maybe the perfect airport hotel (if you read my postings about the airport area hotels in Malaga, you know that the hotels closeby are only well-connected to the airport by car). The outbound Airport Express Bus is stopping more or less right in front of the hotel, while you have to walk maybe three minutes to reach the corresponding bus stop on your way to Costa del Sol Airport. The cheaper alternative, taking the local Renfe train to the airport, is also just a couple of minutes away. There is just one hotel which is really right adjacent to the station buildng, which might have better connections. The station itself and its surroundings offer some nice shopping and restaurants and you do not necessarily need to take a taxi if you want to go to harbourside and other city centre sights as well.
There is a closed supermarket and department store outlet next door, which is nowadays used as home by some homeless. This did not bother me too much. I even had a nice view of a cute little park from my room window.
Sercotel Malaga – Room
My room, 201, was right at the end of the second floor. It was absolutely perfect size and had a nice bathroom with a combined shower and bathtub. However, the screen which protects the room from squirting water when you take a shower was far too small – I even shot the bathroom door with water when I did so and the floor was finally wet. The workdesk had a very decent size and – what I especially like – sufficiently equipped with power plugs. Unfortunately, the Wifi reception was very limited at that place due to one of the key pillars of the building nextby. The reception staff was very friendly and offered me another room, but I had finally been able to move some furniture for close-to-perfect Wifi reception.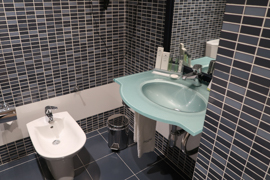 Sercotel Malaga – Breakfast
The hotel restaurant offers breakfast, lunch and dinner. I however just did check their breakfast, which has been included in the price I booked. Spanish breakfast buffets are typically not too overwhleming to me, but this one was definitely on the country's upper half. Especially the variety of juices and the nice selection of bread felt very nice. There were also pastries, churros, cheese and cold cuts and some warm dishes. Both egg dishes, fried and scramble, though felt comparably liquid. Another point on the bad side was that due to the construction of the room, just a few people can turn this place into a very noisy one. Neverthless, I have been very pleased with the breakfast offer as well.
Sercotel Malaga – Services
As written above, check-in and reception staff was very good. I do not care if problems arise during a stay, I do care much more about how they are handled by the staff. The people were excellent. Check out at Sunday 10:30am was a bit lame, but still in reasonable range. Housekeeping was also very good so that there is no complaint about the staff.
The hotel offers a small gym, which is shown in the pictures below. Old hotel descriptions seem to show other amenities, which now seem to be replaced by a spa area.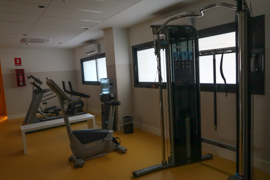 Sercotel Malaga – Overall Review
Though there were some negative points, I would absolutely recommend the Sercotel Malaga if you need a good connection to the airport and / or like to see the city. Other hotels in central Malaga can be really pricey. All the facilities in Malaga's main station like the restaurants and a supermarket also help you a lot when you have some urgent needs. Something I absolutely did like was their problem handling – which is to me a very important point about rating the service and the overall of a place to stay.
Spain on Flyctory.com
Here are all postings about Spain:
Flyctory.com in Curacao
Here are all postings related to Curacao: