Yes, I do like flying – but I am also a fan of rail travels. Just to find out how traveling in a train for that distance would be like, I took my return trip from Krakow to home / Dusseldorf airport in several Polish and German trains. This review is about the second section of my trip, the EC 48, which used to be called Berlin-Warszawa Express, I took the trip from Poland's capital Warsaw to Berlin in late August 2021, after I tested the EIP high-speed train the day before. From Berlin, I headed on using an ordinary ICE train. My review is based on a first class ticket experience.
Berlin-Warszawa Express (EC40 to 48) – The Connection
I did this trip in summer 2021. There are typically five connections in any direction. From Warsaw there are three in the morning (roughly at 4:00, 6:00 and 8:00 hrs, one around noon and one in the afternoon (about 16:00 hrs) with a six hour traveling time. From Berlin, there are trains short before 6:00 and 10:00 in the morning and then trains around 14:00, 16:00 and 18:00 hrs. At the time of writing, the traveling time from Berlin to Warsaw is slightly shorter.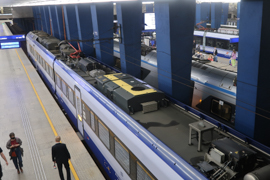 EC48 – The Schedule of My Trip
Below is the schedule of my trip, as of 30th August 2021. The train had some ten minutes delay in Warsaw Centralna station, but was already some ten minutes ahead of schedule in Kutno. Berlin Ostbahnhof (Berlin East Station) is typically a stop of the train as well – due to construction work in the station, the train did just pass the place.
| | |
| --- | --- |
| ECE 48 | As of 30th August 2021 |
| dep. 07:50 | Warsaw Wschodnia |
| 08:01 | Warsaw Centralna / Main Station |
| 08:06 | Warsaw Zachodnia |
| 09:46 | Kutno |
| 10:26 | Konin |
| 11:25 | Poznan |
| 12:10 | Zbaszynek |
| 12:24 | Swiebodzin |
| 12:52 | Rzepin |
| 13:15 | Frankfurt (Oder) |
| X | Berlin Ostbahnhof |
| arr. 14:16 | Berlin Hauptbahnhof / Main Station |
You can buy tickets for the train at Polish Rail PKP as well as at German Deutsche Bahn. At least the German peer offers some really nice ticket offers. My first class ticket from Warszawa to Berlin and then heading on to Dusseldorf in a first class ICE high speed rail train was about 60 Euro, including a 25% Bahn.card discount.
Berlin-Warszawa Express (EC40 to 48) – The Rolling Stock
There used to be specially branded Berlin-Warszawa Express rail wagons for this trip in the early beginning of the connection. Nowadays, PKP Intercity, the Polish national rail company, is using their normal Intercity cars. Like at the EIP Express InterCity Premium high speed rail train, there is only one first class car, followed by the restaurant car and the second class.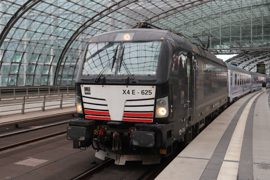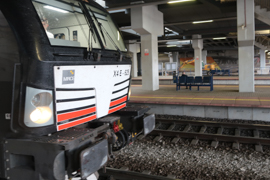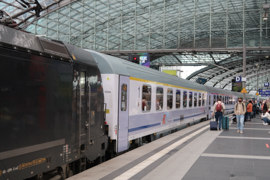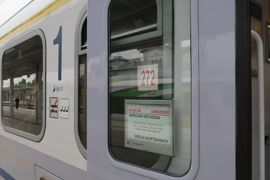 The first class cabin came with a classic 1-2 seat configuration. Compared to the EIP and many German trains, for example, there were significantly more table seats of two / four, with one / two seats each side facing each other. The table could be folded up, but only completely so that in the folded state, there were two halves of the table in vertical position, facing each other. Power socket are located at each seat, but there is no WiFi (I found a hotspot, but I couldn't connect – and that was the same for the other passengers around my table.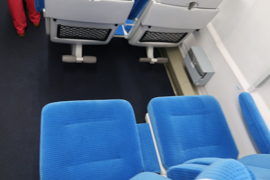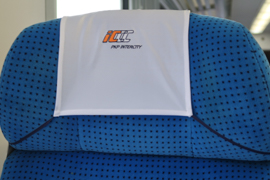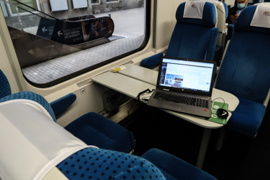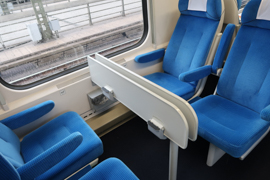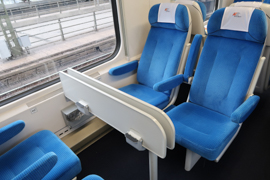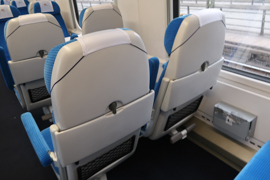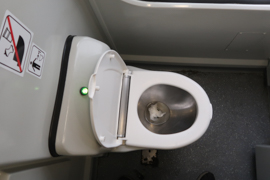 Due to the many tables in the wagon, there was plenty of space for suitcases between two back-to-back seats. You also had overhead areas for light luggage.
Berlin-Warszawa Express (EC40 to 48) – Service
On the Polish part of your trip, you got a snack (which was a cereal bar) and some water or coffee. The service was a bit of chaotic, also because the rail staff did neither write down the drink orders nor which passenger spoke Polish or English. I was a bit pissed that in an international train, the announcements were majorly done in Polish only on the Polish side (some were in English as well) – but I have to say that after Frankfurt (Oder), they changed to German and English, which was not better in that perspective. Deutsche Bahn and their partners do much better at the connections from Frankfurt and Cologne to Brussels and Amsterdam, where they partially operate with announcements in four languages (English, German, Dutch, French). The service quality and attitude was nice, though.
I also tried out the Polish restaurant car. For some seven Euro, I got some freshly cooked (in a pan! Not warming up dishes like in German cars) chicken with rice and salad, which was really nice. The waitress of the restaurant even brought the food in a take-away box to my seat so that I did not have to wait. Excellent service.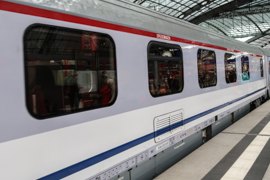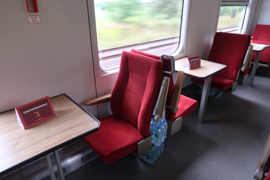 Berlin-Warszawa Express (EC40 to 48) – My Trip
Below are some impressions from the trip. In general, there are quite some longer stops, so that the train easily catches up delays.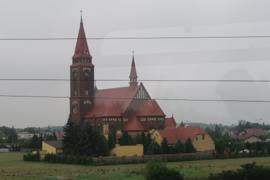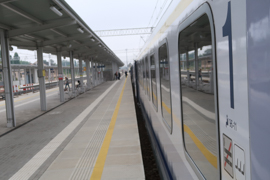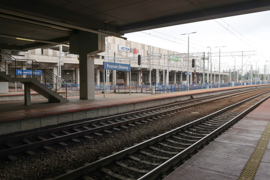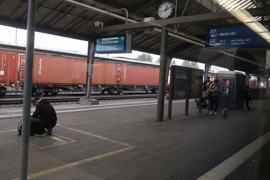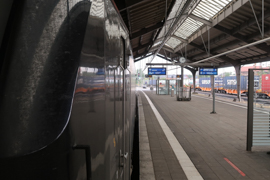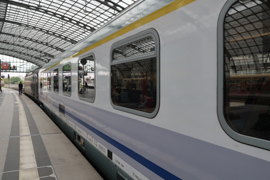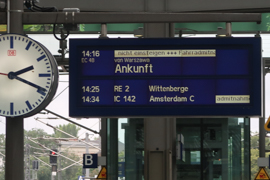 Berlin-Warszawa Express (EC40 to 48) – My View
The train ride from Warsaw to Berlin was definitely a nice experience. If you are a business traveler, you may fancy the very early connection and the afternoon/evening one. It is obvious to say that – with better tracks and rolling stock – you should at least easily be able to cut down the travel time by half, which would make this connection very attractive compared to air travel. No WiFi was bothering – and they should work on the situation that on both sides of the border, train crew is speaking German, Polish and English.
Flyctory.com in Poland
Here are all my postings related to Poland:
"Rides on Rail" Postings
Here is everything about trains, trams and other rail vehicles: