Cologne Cathedral is the key attraction of my home town Cologne, of course (it is even one of Germany's very top attractions) – but many people visiting the city stroll along the river Rhine southbound for a very different experience: The Cologne Chocolate Museum (Schokoladenmuseum Köln), nowadays driven my the Lindt/Sprüngli Swiss chocolate company, but has originally been founded by Hans Imhoff of the Stollwerck company and opened its doors in 1993. Here are my thoughts about this place.
Cologne Chocolate Museum – Location & Admission
The Cologne Chocolate Museum is located in the Rheinauhafen of Cologne, a peninsula at the River Rhine. The location is South of the very heart of Cologne and its old town, but features a lot of attractions like the German Sports and Olympic Museum or the Historic Mustard Mill. The Rheinauhafen features a huge parking garage when you arrive by car. For local transport, the Heumarkt station features tram and bus connections. There is also a bus stop right in front of the museum.
The Cologne Chocolate Museum is opening its doors more or less daily – there are a few holiday and some Monday closures in certain periods. The museum is open from 10:00 to 18:00. The adult admission Monday to Friday is 12.50 EUR, weekend pricing is one Euro higher. There are also family tickets for 31.50 / 34.00 EUR. During our visit, there was the Europa Rad ferris wheel right in front of the museum, which lead to a combined adult ticket price of 17.50 Euro.
Cologne Chocolate Museum – The Visit
The museum is taking you on a round trip, which is well signposted and organized. On the very final part of the tour only, there are some parts where you can cross each other's path (temporary / special exhibitions). More or less the whole museum is bilingual, German and English, even the animated and interactive exhibits. Guides are available in other popular languages as well.
Basics: The Museum & Chocolate Trade
Your visit of the museum starts with some basic background about it, including a statue and some bio of Hans Imhoff. During "normal" visiting days, you would like head to the tropical greenhouse thereafter. The Cologne Chocolate Museum hosts a small tropical forest exhibition, which illustrates how cocoa is planted, growing and harvested. The place is not overwhelmingly large and due to Covid-19 regulations, this section was closed. You. however, learn about the cocoa plant as such, the chocolate-exporting countries and the conditions on the plantations (including a minor reference to children labor).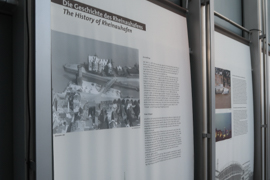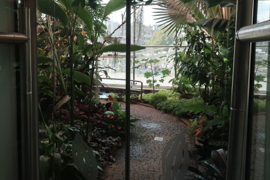 The next section is about cocoa trade, from the local markets to the shipping routes and also the per capita consumption in major countries. This section is particularly interesting, as it illustrates the importance and economic potential of cocoa.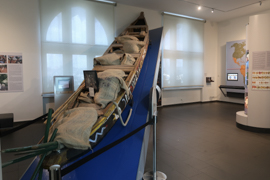 Chocolate Manufacturing & Create Your Own Chocolate
To most of the visitors, the chocolate factory might be the key exhibit (maybe in parallel to the greenhouse). Before you enter the working production site, the first room of the factory tells you about the ingredients and also how they contribute to the final price of a bar of chocolate. You also learn how many different products, e.g. cosmetics, use cocoa as well, so that it is not only a product for nutrition.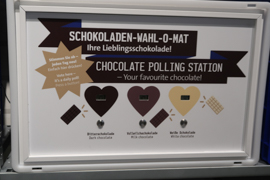 The chocolate factory is of course a bit of down-scaled compared to an industrial side, but it is working as an in fact production side. The factory side is well signposted and structured, so that you can easily follow the route of the ingredients, which transform more and more into small chocolate bars. There is typically a robot which is handing you over freshly produced chocolate as well as a chocolate fountain, so that you can have quite some calories during your visit – again, Covid-19 required adjusted rules during our visit. The view from the chocolate fountain is by the way a Cologne classic.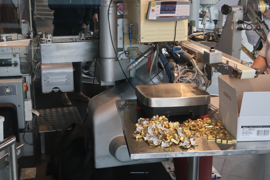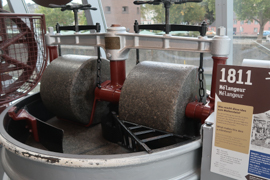 If you are bored of chocolate bars, you will likely enjoy the chocolaterie one level upstairs more. It is the next part of your journey. There is an exhibition part, for example molds for chocolate figures (as well as demonstrations how they are used) and people making pralines. On the other hand, it is an opportunity to spent some funds of fresh made chocolate figures and sweet treats as well. The Santa Clause figure with a view of Cologne is another classic.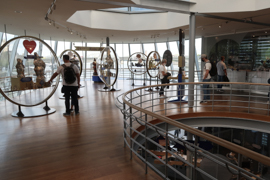 To me, the highlight of this section is indeed the chocolate made to order. For some five Euro, you choose one kind of basic chocolate and toppings. The chocolate is produced by the staff and once it is cooled down brought to the entrance area. Processing time is some 45 minutes – which is anyway more or less the remaining time you will spent in the Cologne Chocolate Museum.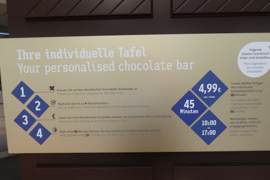 Cultural Meaning of Chocolate
Until that stage, Cologne Chocolate Museum is already a really cool visit – but the section about the cultural history of chocolate is to me one of the key factors which turn this place into a must-visit. The exhibition starts with the meaning of cocoa in the Inka / Maya culture though the last century in Europe once the product became available there. The impact and importance of cocoa, chocolate and drinking chocolate over the ages is well illustrated. Furthermore, there are quite a bunch of really nice original exhibits.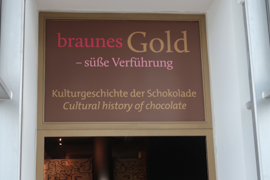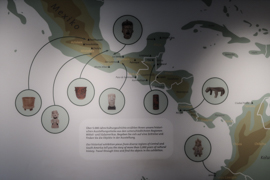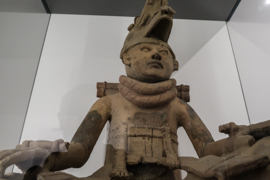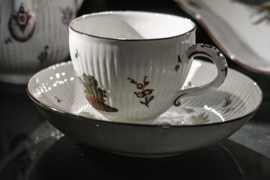 A seperate section deals with chocolate trade, but also chocolate pioneers like Suchard or Sprüngli, who boosted the importance and quality of chocolate. There is a lot of information about the biography of these culinary pioneers, but also an replica of a historic chocolate store (including marketing which is nowadays rather questionable) and historic vending machines. The section also deals with darker sides of chocolate history, e.g. the meaning of chocolate during the German Nazi regime and during WWII.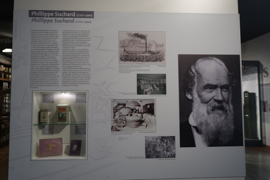 Special Exhibitions
The upper floor hosts special exhibitions. During our visit, one of them was about chocolate and marketing – which I felt to be really interesting. You learn a lot about marketing, different packaging up to brand philosophy marketing (e.g. fair-traded chocolate). A lot of childhood memories in there, but also some more vending places and other exhibits.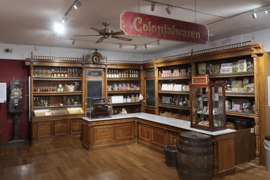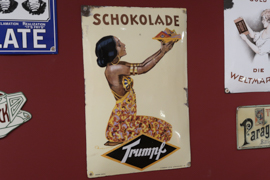 Finally, there was a short version of the Bitter Chocolate Stories exhibition which deals which child labour on (mainly African) cocoa plantations. I would have loved to see the full exhibition here, in line with what I say as part of the Dutch Afrika Museum exhibition. Still, I feel it is very positive that the Cologne Chocolate Museum is having at least a small focus on that important topic.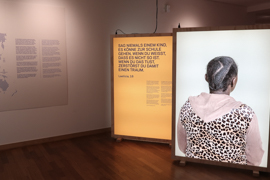 Cologne Chocolate Museum – Cafe
If you feel like more chocolate after you visited the museum (which will likely take you about 2 hours), having a bite at the museum's cafe is definitely a good option. Instead of German coffee and cake culture, you likely rather opt for a hot chocolate in here. They also have very nice waffles. Our ferris wheel and museum package even included a glass of bubbly, which made our snack stop even more enjoyable. The view over the River Rhine is beautiful and you can also sit outside on sunny days, so it is one of the nicest spots in Cologne for me to enjoy a nice piece of cake.
Cologne Chocolate Museum – Shop
The most favorite souvenir from Cologne Chocolate Museum is of course an edible one. Independent of visiting the museum, you may visit the chocolate store, which is featuring chocolate of a couple of affiliated brands. There is quite a range of items, the prices are reasonable (but in my point of view no reason to visit the museum just for chocolate shopping).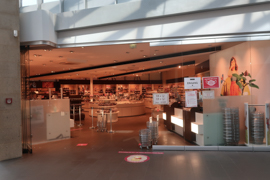 Cologne Chocolate Museum – My View
If you visit Cologne, you have to stop by the Chocolate Museum (at least if you have more time than just visiting Cologne Cathedral). The museum is absolutely brilliantly structured, you also receive a lot of information about cocoa production, trade and cultural aspects. Thereby, the museum is also allowing for unfortunate parts of the cocoa production like children labor. The place is also very suitable for kids. Even though you get tired of the place as a local a bit (as any of your abroad friends wants to go there), it is indeed a great one.
Top Pick! Travel in Germany
Here are all travel experiences in Germany, which received my Top Pick! award:
Postings about Cologne
Here are all postings about my home town Cologne: