German Architecture Museum Frankfurt
9 Euro (adult)
Flyctory.com Pros
Quite unique exhibition / topic
Interesting, but small exhibition about the history of housing
Flyctory.com Cons
Part of the exhibition closed without notice
This place is made for architects only - don't think you can learn something there!
Thus, it felt very un-welcoming to me
Even though architecture is a topic which so much influences our everyday life, the German Architecture Museum (Deutsches Architekturmuseum – or, short: DAM) in Frankfurt was the first museum I ever visited which deals with the design and construction of housing. Thus, I have been really open-minded and curious about how this place will be like and what I will learn from visiting it. Here is my review.
German Architecture Museum – Location & Admission
The German Architecture Museum is located at the Schaumainkai road in Frankfurt, right at the South Bank of the River Main. From city center, it is just a short walk to cross the river. Alternatively, you may use the underground (Schweizer Platz station) or tram (Schweizer-/Gartenstraße). The area around the museum is really nice and also features a lot of restaurants and minor shops. There are a bunch of other museums in close proximity, e.g. the Museum for Communication, the German Movie Museum or the Bibelhaus bible museum.
The adult admission to the DAM is 9 Euro. Apart from various reductions, there is also a Frankfurt museum card, the Museumsufer-Card (annual subscription) and Museumsufer-Ticket (two day rate), which grants free entry. Children under 18 years and students of Frankfurt Universities have free entry. The museum is open from Tuesday to Sunday, 10:00 to 18:00 hrs On Wednesdays, the German Architecture Museum even closes at 20:00 hrs.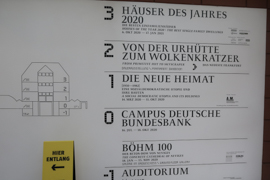 German Architecture Museum – The Visit
The first exhibition I watched was Böhm 100 on the ground floor. Gottfried Böhm is a quire reputable and well-awarded architect, who has created a couple of interesting buildings. The exhibition majorly dealt with the Betom-Dom von Neviges ("Concrete Cathedral of Naviges"), which is located in Velbert near Dusseldorf and majorly used for pilgrimage. This part of the museum has been quite interesting, but it was already clearly aiming for architecture professionals.
The second exhibition on ground floor featured drafts for a reconstruction of the German Federal Bank headquarters in Frankfurt (they also drive the Money Museum). You could really look into countless architectural models and layouts. I felt that this part of the museum had a lot of potential – but unfortunately, it felt to be aiming for non-professionals at all. Any commenting on the different drafts was the reaction of the jury (which finally does not tell you too much) and even though this part of the exhibition took quite a lot of space, you did not learn at all how the process of selecting the best suggestions is working at all. I thus felt that this part was absolutely poor overall.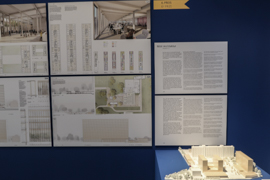 The second floor exhibition was about Die Neue Heimat between 1950 and 1982, which was a charitable building society to provide affordable space for living from the 1920's to 1990. It was part of the German Workers' Union Association (Deutscher Gewerkschaftsbund). The museum tried to illustrate how the style and the philosophy of Die Neue Heimat changed over time. Again, the presentation was too high level and missed important parts for "ordinary" visitors like myself. Thus, again a huge part of the exhibition did not meet its potential in my point of view.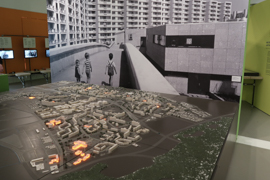 History of Housing / Architecture
The third floor, called From Primitive Hut to Skyscraper, shows models of different housing styles from different regions and eras. To me, that was by far the best part of my museum visit – even though again, there were a lot of missing links and it was not only to see the development over time, but also to understand it. To be fair, the space on that level is maybe too limited for that – I would have loved to have more space for that on other floors.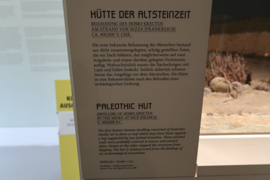 The same floor also hosted the result of a school project about designing an effective very small appartment. again, key design thoughts were hard to reconcile – but I felt that this small section was still quite impressive, given that it has been done by school students.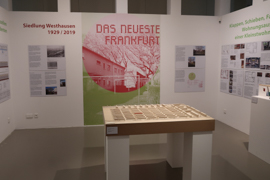 I was looking forward to see the Houses of the Year 2020 on the fourth floor, but I just did not get that they locked the whole floor, as that has been told me by one of the staff members.
German Architecture Museum – Services
The museum hosts a cafe at ground level, which felt to be very popular during my visit. The staff was not overwhelmingly friendly, communication was limited to the absolute minimum.
German Architecture Museum – My View
Bad luck. I was really looking forward to that visit. I feel architecture is a subject where I am not too strong in – so I felt that visiting the museum will give me some insights. Finally, you visit a museum to learn something new, don't you? This museum is not for people like me (as I studied Maths with a quite better-than-average grade, I would say that I am not dumb at all). Finally, this museum felt narcissistic / self-regarding to me. I feel if you study architecture or even work professionally, you will love to be in there – for all other people, I would definitely recommend to look around – there are a lot of other interesting places around.
Flyctory.com in Frankfurt
Here are all postings related to Frankfurt:
Graphic Arts on Flyctory.com
Under the Graphic Arts tag, I sum up all kinds of paintings, graphics and prints: