"Stylish", "Surprising" or "Modern design" might not really be the attributes which you combine with ibis hotels. The more I have been looking forward to see the "My room by Cagla" offered by the ibis hotel Munich City, when I have been on a Whitsun city trip with my wife.
My room by Cagla – Room and Concept
You can see the design of the room on the first two pictures already: in a standard ibis room, design elements changed the functional boring design to an Oriental oasis:
It has not just been the sleeping area with the carpet, the oriental cushions and the nice wall decor, but also other amenities gave the room quite a nice touch: I especially liked the small table in the room with tea glasses and the tea machine with complimentary oriental tea – but the specially shaped mirror and the shisha has also been a nice goodie to the room.
However, what I really liked most is that you still could recognize that it is an ibis room (so that you don't have just a room with a very different design in the middle of an ibis hotel). You can see below, for example, that the lamps at the bed are normal ibis design – there have not been any special elements in the small, but windowed bathroom.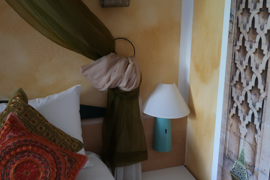 After I had the "Geek" or "Riddle Room" at a Novotel in Vilnius, this was another beautiful example, how you could posh up a hotel room within the design limitations you are given in a hotel chain. If you like the design, you may book that room directly on the website, if available.
ibis Hotel City Munich – My opinion
I would not call this chapter a "review", as I would like to at least stay two nights in one hotel to really feel ready to review it (and to have seen all important steps during a hotel stay).
The location of the hotel is really nice, just some minutes walking from Central Station and also to the museum area, where I visted the Egyptian Art Museum. If you know Munich a bit, you are likely aware of that the commercial structure of the area around the train station is something you need to get used to – there are a couple of amusement arcades around and the hotel is next to a tabledance club – but even when returning to the hotel later in the evening, we did not feel disturbed in any way by that. The hotel room was on the courtyard side, so that it has been absolutely quiet (there was some noise from other rooms you could hear, though).
The reception area and staff was brilliant and they have a beautiful designed bar area. I did not take pictures of the breakfast area, but there have been some nice additions like special spices for your cereals or to spice up your cheese, which I absolutely loved. In contrast to other ibis hotels, the breakfast area also felt very spacious and not hectic.
There was very minor potential for improvement in house cleaning – some spots could have been done a bit better – but there has been nothing you could really criticize about. Overall, I would absolutely recommend this stay based on our brief experience – maybe you check out the special Oriental room one day you are in there.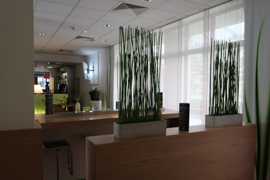 Link to hotel website: ibis Munich City
Accor Hotels Reviews
Here are all postings related to Accor Hotels:
My wife is Accor Club member and receives special rates and Accor Club points due to this stay in Munich. This did not influence my review of the hotel room.