Heading back home. As said in the Day 3 coverage, I did not expect too much going on on that transfer day from Italy to Germany, so that I added the whole Nightjet trip to my trip report. Hope you like to follow my route from Rome to Cologne.
Too Early… Way Too Early
I typically not a late person. There is always (too much?) buffer in my plans. Arriving at Roma Termini I however felt it was a bit too much: the Austrian Rails ÖBB had re-scheduled the Nightjet by 45 minutes – instead of 18:10, the train to Vienna and Munich left at 18:55. In order to add some confusion, the Italians gave the train not only another type of train (EuroNight), but also a train number. Adds a bit of excitement – especially was no ÖBB representative around and the Italian Railway service counter was just of limited help (after being in the line for some 20 minutes…).
The Debut
I did have other night train services before. In general, I do enjoy night trains – but having that Nightjet Single Deluxe compartment with an own shower was something special to me. Of course, it is a bit narrow and I needed myself to get around with the cabin – but overall I really enjoyed it. Having a shower in a running train for the first time in my life was also quite a cool experience.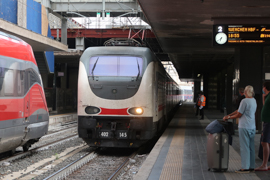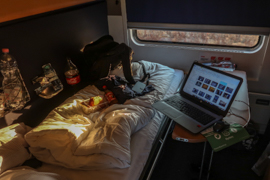 The Night
I overall felt I had a quite good night. I was badly trying to publish the Day 3 posting, but the mountain route between Rome and Florence does not give you too many good spots of internet (there was no WiFi connection in the cars). Thus, I started to sleep quite late. My night was better than some British Airways Business Class nights I had. Still, it was maybe a bit too short, even though the bed itself was quite on the comfy side.
The Morning
The breakfast system in the Nightjet is kind of funny – I will elaborate on that in my separate Nightjet review. Nevertheless, the resulting breakfast was quite tasty and nice. Still felt a bit of tired and not too much like working so that I could made myself comfortable on the bed, opened the shades and enjoyed the look through the window. I especially enjoyed the view of the mountains around Salzburg. In Freilassing, the German border policy mad an immigration check – as that was some two hours before Munich, I am just it was bothering to some people.
Finally, enjoyed being back in Munich.
Three Hours in Munich
Arriving around 8:20 in Munich and leaving at 11:50 – apart from some grocery shopping for the final stage, I did not have too much to on that three hour break around Munich Main Station. I initially wanted to take you on a trip to Munich's best Weisswurst ("White Sausage") – but as that would have required quite some walking and a had a slightly hurting foot, I decded not to do that. Sorry… Need to do that with you when I am in Munich the next time. Instead of that, I worked in the German Rail Lounge – for example, I completed formatting the Sandra North Spotlight interview. Unfortunately, the lounge was quite crowded, so that I could not take too many pictures.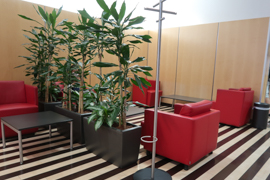 By the way, as a person arriving from another country, I would have had the possibility to receive a free Covid-19 test, right at Munich train station, at my return to my home country. I felt very safe in Milan though (Rome was rather average), so I decided not to do it.
Going Home
The direct train I booked was regarded to be not too crowded, based on the traffic predictions of the German Rail services. That projection was unfortunately quite wrong. The ICE train was already quite packed in Munich. Please excuse that due to that reason, I could not take pictures from inside the train. Will do a general ICE posting soon, I hope.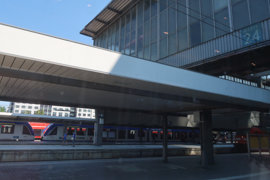 I had to alter my original Flyctory.com work plans for that trip, as I completely missed that I wasn't able any more to reserve a full table seat in the ICE train. Writing postings and mails instead of editing pictures… Not too bad as well – there are a lot of open memories, not just ones related to this trip.
My Thoughts about the Trip
Train travel became posh again during the last months and years. I love flying, but I also love train rides. One of my key questions on this trip was: are these products competitive to other travel carries? I feel only the Frecciarossa 1000 Executive Class gave a great product – however, it is not too cheap and you may find a quick hop flight from Milan to Rome with connection transfer for similar budget. It is hard to believe, though, that these options are quicker than the amazing Italian high speed rail system.
And my long-distance travel options? The Sleeping Car in the Nightjet was definitely a cool experience and not a bad night at all. I would love to have some features in it to really see a good travel alternative in it, though. Depending on the destination, the price may also be more attractive than having a flight, a hotel and transfers. The ECE disappointed me in some major points, even though the route itself was a real treat.
The "Winner" of the Trip: Milan
I would however assign a very positive rating to the hygienic standards and the behavior of the people in Italy. I felt safe there regarding any infection risk. This especially applies to Milan, but also Rome felt better than some of the situations I saw, back in Germany. It is an interesting and challenging, but also very valuable time if you can manage to travel to Italy. Finally, the (emotionally) most unsafe part of the rail trip was the ICE homecoming ride from Munich to Cologne.
Four Countries, Four Trains – Day by Day
Here are the links to my daily coverages. I will assign the entire Nightjet trip to the final day.
Day 4: 10.8.2020 – The Nightjet and going home
"Rides on Rail" Postings
Here is everything about trains, trams and other rail vehicles:
Trip Reports
Here are all (other) Trip Report postings: