Trying out another hotel brand: after I had stayed at quite a bunch of Premier Inn Hotel locations in England in the past (most of the stays are pre-Flyctory.com, though), the budget hotel chain is increasing their presence on the German market nowadays. Thus, they compete with other labels like the Hampton by Hilton or the Holiday Inn Express by IHG Hotels. The Premier Inn Cologne City South has previously indeed been a Holiday Inn Express – they now refurbished and re-branded it. I have been really curious about my first stay in a Premier Inn in Germany, when I had a night there in February 2022.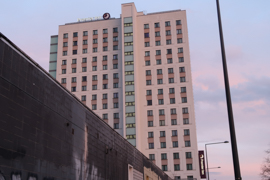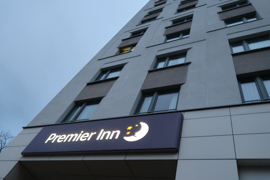 Premier Inn Cologne City South – Location
At first sight, the Premier Inn might not feel to be that well located, but it is actually quite excellent: it is a rather short walking distance to the river Rhine, where you also run into the famous Cologne Chocolate Museum and the Historic Mustard Mill. If you head North, you will make it to the Cologne shopping district in at most ten minutes walking distance. The public transport connection is nice as well. There are two tram stops in short walking distance: both, Postrasse and Severinstrasse serve Underground lines 3 and 4, the Poststrasse also adds 16 and 18 services, which directly take you to main station and Cologne Cathedral. in three stops. If you come by car, you are right next to the Severinsbrücke, which is a good link to the motorway system and the airport.
There are multiple hotels around. You will also find some nice dining if you take a bit of a longer walk. There is no Cologne sight right nearby, but there is an easy walk. Unfortunately, the closest access to both underground stops mentioned above are not barrier free and may be a bit bothering with heavy luggage. If you drive, the hotel is also offering you two levels of car parking. One is open space and one is garage. Parking is 18 Euro per night.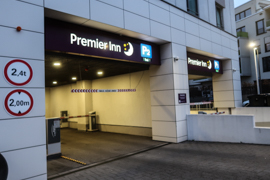 Premier Inn Cologne City South – The Room
A had a standard room at a flexible rate. Including breakfast buffet (which is, according to Premier Inn, a 12.50 EUR value), one night in February 2022 was 63.95 EUR. The room has been rather small, definitely not an option if have more than one suitcase. Even with my slightly-above hand luggage suitcase, arranging the luggage in the room has been quite a challenge. Apart from that the aisle between the bed and the window has been quite narrow as well, that's about the negatives. The room was functional and featured quite a bunch of power sockets (what I highly appreciate. The seat-and-table solution worked fine to work for some hours, even though being not that ideal. I loved that they branded and thus re-furbished the room, which lead to a very modern touch.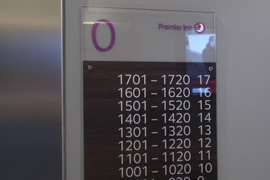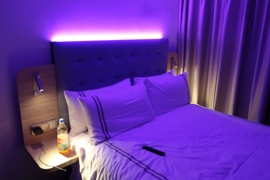 The shower bathroom has been rather spacious, compared to the room. Again, the bathroom felt modern and there have been rather any scars or similar signs of (ab)using the room. Overall, a really nice place – maybe better suited for a single traveler than being a couple. The view, by the way, was not too bad, facing right onto the Curio Collection Wasserturm hotel, which is on my bucket list as well.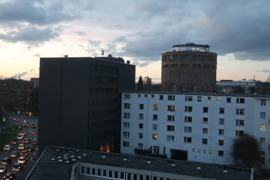 Premier Inn Cologne City South – Breakfast
Regarding the Premier Inn as a budget stay, 12.50 EUR feels like a quite high price tag on the breakfast. I wouldn't say that it is a great value for money, but they definitely serve a nice variety of items, including some stuff, which you rather rarely find even on posher breakfast buffets. The warm buffet was a bit of limited (scrambled and boiled eggs, beans, bacon), but the healthy section of cereals, fruits, nuts and similar has been really good. There was also a nice selection of good teas and juice. The buffet had a clear one-way system, which I felt was nicely organized in pandemic days.
If you feel like have a bite before the night, the hotel also serves some pizza options for dining.
Premier Inn Cologne City South – Service
The welcoming and check-out at the hotel was really friendly, the staff was very kind. The hotel does not offer a gym or similar facilities. The free WiFi worked much better than it did in some British locations of the brand I visited before (some 5Mbit upstream and downstream) – you may also boost that for a daily rate of 10 Euro for three machines and upgrade to premium WiFi.
Premier Inn Cologne City South – My View
I have been really curious how it feels to stay at a Premier Inn in Germany. I have to say: I really liked it. They do a great value for money regarding the room and an absolutely reasonably to well-priced breakfast. The Cologne outlet location and connections are great. If you are traveling on your own and don't have too much luggage with you, the hotel is definitely an excellent option.
Hotels in Cologne & the Rheinland Region
Here are all my hotel reviews related to the region around Cologne:
Travel Top Pick!s in the United Kingdom
Here are all my travel reviews related to the United Kingdom, which received a Top Pick! rating: