A day after SSF Bonn's ladies home match versus Leipzig/Grimma, I watched the men's team in Holzbüttgen. Sunday Night Floorball at its best – with two teams of the Rhineland region, everybody was ready for a floorball feast to a comparably unusual German 1. FBL Bundesliga time: at that Sunday 29th September 2019, the DJK Holzbüttgen hosted their regional rivals SSF Dragons Bonn at 20:00 hrs. A very special story about the match was also that a couple of players who learned floorball in Bonn, e.g. the Bröker brothers and Maximilian Spöhle, are now playing for the other side. Due to injuries, Janos Bröker was just coaching the team and only Niklas was in the lineup.
Supplementary to this posting, there is a 678 major size picture gallery if the match in the sports gallery section.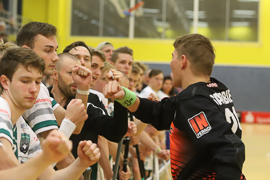 I named this match the Sports Match of the Year 2019 (of the ones I reported from).
Holzbüttgen vs. Bonn – Match Report
There was not too much time to get settled in this match. After just 2:51 minutes, Safak Temel gave Bonn the lead with a distance shot. In front of an amazing crowd (both teams had a lot of fans in the Stadtparkhalle Kaarst), Bonn was the better team in this part of the match. Lucas Grünewald had a great chance to score in the 6th minute, but just when Niklas Bröker was on the penalty bench, Florian Weißkirchen raised the lead after 8:26 minutes after a power play fast break. When Bröker closed up just one minute later, he refused to cheer against his old club – but Temel, the man of the first period, did so just one minute later. Jan Saurbier could not control a Weißkirchen shot and the Bonn forward tipped it in.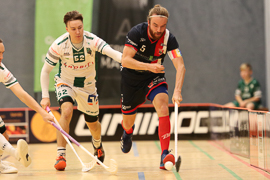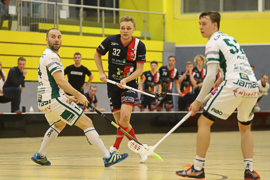 The match was just hot now. Time to cheer for Holzbüttgen again, as Samu Pietilä could close the score to 2-3 again in the 12th minute. No need to cheer for the home crowd after 14 minutes, when Nils Hofferbert had to take a two minute break after a silly foul. Temel did it for the third time in this period, assisted by Weißkirchen in power play (17th minute). Kai Willems was lucky thereafter when he sent Heinen over the rink, but was not sent to the penalty bench.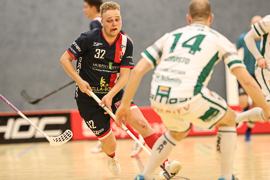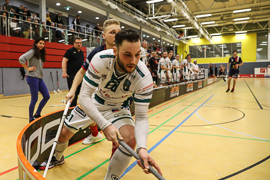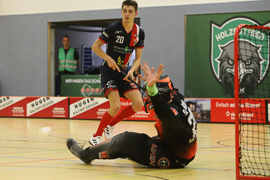 2nd Period
Cooling down after hot twenty minutes in the second period? No way! After just 92 seconds, there were two more ones on the scoreboard. Jannik Heinen made the people run back from the hot dog kiosk after 42 seconds, but Willems managed to increase the lead to two goals again. Dennis Schiffer scored for Holzbüttgen in the 9th minute. When Bonn captain Lutz Ackermann did an incorrect hit in front of the opponent's goal, Torben Kleinhans tied the score in the 31st minute in power play. The match felt to turn in favor of the hosts now – the more it hurt that Johan Gallwitz converted for another Bonn lead in the 37th minute from half-right position. Holzbüttgen was lucky one minute later, when goalie Saurbier did not control a situation and finally felt to kick away Temel's stick. Instead of a potential misconduct, he was just sent off for tackle, so that Paul Klother served the penalty time.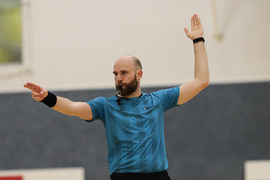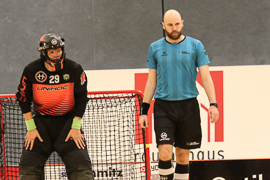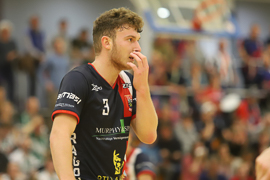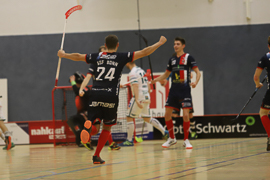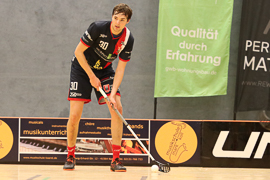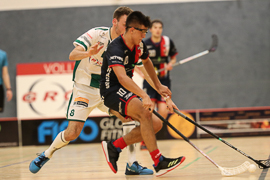 3rd Period
The third period started thrilling with chances for both teams, but no scores — until the 45th minute. Safak Temel just loved the goal in front of the home crowd this night – and he did it for a fourth time. It was still a close battle – and it was even closer after 52 minutes: First of all, British national team player Mark Jones first sniped from the left wing in the 51st minute. Fourty seconds later, Bonn could only stop a Bröker attack by a hit. After Holzbüttgen desperately claimed a penalty there, they just got a free hit. Bröker crossed the ball to Hofferbert, who did the score-leveling-goal.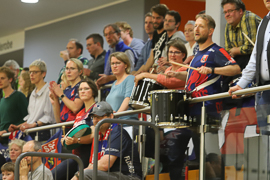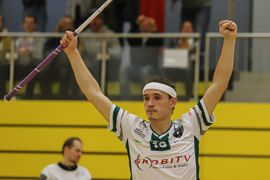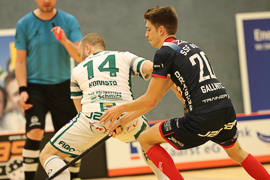 A dramatic match so far? It got even better: Three minutes on the clock, it was Bonn's former Niklas Bröker, who scored from the right side after 57 minutes. This time, there was a short cheer, but he stopped immediately. The cheering for that goal stopped quickly as well, when Temel passed to Niklas Berens just seven seconds later to tie the score. The match looked like an overtime one, but Nils Hofferbert seemed to have an urgent date. The match clock showed 28 remaining seconds, when the ball passed Moritz Blümke, the Bonn netminder.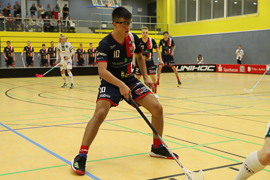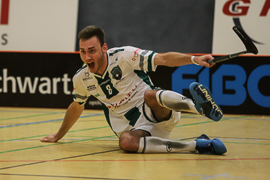 Holzbüttgen vs. Bonn – My View Of The Match
42:25 minutes – that is the amount of time SSF Bonn was in the lead in this Rhineland derby. Holzbüttgen was more effective in this match (not just because they just lead for 35 seconds overall…). Bonn had their chances to increase two goal leads to three or maybe four – Holzbüttgen never gave up, believed in themselves – and finally partied after an amazing floorball night. One of the most thrilling and memorable matches I ever saw in the German Bundesliga – a key factor for that were the amazing supporters on both sides. Hard to believe that it were really just 200 of them, I had to shout in my voice recorder when I did notes during the match.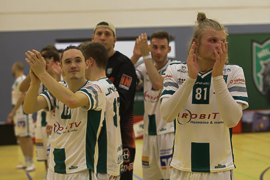 A second key factor that this match was so good was that it was a really fair derby. There were just very few tougher situations, which have all been handled well by the great umpires Martin Günther and Frederik Garre. Even after the match, the two teams and their captains paid so much respect to the opponents – home captain Kevin Strauss even asked his fans to applause Bonn for their great match. Great sportsmanship!
Holzbüttgen vs. Bonn – Lineups
DJK Holzbüttgen: 29 Jan Saurbier, 1 Domenic Saurbier – 6 Benedikt Mix, 7 Jannik Heinen, 8 Nils Hofferbert, 11 Niklas Bröker, 14 Mikko Koivisto, 19 Mark Jones, 21 Dennis Schiffer, 22 Linus Joest, 23 Moritz Oetting, 52 Samu Pietilä, 70 Paul Klother, 83 Nils Hofferbert, 81 Torben Kleinhans, 82 Maximilian Spöhle, 84 Fabian Schirmer, 85 Christian Stange, 96 Kevin Strauss
SSF Dragons Bonn: 77 Moritz Blümke, 1 Vincent Kaufmann, 89 David Vent – 3 Till Braun, 5 Lutz Ackermann, 6 Lucas Grünewald, 9 Niklas Berens, 10 Safak Temel, 14 Finn Nauroth, 20 Johan Gallwitz, 24 Johannes Veh, 27 Aaron Niketta, 28 Leander Leyhe, 30 Lukas Lüke, 32 Florian Weißkirchen, 41 Kai Willems, 44 Marius vom Eyser
Holzbüttgen vs. Bonn – Gallery
There is a designated major size picture gallery of this match with over 670 pictures at
Flyctory.com Floorball Postings
Here are all Floorball-related postings on Flyctory.com:
Postings of the Greater Cologne Region
Here are postings which are dealing with the Greater Cologne and Rhineland region: