Most of the flights from Germany to Dubai lead to an arrival time in the United Arab Emirates at about midnight. Thus, you typically do not need your first night hotel stay for other than having a shower, a sleep and a breakfast (and some WiFi to keep Flyctory up to date…). Hampton by Hilton Dubai Airport, which is (obviously) not too far away from Dubai International, very often feels to be ideal for that, due to its low rooms prices. I just could not stand the temptation and booked it for my first dreams during the May 2021 to the city. Finally, it's a Hilton Group one, so it will typically end in a good stay.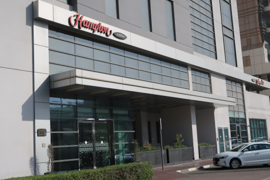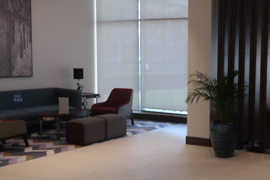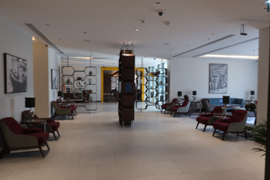 Hampton by Hilton Dubai Airport – Location
The hotel is located North of the DXB International runways, in the Al Qusais district. In fact, it should be easy to find – but neither my GPS (with lifetime updates) nor the GPS in the GAC GS3 I rented from Sixt had the hotel location. The trip from Sixt should take ten to fifteen minutes – it is solely a blaming of myself that it took about double the time for me.
The airport hotel is located in a residential area. There are few other hotels, but you rather find some basic restaurants, stores and similar facilities It is definitely not a touristic location, but if you want to see the Northern parts of Dubai or go to Sharjah and the North, it is actually quite good, as it is about in the middle of E11 and E311, so you have some options. A metro station (Dubai Airport Free Zone) is a couple hundred of meters away, the Dubai Grand Hotel bus station (the hotel is not as posh as it sounds…) is located more or less in front of the hotel.
Hampton by Hilton Dubai Airport – Rooms
Even though the area does not look as posh as other parts of Dubai and there were some strange guests, being in the hotel room gave me a smile. The room was really spacious and looked really well-maintained and clean. The large work desk was really cool. While you very often have universal plugs in touristic Dubai, they just got the British / U.A.E. standard ones there, which was no issue to me. Including all taxes and breakfast (as always in a Hampton), the room price was 251 AED, roughly 57 Euro – a lovely value for money.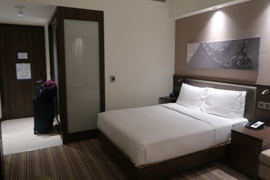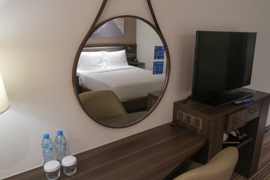 The bathroom was not super-spacious, but absolutely fine. Amenities were given in dispensers at the wall. The bathrooms just feature showers.
Hampton by Hilton Dubai Airport – Breakfast / Food
The Hampton offered a serviced breakfast buffet, where the staff handed you over the dishes. This pandemic rule in Dubai of course always leads to some limitations, but overall, the breakfast was really nice.
There is also a cafe / bar in the lobby – I did not try out their services, though.
Hampton by Hilton Dubai Airport – Services
The staff was really nice and also handled the situation which the weird guests very well. The hotel WiFi worked absolutely reasonable. The hotel drives a comparably nice and large gym. I unfortunately did not have time to check out the lovely pool area either – which felt to be very popular, already in the very early morning hours (so that I could not take more pictures).
Behind the corner of the hotel, there is the entrance to the parking garage. The garage was a bit of narrow, but even though arriving after midnight on a busy day I found a slot the car fitted in.
Hampton by Hilton Dubai Airport – My View
The hotel absolutely fulfilled my expectations – finally, the Hampton by Hilton Dubai Airport even exceeded it. A nicely driven place in a practical, but not touristic location. The pool is really cool. You likely should have a rental car if you stay at this place, but if you rather look out for budget options, this Hampton could be a good choice.
Hilton Hotels – More Reviews
Here are all my reviews of Hilton Hotels:
Germany & Pop Music
Here are all postings related to Pop Music and Germany: