For my trip to Toronto in September 2021, just after the re-opening of Canadian borders, I needed a hotel centrally located to Union Station and the Billy Bishop Airport (YTZ). As there were just quite posh options available, I chose the IHG Hotels option and went for the InterContinental Toronto Centre. I was really curious how I would like that place – especially as I majorly looked for a sleep-work-relax hotel. Here are my thoughts.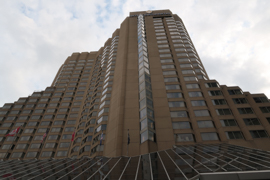 InterContinental Toronto Centre – Location
You just cannot argue against that this hotel comes with a very central location: InterContinental Toronto is just a block away from Toronto Union Station, the main station of the city. Due to the Pearson Union Express connection, this also leads to a quite ideal connection to Toronto Pearson Airport. The hotel also features a parking garage, which is, however, not located at Front Street, but at Lower Simcoe Street. Union Station also provides public transport access of all kind, including the regional GO trains. Regarding maps, there also seems to be a connection of the hotel to the PATH system, but I could not spot that.
The InterContinental gives you ideal connections to key attractions: whether you want to explore Toronto from above and ride up the CN Tower or you want to visit the Toronto Maple Leaf at Scotiabank Arena and have the Hockey Hall of Fame before – these things and many more are in short walking distance. There are also a lot of bars and restaurants around – some business buildings also have public food courts. I failed a bit to find a supermarket very close to the hotel – but that may be my fault.
InterContinental Toronto Centre – The Room
I booked a Twin Room Deluxe, which is also the category of room I received. The flexible rate, including breakfast was 649.78 CAD, roughly 430 Euro, for two nights, Tuesday to Thursday. The room had pros and cons, unfortunately. The design of the hotel came with the price that the room on 15th floor came with a very long hallway. That was not too critical – however, the only light switch for the hallway was at the door – so that before you went to bed, you had to switch on the bed lights, go to the door, switch the hallway lights out and go back – really bothering. The room door was also lacking an emergency exit plan. Not sure whether this is mandatory in Ontario, though.
The room itself was really large, which gave a nice touch of luxury in a city like Toronto. The furniture was a bit of run down, but still very fine. I liked the minibar (with very reasonable prices), the availability of power outlets and all the space, including the work desk.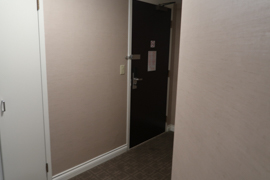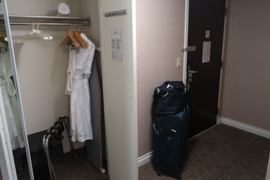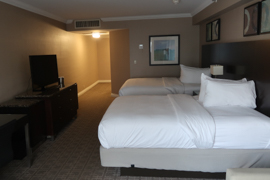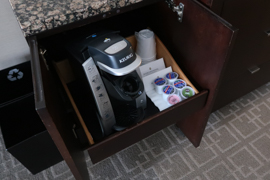 The bathroom with shower was very nice. I liked the manual shower handle. A few amenities were provided. Overall, the bathroom was really spacious. I also liked the feature that the mirror showed you the time… Bad luck only that this time was absolutely wrong – and I no idea how to adopt it. Similarly, the clock next to the bed showed something like Russian Standard time – I feel housekeeping in an InterConti should have an eye on details like this.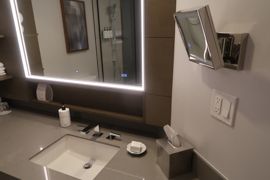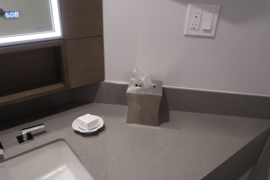 What I did absolutely enjoy, though, was the view over Union Station and Scotiabank Arena. I just love to watch trains and transport.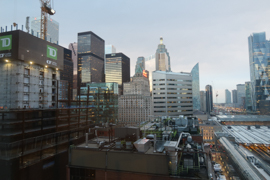 InterContinental Toronto Centre – Breakfast / Food
Breakfast was served in the beautiful Restaurant Azure, which has a bit of a winter garden feeling. You had one dish included if you paid for breakfast beforehand. I really enjoyed my Eggs Benedict on Day 1 and French Toast on the second day, but overall I felt the service was a bit too thin. No refill on juices, also no additional toast or so. Yeah, I might eat a bit more than the average hotel guest, but I also don't want to leave the breakfast too hungry. The service was really friendly, but the processes were rather slow as well – which means that some slices of toast would have also been some kind of "food entertainment" from that perspective as well.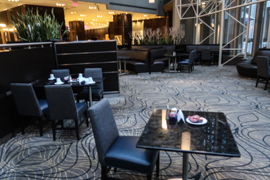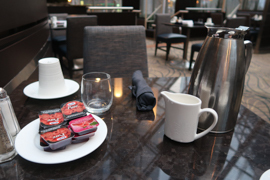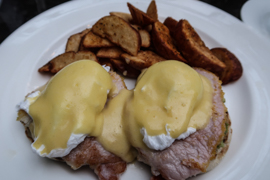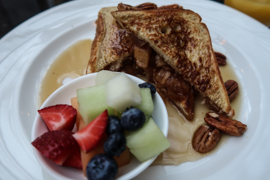 InterContinental Toronto Centre – Service
I wasn't happy with the service in the hotel – which also turned the stay into some disappointment. The check-in procedure was sloppy and obviously unmotivated. Even though I explicitly asked for breakfast, I did not get breakfast vouchers and ran into trouble due to that at breakfast the first day. Furthermore, I haven't been told that my room won't be serviced by housekeeping. This is absolutely fine during Covid-19, but still, I need to know that. I have to say that the reception was nice when I had questions during my stay – but the check-out again did not give me the feeling of really being welcome at this place. There was no free water in the room – which is not a must, but a gesture which just makes you feel welcome as well.
The hotel runs a spa, which was only open during weekends at my stay. I would have loved to check out the indoor pool, but my travel plans just did not match the 8:00 to 20:00 hrs opening times. There is also a gym – but as you had to register and health-check for that, I did not have a look into it – in line with stays in other hotels during these times. WiFi worked very well.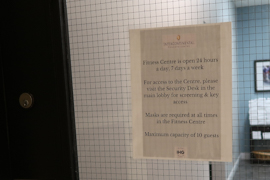 InterContinental Toronto Centre – My View
Naming the stay at the InterContinental Toronto Centre might feel a bit of harsh. Finally, it is a really nice and posh place. The location is great and in that central location, the room is huge. Nonetheless, there were too many service issues. I just expect an InterContinental to be better than this – and I did have better ones. Good stay overall, but regarding the brand and the price, there is definitely quite some need to downgrade my rating.
IHG Hotels
Here are all my postings related to IHG Hotels:
Flyctory.com in Toronto
Here are all postings related to Toronto: