Many Germans did it – and I did it as well: travelling again. The Whitsun weekend was not only a prolonged one (the Monday is a nationwide public holiday in my country), it was also the first one where the travel restrictions have been reduced countrywide.
I left home on Friday 29th May, at the evening and returned home on Tuesday from Lake Constance (Bodensee). There will be a lot of postings related to my experience in different hotels and attractions. This posting, however, deals with my experience how it is like to travel in Covid-19 times, when the people are back on the road – in contrast to my last report, when planes and trains were comparably empty.
Note: this posting does not review the attractions as such. More and more individual reviews will follow and be linked into this posting as well.
A brief overview on German Covid-19 regulations
In case you are German or informed yourself already about the German regulations, you might skip this section.
First of all, there are no national Covid-19 regulations (or, at least, just some very few…). Most of the authority on dealing with the pandemic is up to the federal states, some places even have county or local adoptions to the rules. Generally, social distancing is required – wearing a mask or similar cover of your nose and mouth is mandatory in all kinds of public transport. In a restaurant, you typically wait to be seated (which is very un-German) and you wear the mask until you reach the table. Finally, you are registered, so that in case infections are detected in a place you visited, the health authorities can contact and test you. There will be a tracing app soon.
My experience – Hotels
I had three different hosts on my trip, which finally covered quite a range of accommodation. The first night I slept at Serways Hotel Weiskirchen Nord. The company is a minor franchise, which is driving service plazas at German motorways. After that, I had two nights in Golfhotel Bodensee, which is an individual hotel. Last, but not least, I stayed at ibis Styles in Constance (Konstanz), which of course belongs to the Accor Hotel Group and is thus related to thousands of other hotels of all levels.
I felt the best stay I had regarding my "Covid-safely feeling" was the Serways hotel right at the A3 motorway. They struggled with some stuff here and there, but overall, they seemed to have a plan and followed it. Everything looked clean and well-thought through. The breakfast plate replacing the breakfast buffet was good in size and quality as well.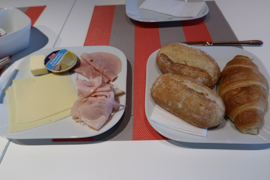 There were significantly more people staying at the ibis Styles in Constance, which gave them a more difficult time. Thus, the organization of the breakfast failed somehow. For example, they told me that there were fixed slots and you could choose between two options of breakfast plates. Strangely, the breakfast room was absolutely empty during my slot time, my selection had not been recorded and similar things. Also the registration of people in the breakfast room had some major struggle. But still, they did a quite good job.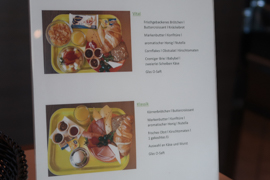 Four-star struggle
The highest ranked hotel, the four-star Golfhotel Bodensee had terrible struggle. Bavaria seems to allow them breakfast buffets – but asking the people to use disposable gloves on the breakfast did not work at all – one person even took some stuff out of the buffet with his hands, which is even ugly in non-Covid-19-times. Even with a limited number of guests, the staff felt over-challenged – it may also not be good to have one waitress decorating a breakfast table nicely for twenty minutes while a newbie was just not able to fulfill her tasks. The boss repeatedly did not wear a mask and many more. Where there was plastic cutlery at the buffet on the first morning, so that every guest uses his/her own one, there was standard metal stuff again the day thereafter. No thoughts, no concept – no good feeling on my side.
Do your own thoughts, but spa (sauna etc.) is legally closed at the moment in Bavaria, but I saw people walking through the hotel in bathrobes – if the straightforward thought is right, then a hotel acting like this needs to be closed. The hotel is likely having the highest share of recurring guests and staff just does not feel to dare to ask them for appropriate behavior. Vice versa, it sometimes felt that people feel to be superior to Covid-19 just because they drive to the hotel in a Mercedes or Porsche. It is not about yourself, you also take responsibility for the hotel you obviously enjoy to stay in.
My experience – Dining
Apart from a restaurant next to my home, I honestly did not have any bad experience with dining during Covid-19 (since they are allowed to open in Germany) – and so was it like on my trip as well. There was some struggle at Mainau Island in a beer garden, as they did not register me (which is a very high fail in my point of view), but apart from that, I felt safe during every meal I had. I though have to say that I had a snack at Burger King in Constance once and, again, these franchise places just seem to have an easier life: there was a separate entrance and exit, the pen you use for registration was taken out of a basin of disinfection and similar of these small things, which give a little extra feeling of safety.
Here and there (of course…) people refused to use their masks. I would again would like to have more consequent hosts.
My experience – Transport
A major proportion of my trip was done by rental car, so that I just had limited transport experience on this Lake Constance visit. However, I did have a ferry trip and went back home by train. Using the ferry was easy, people acted very respectful, many stayed in their cars so that the overall situation was really great. However, when I saw people boarding lake cruise ships in Friedrichshafen, there was no social distancing and people faced each other  while boarding the vessel. It would have made me feel uncomfortable and I felt lucky that I haven't been on board of that boat.
90 to 95 per cent of my private rail trips in Germany are First Class – and especially during Corona times, this additional space and privacy feels very valuable. Especially in the ICE high speed train services I had, the wagons were not too packed. While in the local trains just very few people did not cover their mouth and nose, less than half of the people in First Class between Offenburg and Mannheim wore that cover. I chatted with the conductor on my Mannheim to Cologne service about that – and he gave in that the company does not allow him more than asking people to put up their masks. He said that his personal opinion is that he would much rather like to ask people to leave the train if they do not meet the hygienic rules and laws. The high speed rails were now equipped with hand sanitizer, which I liked very much.
Camping and Caravaning
The Lake Constance region may in general be a paradise for camping and caravaning, but one thing you saw on the streets massively were these kind of vehicles. Popular camping grounds are booked out over all summer already, not just in that region. Camping seems to make people feel safer than being in a hotel, maybe also compared to flying somewhere.
My experience – Attractions
Honestly, museums, exhibitions and similar thing were the worst experience on my trip. In my point of view, the key factor in most cases was that there was just a too limited number of staff wo – again – did not dare to ask people to follow the rules.
My very first museum visit was the Erwin-Hymer-Museum,a place about holiday, campers and caravans. They were the only museum which explicitly stated that masks are not necessary, which felt very strange to me. More than that, they had quite some interactive touchscreen displays, which were not cleaned regularly. A major factor was also that the key group of visitors was not that much in social distancing – you had quite some campers on the parking lot.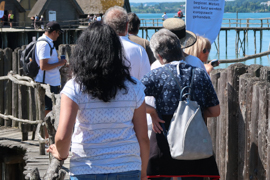 The worst experience, definitely has been at the world famous pile dwellings / stilt houses ("Pfahlbauten"). They had just too many people at once and even though you had to walk over comparably narrow planks / bridges, demonstrations in the restored houses / huts, stopped the people and gathered them in groups. Once, some potential future social media stars (I guess that is how they would see themselves) did pictures and videos from one the bridges for five minutes, stopping the whole set of people behind them. No social distancing any more, but also no reactions from the organizers and their staff. At this place, one of the key attractions at Lake Constance, they just did not have a hygienic concept or just did not want to properly use it for the sake of profit. I would clearly state that if I were a member of the local health authority, I would have closed down that place immediately – despite it is a UNESCO World Heritage.
Online Tickets Only… Mabye
One thing I saw at the Pile Dwellings, but also in other places was that you were explicitly asked to pre-buy tickets online, even with a strong impression that this is the only ticketing option they got (and no walk-ins are possible). However, people could buy tickets where ever I arrived at the place, which is of course quite strenuous as I did not do some stuff I wanted to do due to uncertain duration and available time slots.
Mass Traveling in Germany (and overall) during Covid-19
I feel it is very difficult to give a travel advice just by that limited experience of a more or less four day trip. In general, I would say:
Read reviews. I feel that more and more reviews like mine will now be published with a focus of hygienic safety measures at different places.
Either go for very small accommodations like bed and breakfasts or apartments, where there is limited contact to other people or for hotel chains – they seem to be superior in their knowledge tanks and processes. I guess good hotels will learn quickly over time.
Dare to skip things if you feel not safe. It is your holiday. There are rarely once-in-a-lifetime situations
Value people's effort to keep you safe. I think the more people hear words like "Thanks, I felt well protected in this place" the more the attractions, hotels and other travelers will rate that as important.
Enjoy your holidays and relax!
Traveling in Germany
Here are travel reviews about places and sights related to Germany:
Covid-19 Postings on Flyctory.com
Here are all postings related to the 2020 Covid-19 crisis: