Apart from several stays around the terminals, Frankfurt Airport nowadays features four airport hotels with direct walk-in connection to Terminal 1: while the Marriott Group operates the Sheraton Frankfurt Hotel and Conference Center als well as the Frankfurt Airport Marriott. In addition there are two Hilton options as well. The posher one is likely the Hilton Frankfurt Airport, while I opted for the Hilton Garden Inn. Here are my thoughts about the stay in August 2021.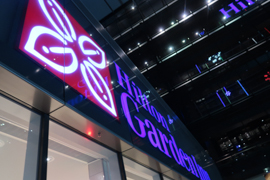 Hilton Garden Inn Frankfurt Airport – Location
Both Hilton Hotels are located at the East side of The Squaire, which is a shopping and entertainment (as well as office) building built on top of the Frankurt Airport long-distance rail station. Due to the excellent nationwide connections of the airport station, you may thus even see the Hilton Garden Inn Frankfurt Airport as a rail station hotel rather than an airport hotel. Walking from my room to the platform for the train to Cologne was at most six or seven minutes. Walking distance to Frankfurt Airport, Terminal 1, is slightly longer, maybe ten minutes until the check-in desks with heavy luggage. Terminal 2 requires a transfer, either by the SkyLine train or by transfer buses. There is a The Squaire parking garage as well as other airport parking options and national bus services. The most popular connection is, however, likely the rail network nowadays.
The Squaire offers excellent travelers' options: a supermarket, a drugstore (with some food) as well as some restaurants. Additional options are provided by the airport, of course: shopping at Frankfurt Airport used to be very popular before Covid-19 restrictions.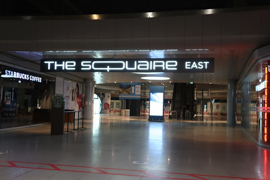 Hilton Garden Inn Frankfurt Airport – The Room
I had a one night stay at the hotel, from Friday to Saturday. The total semi-flex rate (i.e. cancellation possible up to three nights before the stay) was 122.82 EUR. As a Hilton Honors Diamond member, breakfast was included in my room rate (see below). The rooms are located between the sixth and the eleventh floor. I had a room on the eleventh floor, not too far away from the elevators – which I highly appreciated. The living area felt perfect for an airport hotel: a large work desk and a good bed, but also sufficient space if you travel with some more luggage. The room thus felt very cozy and also had all necessary facilities. International travels find a UK style and a US style power outlets in the room as well.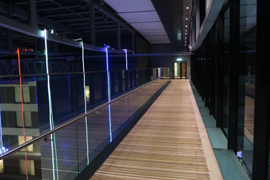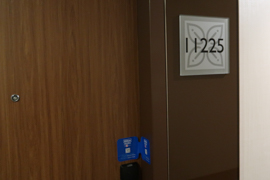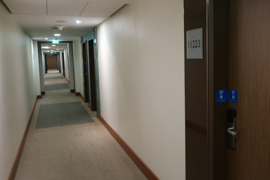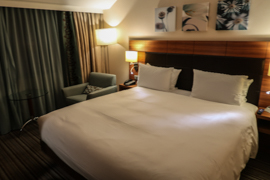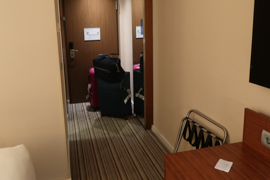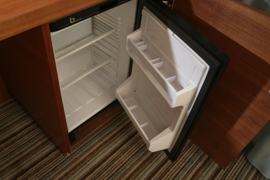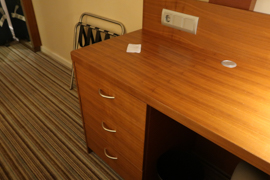 The bathroom with bathtub had a really nice size as well. Amenities were provided – unfortunately, they forgot the shower gel. The bathroom was clean and had all I need, so that I overall really liked my stay in that regard as well.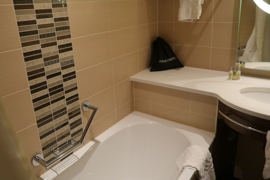 Hilton Garden Inn Frankfurt Airport – Breakfast
Usually, the Hilton Garden Inn drives a restaurant including a breakfast buffet service next to the lobby. However, the local Covid-19 restrictions made that too difficult, so that there was a reduced buffet with a breakfast bag service: they had quite a nice selection of bread and already prepared dishes, water, hot drinks and yogurts and you could just take what you like into your room. The nominal price for that was 19 Euro, which might feel a bit high at first sight – but as it is in fact what you can name an "All you can carry buffet", it has actually been not too bad an I really enjoyed it. Again, due to my status, the culinary start of the day has been included in my booking.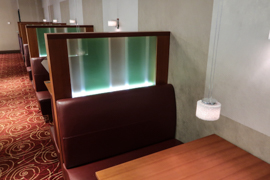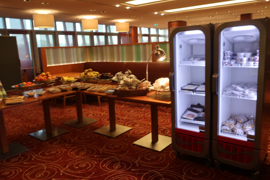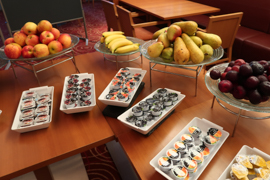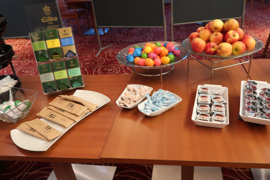 Hilton Garden Inn Frankfurt Airport – Service
Of course, most people in an airport hotel typically arrive rather late (so I did…) and thus the check-in took a bit of time to be in line. The service was really friendly and I felt very welcome. Right next to the reception, there was the typical HGI snack shop.
The hotel does have a gym. This was closed due to the pandemic, though. The WiFi worked really well, even though there was no designated Premium WiFi.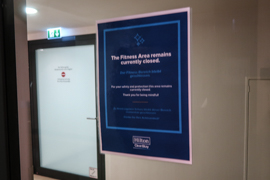 Hilton Garden Inn Frankfurt Airport – My View
I have been really excited and curious about this place – and finally, the Hilton Garden Inn Frankfurt Airport gave me a really good stay. The great connection to the airport as well as to national rail services is just excellent. If you have a late arrival or early departure, this is definitely a very good option for your night at Frankfurt Airport.
Airport Hotels
Here are all hotels with a good airport connection:
Flyctory.com in Frankfurt
Here are all postings related to Frankfurt: