The Historic Mustard Mill in Cologne ("Historische Senfmühle Köln") is quite a unique place in the million people city. It combines the idea of a museum with a working mustard production side. The franchise is driving two locations, Cologne and Cochem, a village at the river Moselle. Here is a review of the place as well as of the tour. Due to the tour, the factory store is also named Cologne Mustard Museum ("Kölner Senfmuseum").
Historic Mustard Mill Cologne – Location & Tickets
The Cologne Mustard Museum is quite close to the river Rhine and the former harbor. There are a couple of Cologne attractions just across the street. The most prominent one is the Chocolate Museum, but there is also the German Sports and Olympic Museum, for example. This area also features the annual Harbor Christmas Market in Cologne. Bus 133 is more or less stopping right in front of the Historic Mustard Mill, but it is also just a short walk from the Heumarkt or Severinstrasse tram stations.
The store and the museum is opening daily, 10:00 to 18:00 hrs. The tours last roughly 30 minutes and cost 2.50 EUR per person. They run at noon, 14:00, 15:00 and 16:00.
Historic Mustard Mill Cologne – The Tour
The tour is held in the original production room, which is also equipped with a lot of mustard memorabilia. Unfortunately, they do not want you to take pictures in the room, which is having some very nice displays, from old mustard pots to an overview about the ingredients for mustard making. The Cologne mustard is cold-pressed, so that it keeps all the flavors. Apart from historic facts and general background how to produce mustard, the tour guide also demonstrates the historic mustard mill, which is still in operation and used for production – very memorable!
Historic Mustard Mill Cologne – The Store
The Historic Mustard Mill Cologne is a combination of a tour and museum, buit also a store and producing site. You can buy the products right at their site. The key produce, of course, is the mustard itself (which you can also taste for free). But there are also some preserves and a mustard-based liqueur.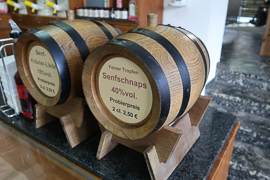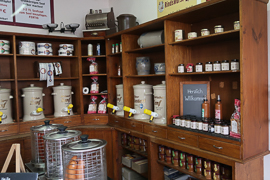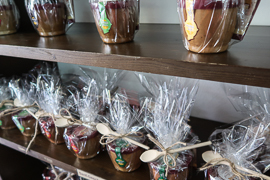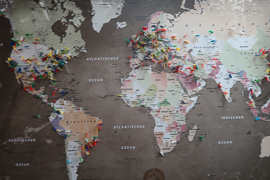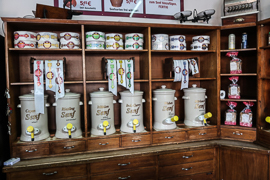 Historic Mustard Mill Cologne – My View
First of all, I have to say: I typically don't like mustard – apart from the Bavarian sweet one. However, I do love the products of the Historic Mustard Mill, which have a very different, more complex flavor. Thus, I personally absolutely recommend to give their products a try.
The tour had some weaknesses, but overall, I learned a lot how the product is made. The guide was in general good and could answer a lot of questions. Thus, I feel that the Historic Mustard Mill in Cologne is a nice alternative to the "big" museums of the city.
Postings about Cologne
Here are all postings about my home town Cologne:
Flyctory.com on Eating & Drinking
Flyctory.com is not a culinary blog. Nevertheless, here are all posts dealing with Eating and Drinking: