With the Covid-19 situation easing and travel restrictions more and more lifted, I was happy to have a trip to the Netherlands again in early July 2020 (even though this weekend was intentionally intending to bring me to Boston…). My stay in Amsterdam was the ibis Styles at Amsterdam Central Station. After I had some mixed feelings about the ibis Amsterdam Centre, which is more or less in sight of the ibis Styles, I was really curious about that Accor Hotel experience.
I selected this stay as my best budget hotel one during 2020
ibis Styles Amsterdam Central Station – Location
If you take the Westerly exit of the main station and cross the first gracht / channel, you are already at the ibis Styles Amsterdam Central Station. The hotel is located in a very traditional looking building – you just cannot miss it as it is well signed. I would highly recommend to use public transport for this hotel – parking fees in central Amsterdam are ridiculous. The train station is however superbly connected to all Netherlands and also to Germany, Belgium and France – there are even scattered Eurostar services.
Due to its location, you will not have any trouble in finding touristic infrastructure. There are bars and restaurants around, a good connection to other parts of Amsterdam by tram and metro (though many sights are in short walking distance).
ibis Styles Amsterdam Central Station – Rooms
I already arrived at the hotel around 9:30 hrs in the morning, but (maybe also due to my Accor status), my room was already available and they even gave me an upgrade to a twin room. My original booking was a single room, flex rate including breakfast, which was 83.99 Euro. You clearly have to state that a rate like this is only possible due to the Covid-19 situation. The room was compact, but quite nice. The transparent orange locker gave a strange touch of color. The room was clean, and also had a water kettle. There was no workdesk, but I could clear sufficient space on the table.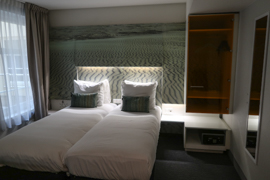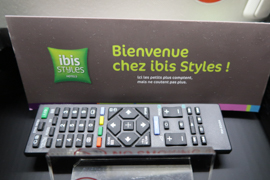 The bathroom was absolutely fine – just what you would expect of a hotel of that class. It even felt comparably spacious. Some amenities were provided.
ibis Styles Central Station – Breakfast / Food
ibis Style Amsterdam Central Station typically offers buffet breakfast in their basement breakfast room. Due to the pandemic situation, they offered breakfast bags to eat in your room. It was absolutely amazing. There were three small croissants and six slices of break, a pastry, an apple, a yoghurt, sufficient number of butter, preserves, chocolate cream, chocolate sprinkles and peanut butter and a clementine. On top of that, there was a bottle of water, orange or apple juice and a hot drink. Even for a guy like me, I just could not eat it all.
If you feel for something more fancy, there is a steak house alike restaurant, which also serves other snacks including Full English Breakfast. This is also the place where you can use your Accor Gold free drink vouchers.
ibis Styles Amsterdam Central Station – Services
The staff at check-in and check-out was very friendly. Overall, I really loved the people working there – the only experience which really confused me was when cleaning staff stepped into the elevator which was already at its Covid-19 capacity of two people. Should not happen! All other hygienic measurements felt to be sensible and well executed.
The internet connection was very fine. Having said that, you of course have to state that the hotel was likely not running on full capacity – but it was reasonably booked.
ibis Styles Amsterdam Central Station – My View
Amsterdam is an expansive location indeed. The more, this stay was not only a bargain, but a really great stay. The room was absolutely fine for a city stay, the staff was lovely and the breakfast concept was fantastic. There is no gym, no luxury at this ibis Styles – but you likely do not expect it in that class of hotels. I absolutely loved it and would recommend to stay at that hotel. Even the small elevator misbehavior cannot change this great feeling about it. Top Pick!
Accor Hotels Reviews
Here are all postings related to Accor Hotels:
Everything about the Netherlands
Here are all postings related to the Netherlands: