In April 2022, I went to Warsaw to see my favorite musical Rock of Ages. In order to stay being able to work, I was looking for a two night stay with reliable internet close to Warsaw Airport (WAW). As I generally favor Hilton Hotels, I chose between one of two Hampton Hotels available in the area. I finally went for the Hampton by Hilton Warsaw Airport over the Hampton by Hilton Warsaw Mokotov.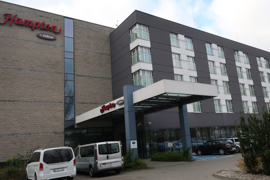 Hampton by Hilton Warsaw Airport- Location
The hotel is located right North of Warsaw Airport (WAW). It may look rather handy on the map, but walking from the hotel to the airport is a bit of tricky in the terminal area, so that it is about 30 minutes, according to the hotel. A taxi ride is just a few minutes. The hotel is located at a major crossing, which features three main bus lines, 154, 175 and 188, as well as the N32 night bus. An Uber to city center has been about 20 PLN during my stay.
There a couple of businesses around the hotel, including another airport hotel. However, opposite of the road, the area is rather residential. There is also a small shopping area in less than five minutes walking distance. It features two very handy small supermarkets, but also services like a pharmacy. The hotel has its own parking lot.
Hampton by Hilton Warsaw Airport – Room
I had a flexible booking for two nights in a Queen Room in April 2022 (Thursday to Saturday). The total price (including breakfast) was 493 PLN, roughly 105 Euro. The room was really nice and modern. As I had to work during the day, I absolutely appreciated the wide Hampton work desks. The hotel featured the typical Hampton amenities like a water kettle.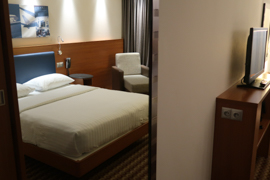 The typical Hampton bathroom with shower was clean and nice as well. According to brand policies, amenities are provided by dispensers.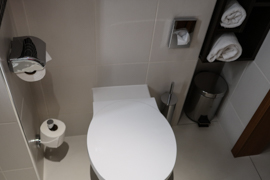 Hampton by Hilton Warsaw Airport – Breakfast
I had an excellent breakfast at the Hampton by Hilton Warsaw City Centre at a previous stay, so that I was looking forward to starting the day at this Hampton as well. The breakfast could not match the excellent one in the center of the Polish capital, but it was really good and exceeded my expectation based on other European destinations. The restaurant area was quite nice as well, they also serve basic snacks and dishes for lunch and dinner.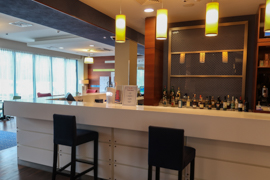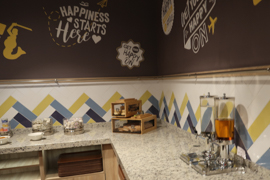 Hampton by Hilton Warsaw Airport – Service
The hotel staff was really nice and helpful. Typically, the hotel is organizing a hotel shuttle (either by their own shuttle or by taxi). At my arrival, this did not work out as the situation at the airport was very chaotic with a lot of flights being rescheduled. The service went smooth when I headed back to the airport on Saturday morning. The WiFi in the room was excellent and worked very well. The hotel also features a gym, which was closed due to Covid-19 measures.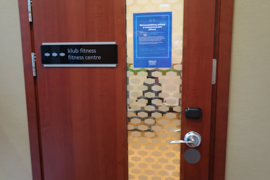 Hampton by Hilton Warsaw Airport – My View
This stay at Warsaw Airport was a great value for money. The staff was great, the traffic situation very convenient. If you want to explore Warsaw, you likely go for a rather central location – but the Hampton by Hilton Warsaw Airport served my needs in an excellent manner.
Hilton Top Pick Hotels
Here are all my hotel reviews of Hilton Hotels, which I assigned a Top Pick! rating:
Travel in Poland