During my stay in Andorra in November 2022, the weather and the scenery just felt too nice not to explore the country a bit more. Thus, I decided to book a rental car right after arriving in the small country in the Pyrenees. The capital, Andorra La Vella, just featured a single company, if Rent, who also operated an office on Saturdays in off-season in city center. Thus, I had an easy choice and went for a rental with them. Fun fact: the company is also offering other mobility solution like electric scooters rentals.
if Rent Andorra Carlemany – The Rental
My original booking was a Citroen C3, which I booked for one Saturday (whole day) in November 2022. It was a spontaneous booking, I walked into their office the evening before, so that the rate was comparably high, 100.39 EUR, including winter equipment and reduced self-retention. If I booked in advance, I would have received a significantly cheaper rate.
if Rent Andorra Carlemany – Location & Office
if Rent has two offices in Andorra and four options in nearby Spain. The Carlemany one is located right in the illa Carlemany shopping mall. The office is located in the basement, right next to the entrance to the parking garage (which is also used as their rental car storage). At the time of writing the review, the daily opening times are 9:00 to 20:00 hrs, with an earlier 19:00 closing on Sundays.
if Rent Andorra Carlemany – Receiving The Car
The rental process was very smooth. I already paid and cleared most of the paperwork the evening before, which was very efficient. I had contact with two staff members, one being very good in English and one being sufficient for a rental. I guess, Catalan, Spanish and French would be better options to communicate, but the whole process was really nice and friendly. A small technical issue with the car originally reserved (see below) has been treated very friendly and professionally as well.
if Rent Andorra Carlemany – Returning The Car
I made it to the office within working hours. The process was very easy again – they just forgot to hand me out a receipt, which I could easily request by e-mail thereafter. On Saturday late afternoons, though, Central Andorra and the mall is rather busy, so that it is not too easy to get into the mall and to the parking area.
The Car – Seat Arona
I originally booked a Citroen C3, which you see on the firs two pictures. However, at rental, I saw that one front light did not work. As it is nowadays impossible to quickly change lights, they changed the car and upgraded me to a Seat Arona. The service of the car change was quick and very friendly, no discussions. The car was superb and absolutely exceeded my expectations. I did not even have to use my own GPS, as it has been built in.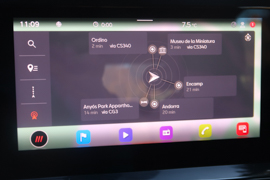 if Rent Andorra Carlemany – My View
I really enjoyed my rental with if Rent. The staff was very friendly and the processes professional and efficient. The car was in a very good condition as well. No reason to deviate from a very good rating.
Andorra
Here are all my postings so far related to Andorra:
Beautiful Nature Postings
Postings tagged with Beautiful Nature in here are dealing with unmodified lovely places: