While Bollywood Parks is a bit of special interest and Legoland is for the kids, Motiongate is currently the Dubai Parks section which is in key focus of traditional amusement park action addicts. It also felt to be the most visited park to me.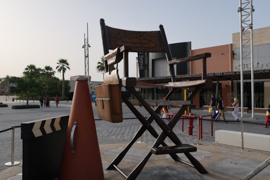 Motiongate Dubai – Lionsgate
Lionsgate is Panem and Panem is Lionsgate – this area is arguably the smallest of all in Motiongate park. In fact, it contains two rides, a food car and a souvenir shop. Thereby, the Capitol Bullet Train is likely the most prominent roller coaster ride in whole Dubai Parks curently. The waggon is going forward and backbackwards before hitting the short, but intense looping course – unfortunately, my body size did not allow to try this ride. The Panem Aerial Tour is another 4D motion experience ride, in which you share a bus-alike vehicle with the other visitors. As I did this ride quite late in my visit and had similar ones in the parks before, I have not been too amazed of it honestly.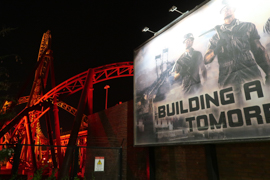 Motiongate Dubai – The Smurfs Village
Meeting the Smurfs was of course a true looking-forward experience. I however felt that this area has a lot more potential. Why does a "smurfy" snack bar sell burgers? Would have loved the park designers to be creative here. There are four rides in this area of the park. While Smurfberry Factory, which is somehow working with plush balls and the Woodland Play Park is definitely aiming for the very young park visitors, I did enjoy the Smurfs Studios Tour, which drives you through different scenes of the life of our blue tiny friends. Gargamel is of course not allowed, but plays a role in it. Finally, the Smurf Village Express is a small roller coaster ride. There is also a Smurf Village Playhouse show, which I unfortunately could not attend due to timing reasons.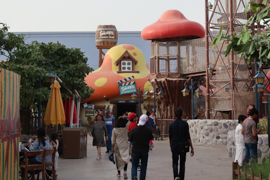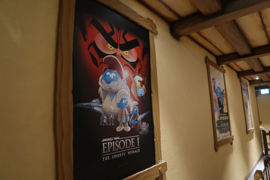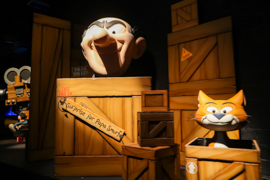 Motiongate Dubai – Columbia Pictures
Columbia definitely spent a lot of licenses for this area, which is comparably large. The most popular attraction (if you measure that by waiting time, at least) is a wildwater ride called River Expedition, which is branded by the Cloudy with a Chance of Meatballs movie. The ride is okay, comparably slow, you will get soaking wet rather by the water squirters all around than by the wildwater itself (both is unfortunately quite warm, so don't expect too much refreshment). The major fun part of this ride is that you can watch from outside and spent 10 AED on 20 shots of water which you can aim on the riders. I loved it and had some quite good hits.
Another very enjoyable ride is the roller coaster The Green Hornet: High Speed Chase, which is majorly having quick and hard turns and ups and downs, but no loopigs or similar. Adrenaline junkies might go for the free fall tower Zombieland Blast Off. Right next to it is the major Hotel Transsylvania castle, which hosts the corresponding ride. The ride is quite innovative as you are driven crisscross through the hotel building and thus again and again see and meet other waggons. Liked the concept. My feedback on the remaining two rides is very mixed though: I do love the Ghostbusters a lot, but their Battle for New York shooting ride did not really please me. In two turns, I both times felt that the shooting is not working properly. Underworld 4D is another 4D cinema experience. The story is quite cool, but also bloody – I am not sure if it makes sense to allow five year old kids to this action-powered vampire hunt. Finally, of course, you may spend your Dirham in food and souvenir shops all around the area, which is likely the one you spent most time of your visit in.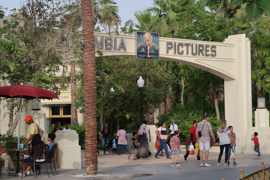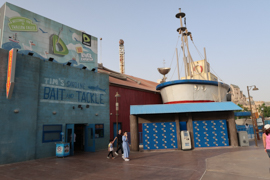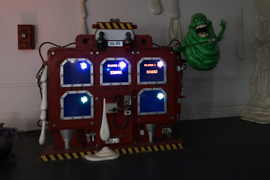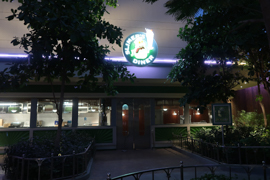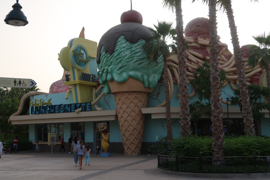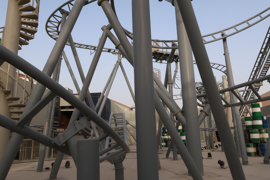 Motiongate Dubai – Dreamworks
While all Motiongate park is outdoors, the huge Dreamworks area is indoor – and climatised – so even if you hate Madagaskar, you might appreciate a refreshing break in the desert heat. Right after entering the area (and allowing to pass the souvenir shop), you are in front of the impressive Fountain of Dreams, which you will already enjoy before you decide to pass on to one of the four sub-areas.
I just checked out Mr Ping's Noodle Fling in the Kung Fu Panda area. This ride is just an ordinary, comparably small tea cup ride, but spinning the cups was very easy if you compare it to other rides in the park. There is another ride, Kung Fu Panda: Unstoppable Awesomeness, which even had 40 minutes waiting time all the time despite the low attendance in the park, so that I skipped it.
The Madagascar area is very colourfull and inspired by fun fairs. I loved to be a kid and take a ride on Melman-Go-Round, a classic go-round carousel. Penguin Air allows you to control you vehicle's height by pedalling and looked quite fun. Finally, this area contains Madagascar: Mad Pursuit!, which is a massive high speed indoor darkness roller coaster and an absolute must-ride in the park. I first thought the operator was kidding when he insisted me to take off my glasses – but even if finally it may have been a bit played-too-safe, it was understandable. Great one! There are also shows inspired by the family movie and King Julien is hosting you at your cafe.
I also liked the Shrek area very much. The Shrek's Merry Fairy Tale Journey shows you the story of Shrek and Fiona and gave a lot of atmosphere. Swamp Celebration is a swingboat attraction, in which the boat (here: a log) is turning around as well – nice ride. You may even meet Shrek if you are a good boy.
I somehow missed to spend more time in the fourth sub-area of Dreamworks at Dubai Parks and Resorts, which is branded by the Dragons movie. Dragon Gliders is another indoor high speed coaster. There is also another ship ride called The Swinging Viking.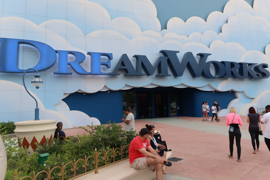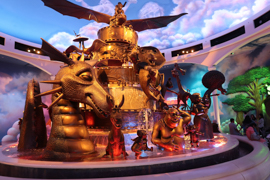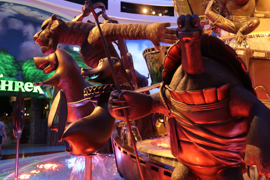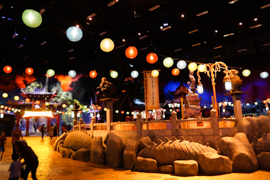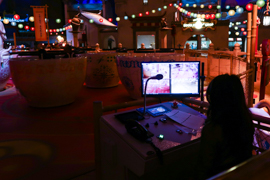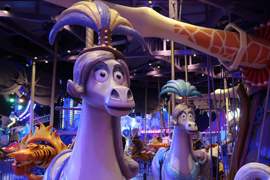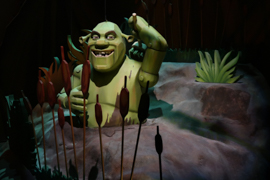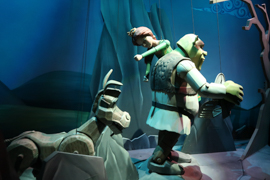 Motiongate Dubai – Shows and Entertainment
Motiongate offers a lot of shows in more or less all sections in the park. Thus, it is very important to coordinate your visit and make use of the (too rare) screens which alter between showing you the current waiting time on rides and the next showtimes. I visited the Hollywood Theatre which is officially assigned to the Lionsgate area. The theatre hosted the Step Up Dubai, All In! show, which has been a massive and fascinating dancing performance and at least one of the best free shows I ever saw in a park like that. Absolutely worth visiting!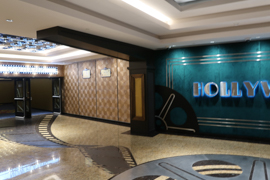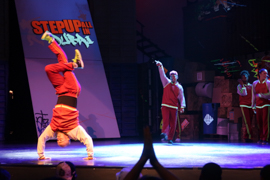 My View on Motiongate Dubai
I absolutely liked Motiongate, even if I would have loved to see more shows. Keeping in mind, however, that this is currently likely the action-most park of all, you might be bored a bit quicker than necessary. Apart from that, I struggle a bit with the target age group of that park – especially the Underworld 4D cinema was really quite tough for the younger one. Overall, it is definitely a nice park with Dreamworks being my favourite place to enjoy myself. Top Pick!
Amusement Parks – More Postings
Here are all postings about Amusement Parks:
United Arab Emirates – More Postings
Here are all posting of related to the United Arab Emirates: