Even though I see a high request in my car rental reviews, I typically don't go for the review of one-way rentals. I feel it leads to confusion and you finally review multiple parties in one. However, as I felt that they are an really interesting provider in Poland, I share my experience with Panek in this posting. I had a one-way rental within Krakow with them, the car also took me to Oswiecim, where I visited the former concentration / extermination camps Auschwitz and Auschwitz-Birkenau. Here is my experience.
Panek Krakow – The Rental
I had a three day rental with Panek in Krakow. As I arrived with LOT from Warsaw and went back to Germany with the InterCity Premium and the Berlin-Warszawa Express, my pick-up did not match the return destination. I got the car at Krakow Airport (KRK) and returned it at Galeria Krakowska, a shopping mall right next to the main station. The three day rental in August 2021 was 699.45 PLN, which is roughly 150 Euro, including a GPS. The rate included the one-way rental and full coverage. It was refundable up to 48 hours before beginning of rental. The car category I booked was a Renault Clio station wagon. I received a Skoda Fabia station wagon, which I feel is the same category.
Please note that Panek is offering two mobility services in Poland. This review is on their car rentals only. Panek is, however, also doing car sharing services
Panek Krakow Airport – The Rental Office
A bit of unlikely, the rental car offices at Krakow Airport (KRK) are located on the upper level, i.e. on departure level. The rationale is that they are right opposite the bridge to the parking garage which holds the car pick-up. Panek has the very first desk, when you come from arrivals level, which is a bit of extra-handy.
Panek Krakow Galeria Krakowska – Car Rental Return
You can coordinate to pick up a car at Galeria Krakowska as well – but in general, the location is not serviced. Panek has one reserved parking spot on the upper deck of the parking garage. You simply park the car in the slot and put the keys into the key safe box (see below).
Panek Krakaow – Receiving The Car
Panek was a completely new car rental experience to me. Thus, I was a bit of nervous if they have special requirements or anything which may cause delays. Absolutely no reason for that: the rental process went really smooth and the customer agent gave me all kinds of information. Unfortunately, I forgot to ask them how the return at Krakow city center exactly works, so that I had to call them again for details. I absolutely liked that the car included information about basic Polish traffic rules – I always tend to forget to look up these things before traveling.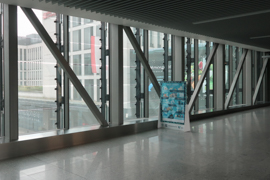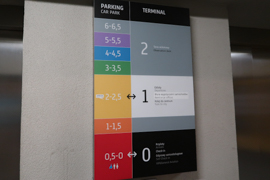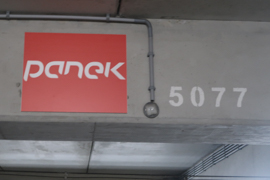 Panek Krakow – Returning The Car
Returning the car was as easy as it gets. In general, I don't like these kinds of "anonymous" returns – there could always be a damage to the car after return. Getting from parking level with my luggage to the platform level was more trouble than returning the car itself – the elevators were packed with people, who were shopping in the mall.
The Car – Skoda Fabia Station Wagon
I was really happy with the Skoda Fabia, which gave me sufficient comfort for the distances traveled. As expected, the car had quite some mileage at the time of rental already (some 96,000 km). However, apart from some minor damages, the car was really fine and did not lead to any issues.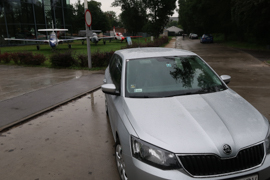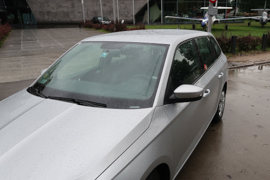 Panek Krakow – My View
Panek was just as a car rental should be like: easy, reliable, a good value for money. The car was a bit of older – but I generally prefer that, just because of safety regards. A brand-new car is just more attractive to thieves, I believe. I would definitely go for a Panek rental again, when I am in Poland next time. Top Pick!
Car Rental Reviews
Here are all my car rental reviews so far:
Flyctory.com in Poland
Here are all my postings related to Poland: