There are many iconic places and interesting things to do in Singapore. You may visit historic places as well as posh and modern tourist attraction. However, I feel that hardly anything tells you so much about the city state as visiting a hawker center – the Singaporean version of a food court. Here are my thoughts and views on the hawker center culture.
What is a Hawker Center?
I guess anybody of you has ever visited a food court at a shopping mall. A hawker center is something like a food court – however, there are some very significant differences. First of all, to whichever food court you have been in the past, a medium Singapore Hawker Center is likely larger. Some of them have two or more levels. Each store or restaurant is typically comparably small as well. You will see that there is a huge variety of stores, some of them are very specialized, like stores for the famous Hainan Chicken Rice (one of them was even in the Guide Michelin). For a good meal, people easily queue half an hour or more. Another key difference is that drinks (and deserts) are typically in separate stores. You may eat in the center, but most people do their lunch for take away, also due to the capacity of the hawker centers. It is really, really crowded in there in peak times, but the general respect to others in Singapore limits potential chaos.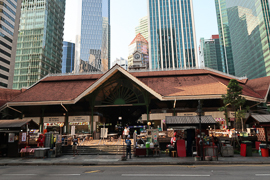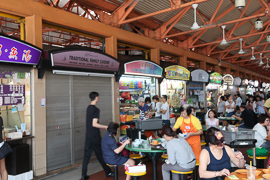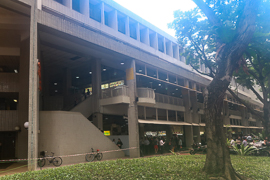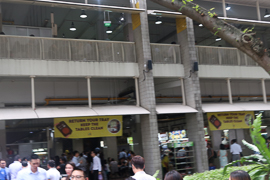 What is so special about Hawker Centers?
I would say there are four key things I got to love about Hawker Centers:
The quality: Food in Singapore in general is amazing – and even though the restaurants may look simple at first look, many of them offer great quality. The locals don't care to queue for good food – thus, you either deliver them a fine meal or you are out. For most of the meals, there are other shops in the same center, which just might do better.
The variety: you can have so many different meals in a hawker center – it is just amazing. There are of course a lot of dishes which are unknown to Europeans – but if you are open-minded and just give it a try, you will likely have a good meal.
The price: Similar to my thoughts on quality, of course the shops also compete by the prioe. Thus, you likely will also receive a very reasonable price.
Enjoy and watch: it is so amazing to see this piece of Singapore history and culture. The way people eat tells so much about what they are like. And the locals love it!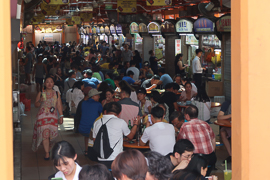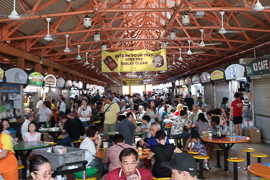 Which are the best ones?
I just tried a few hawker center and just had a couple of meals there. Thus, I am not in a position to really give you advice which ones to pick. Two hawker centers, which are quite freuquently named in reviews I had, the Maxwell Food Center close to Chinatown and the Singapore City Gallery and the Old Airport Road Food Centre close to the amusement parlors of Geyland and former Kallang Airport.
Next to the So/Sofitel Singapore I was staying at was the Telok Ayer Market – which was definitely not the best hawker center I stayed in, but had a lovely satay section, for which the road was closed every evening and benches and tables were put up.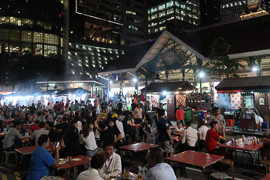 Some of the centers have a really long history. At the Old Airport Road one, there are even some displays with historic pictures and stories.
Behavioral Rules in a Hawker Center
Many people go to the hawker centers for take away, so that you only have to be cool and queue for the best food (the longer the line, the better the food – trust the locals). However, if you want to eat in, you should follow two rules:
Take a seat first: you see a free spot, but there is a pack of tissues or some other item on it? It is not lost stuff likely – it is the way how to reserve your seat in a hawker center. If you sit down there, you are not just very impolite – everybody will you that you are a bloody tourist!
Take your stuff away: Yes, there are people responsible for the cleaning of the hawker centers – but its not India or the Emirates where they take away your used dishes. That's your responsibility. Some hawker centers even have split places for halal and non-halal food.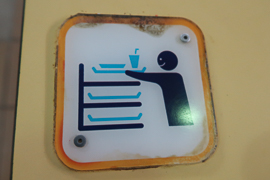 Other Street Food in Singapore
Even outside hawker centers, you will find a lot of food courts and street food in Singapore. Business buildings and malls sometimes have food courts in the basement sections. A lovely place to enjoy street food is definitely the Chinatown Food Street in Chinatown, though it is slightly touristic.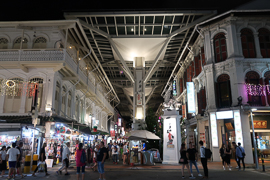 Hawker Center – My View
The hawker centers are just amazing. Such a variety of food, such a good quality and cultural heritage – wow! If you are in Singapore, just go in there and feel the taste of Asia (and sometimes, even more cuisines than that). The Marina Bay Light Shows are great, the Singapore Flyer gives a great view, the Night Safari is unique and the JEWEL Waterfall is fascinating – but the hawker center tell you a story of Singapore in the past and today. You have to do that – Top Pick! to the unique food culture in the city state.
Singapore – More Postings
Here are all postings which deal with Singapore:
Flyctory.com on Eating & Drinking
Flyctory.com is not a culinary blog. Nevertheless, here are all posts dealing with Eating and Drinking: