Motorway service plazas are the most boring places in the world? Not if you are in the United Arab Emirates, of course! There are four "Last Exit" services, which follow a very unique concept. You will likely at least come across two of them, as they are located right at the Dubai to Abu Dhabi connection road. They are presented in this posting.
Last Exit & Max X – Location
The Last Exit services at the E11 motorway are located next to each other. They are both just next of the Dubai Parks exit and thus quite close to the border between the Dubai and the Abu Dhabi Emirate. The two areas are not directly connected – you need to go for the next exit to turn around. Both services do not feature a gas station.
Last Exit & Max X – Concept
First of all, Last Exit stops are service stations with an enhanced selection of food, mainly Street Food. This means once you exit the motorway, there is a vast selection of lanes, each with an individual drive-through street food cabin. Sounds quite stressful if you fancy a burger, but your wife just wants an iced coffee? There are quite large parking spaces, so that you can also stop your car and walk to the booths, grabbing the food you like.
If you get off your car, there may also be additional (minor) food vendors, sanitary services, playgrounds – or you just stop because you walk along and enjoy the amazing scenery. Especially the two Last Exit stops between Dubai and Abu Dhabi have become real tourist attractions, where day-trippers in each direction have a fancy relaxing stop. The different Last Exit stops are themed, so that the food trucks follow a common design principle.
Last Exit (Dubai-bound) – Impressions
The Dubai-bound Last Exit Jebel Ali South is designed according to the 1950s in the USA. All booths are in American Diner style. Everything is colorful – there are even colored lines on the road so that you do not miss the lane for the food you feel like. There is a quite wide selection from Starbucks, pizza, burgers to fruit juices and seafood street food.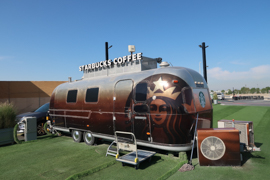 It is just worth to have a look inside the service building. The design of the toilets is just amazing.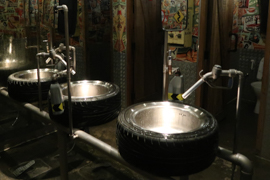 Max X (Abu Dhabi-bound) – Impressions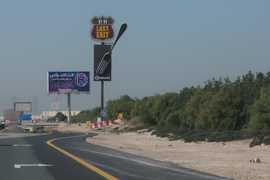 On the Northern side of E11, you grab your food from much more massive and martial food trucks. The service area is designed according to the Mad Max movies. I love the different details, despite it feels a bit… destructive. There are some other stores on this side, including a Thai restaurant and Arabian street food.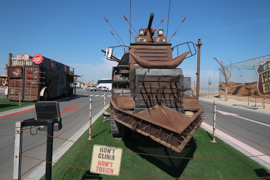 Again, it is worth to have a look inside the service building, which also features a small souvenir store.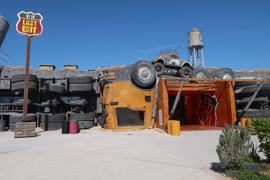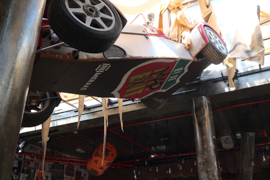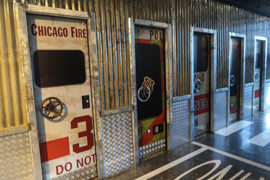 Last Exit – Other Locations
There are two more Last Exit locations in the U.A.E.. One is close to the Lake Qudra area South of Dubai, which is very popular for its cycling track. In the very Northeast of Dubai, in Al Khawaneej, there is also other outlet of these service stations. Both are significantly smaller than the E11 versions.
Last Exit & Max X – My View
Both service areas are just amazing. Even if you do not feel like a drink or a snack, I would definitely recommend to exit the motorway and dare a look. The Mad X Southbound stop may be more "stylish", I love the martial design. Furthermore, all trucks have order windows for those who park the car and look around. On the other hand, I just love the American Diners concept of the Northbound stop. Finally, I feel you should visit both – and don't forget to take a pee break to see the amazing sanitary installations!
United Arab Emirates – More Postings
Here are all posting of related to the United Arab Emirates: